Suspects Who Allegedly Stole $9 Million Of Meat Were Just Arrested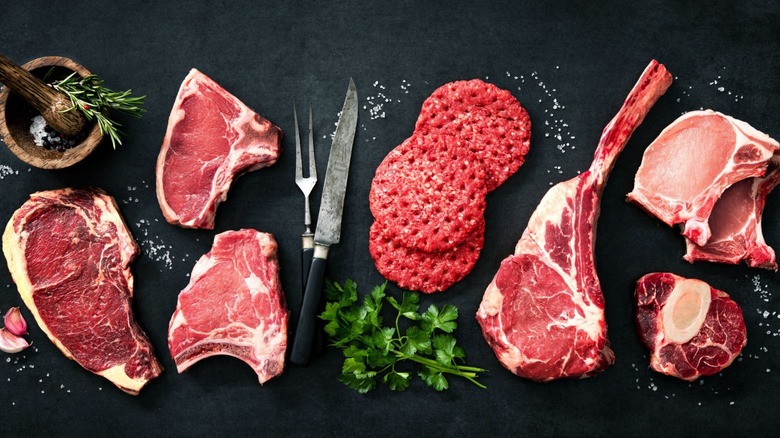 Alexander Raths/Shutterstock
One '80s fast-food commercial famously questioned, "Where's the beef?" Now, a recent heist has detectives seeking to solve a similar meat mystery. According to a recent report, a group of alleged thieves recently drove away with millions of dollars worth of meat that could have made its way to your table. Interestingly, these particular suspects might be thawing out for a long time behind bars. 
Although Jane's Addiction might have shown the ease of taking a few items from the grocery store in its "Been Caught Stealing" music video, plundering food is actually big business. According to HuffPost, cheese is a hot commodity in the world of stolen food. While rising food costs and inflation can be a factor, the ease of resale also helps boost those greedy grabs at any given time. Sadly, the list of high-risk foods is a rather long one. Frequently targeted food items include cheese, fresh meat, chocolate, alcohol, seafood, and infant formula. 
The news of brazen individuals wheeling away cheese or scooping up all the fish in the sea might prompt a chuckle, but of course, each criminal act brings heavy consequences for the perpetrators and bystanders. Unfortunately, the lost costs associated with these crimes can even be passed down to the average consumer. 
How did alleged thieves steal millions of dollars of frozen meat?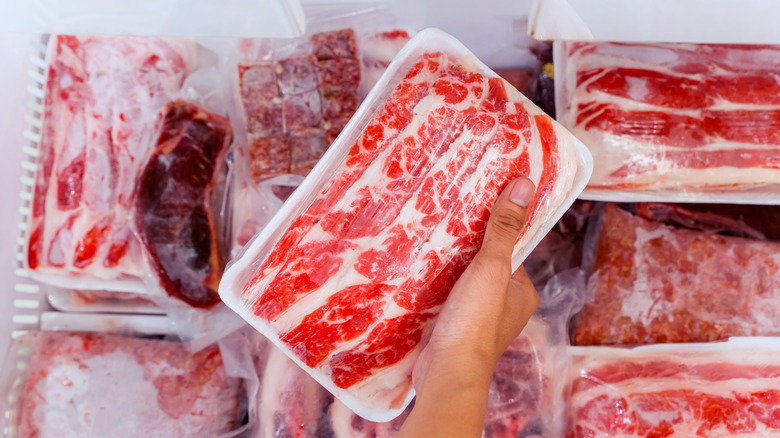 Creativa Images/Shutterstock
While it might sound like a companion piece to "Smokey and the Bandit," the alleged frozen meat heist could actually be its own movie plot in and of itself. Earlier this year, The Fence Post reported that some trailers containing frozen meat were stolen in Nebraska. As the investigation unfolded, detectives discovered that this incident was actually only the tip of the iceberg.
According to U.S. Immigration and Customs Enforcement, an organized criminal enterprise was behind a total of 45 thefts from beef and pork packaging plants. Perhaps most outrageously, these many incidents occurred across Nebraska, Iowa, Minnesota, South Dakota, North Dakota, and Wisconsin. While investigators believe that the suspects knew how to operate the tractor trailers necessary for the theft, the criminal endeavor was not without heavy flaws. 
The Washington Post reports that law enforcement officials were able to piece together the clues and make three arrests after reviewing data from cell phones in the areas in which the thefts occurred. In total, it appears that the suspects walked away with a total of $9 million in beef and pork products. Luckily, police officers were able to recover three tractor trailers with $550,000 worth of stolen merchandise when they arrested the three suspects.
Although authorities did not comment on what happened to the rest of the stolen goods, it seems likely that a substantial sum of this payload was already off-loaded into someone's freezer.