The Discontinued Starbucks Refresher Reddit Is Still Dreaming Of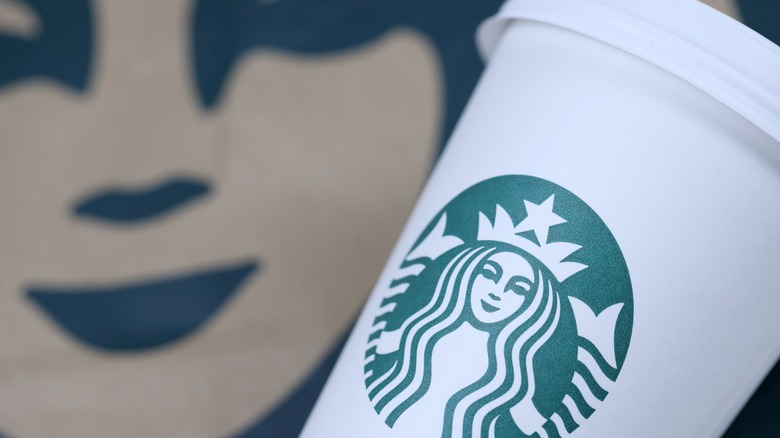 Mehaniq/Shutterstock
There's more to Starbucks than coffee and Frappuccinos. Through the years, the brand, which Forbes named as one of the most valuable in the world, has tried to stay ahead of the game by introducing numerous items to its menu, including VIA Instant, baked goods, and Refreshers. Starbucks Refreshers are colorful iced drinks made with green coffee extract and various fruit juices. They offer a kick of caffeine and natural sugars intended to serve as a midday (or any time of day, really) pick-me-up. When Refreshers debuted in 2012, Starbucks released a statement that illustrated the new product as "a global breakthrough beverage innovation."
Recently, the Refreshers lineup has experienced a few changes, including the discontinuation of some flavors, much to fans' dismay. One Refresher in particular, which just so happened to be among the original flavors launched just over a decade ago, is sorely missed by customers. Back in 2012, a reviewer wrote that it "sent a fruity flavor to my taste buds." Since the flavor is gone, some people dream of reuniting with it.
Reddit is feeling nostalgic for the Very Berry Hibiscus Refresher
Redditor MystiicMelodies shared a photo of the now-defunct Very Berry Hibiscus Refresher on the Starbucks subreddit with a caption that reads, "Gone but never forgotten." The post sparked many walks down Memory Lane for users. User Turbulent-Touch7089, who seems to identify themselves as a barista, commented, "DON'T REMIND ME, literally every time a customer orders it [I] have to hold back tears." Another chimed in, "Man Starbucks took so much of my money for this drink and now I haven't had Starbucks since it was discontinued. Jokes on them." Back in June 2021, the brand was responding to disheartened Twitter users to let them know the Very Berry Hibiscus Refresher was among the products experiencing "temporary outages" and it would be "back on the menu in the future." However, there hasn't been any sign of them since. There's even a petition on Change.org to bring back the beloved VBH.
A number of Redditors also yearned for other abolished Refreshers in the thread, such as Cool Lime, Valencia Orange, and Kiwi Starfruit. However, some members claim that a couple of these flavors are still available in Europe. When a product you love suddenly disappears, it can be challenging to recover from the loss. Although Very Berry Hibiscus is no longer with us, Starbucks currently offers plenty of Refreshers, including Strawberry Açai, Pineapple Passionfruit, and Mango Dragonfruit. If Very Berry Hibiscus ever makes a miraculous return, Redditors will be ready.