Give Your Cranberry Sauce A Unique Twist For Fried Chicken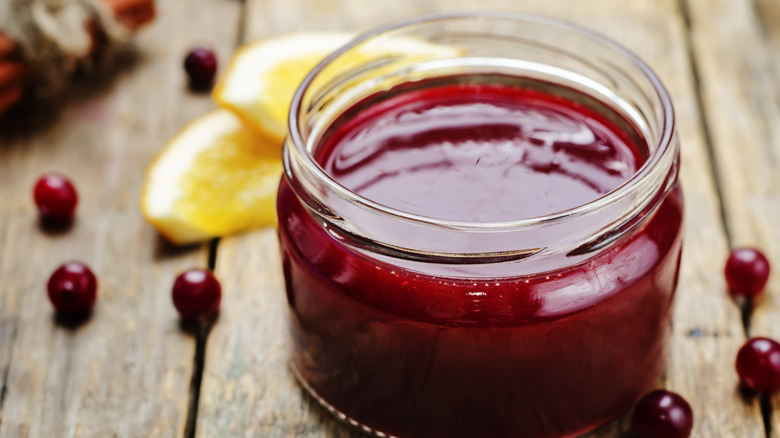 Nataliya Arzamasova/Shutterstock
From Thanksgiving to Friendsgiving, November is often focused on a bounty of food and drinks, and of course, gathering. Even if some people might fear the incessant questioning from Aunt Edna, the food-centric celebrations have people wanting a seat at the table. Although the bird is often the centerpiece of the feast, the Thanksgiving side dishes are just as loved, or loathed, making them the subject of a heated food debate. Cranberry sauce might not be the most popular accompaniment to the meal but can have some people longing for an extra use for those leftovers.
While that jiggly, rounded log might plop into the bowl, the cranberry sauce can take on several forms. Jellied cranberry sauce, like Ocean Spray's, contains some cranberries, but also high fructose corn syrup, water, and corn syrup (via Ocean Spray). While homemade cranberry sauce recipes vary, the basics of a sweetened condiment with cranberries as its primary flavor have many uses beyond a spoonful next to the turkey, stuffing, and mashed potatoes. For cooks who like that sweet and tart flavor, it can be transformed in a variety of ways.
Cranberry sauce can bring a unique flavor to fried chicken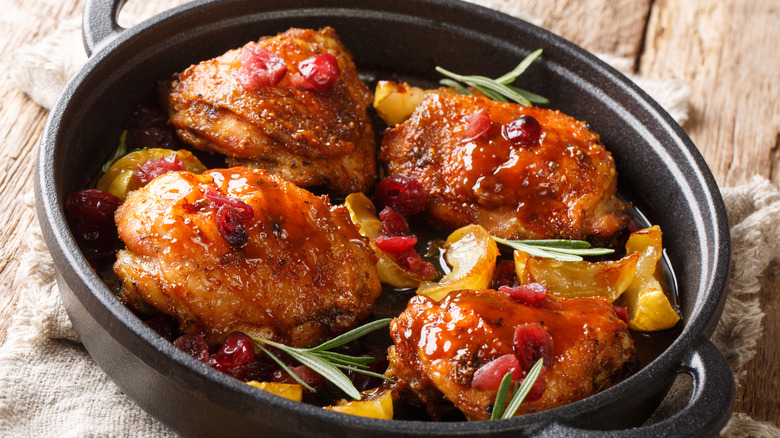 Sergii Koval/Shutterstock
Although people can debate the best Thanksgiving turkey recipe, it doesn't have to be the only poultry on the holiday table. Some may want to swap the traditional turkey for a ham or a chicken dish and, let's be honest, fried chicken could be a crowd-pleaser and can also give new life to the sometimes-controversial cranberry sauce. Have you ever tried a cranberry-mustard dipping sauce?
When adding this twist on the traditional cranberry sauce, using a recipe from scratch, a store-bought canned version, or even leftover sauce should work well. The key to this recipe is mustard, as it adds a pungent, spicy note to combat the sweet, tartness of the cranberry (via Bon Appétit). At the same time, the touch of brightness can cut through the hearty flavors of the fried chicken. Overall, it adds a balance to the meal.
In some ways, this pairing is similar to the German pairing of Schnitzel with a berry sauce, like the recipe shared by Jeff Mauro. The sweet, tart berry sauce contrasting the crispy, fried protein draws people in for another bite. Whether those cranberries jiggle from the jar or get jammy on the stove, creating a cranberry-mustard dipping sauce might be the transformation to make them cran-delicious to more people around the table.