The One Cake Duff Goldman Would Give As A Gift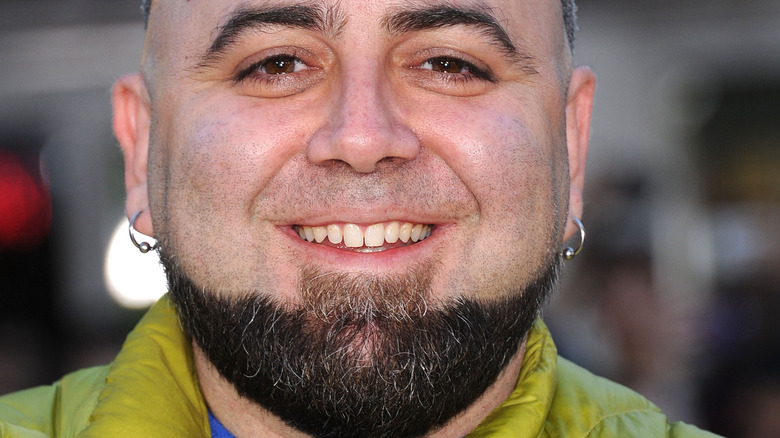 DFree/Shutterstock
The "Ace of Taste" star Duff Goldman and his team at Charm City Cakes bakeries in Baltimore and Los Angeles have made amazing cakes over the years and have an impressive resume of high-profile clients. The sought-after cake shop has created unique custom cakes, including one made in the late Betty White's likeness, which was presented to her at an animal charity event (via IMDB). Although they've made cakes for "some really amazing sporting events," Goldman and team created a replica of the stadium for the U.S. Open, which he considers "one of the biggest" events there is, per Food Network.
Additionally, Goldman is also the judge of the "Holiday Baking Championship" and his show "Ace of Cakes" aired for 10 seasons on the Food Network. It is no doubt that Goldman is an expert in the cake-making game. So we can turn to him to pick out a cake that would make a great gift.
Duff suggests a Buffalo-shaped cake
Goldman's suggestion? "Sometimes you need a cake in the shape of a buffalo," Goldman tells People. Why buffalo? Goldman and fellow cake artist Buddy Valastro face off with their respective teams on the Food Network's "Buddy vs. Duff," creating innovative cakes according to the weekly challenge at hand. While the origins remain unclear as to why Goldman is fond of the large bovine, the buffalo serves as the official mascot for Team Duff (via the Duff Store). Goldman has made quirky cakes like his Blue Polka Dot, a "golden butter vanilla cake tinted blue" (per Bake Mag) and is in favor of making cakes in 49 unique flavors like bananas Foster, blueberry muffin, and s'mores (via Food Network), but the buffalo-shaped Duffalo cake comes in a traditional chocolate flavor with a chocolate cream cheese filling. 
Acccording to Goldman, a new-ish dad whose daughter was born in 2021, the cake also makes for a great Father's Day gift and ships to your door thanks to a partnership with Goldbelly, where the cake can be ordered.