Why Lemonade And Cheese Actually Pair Well Together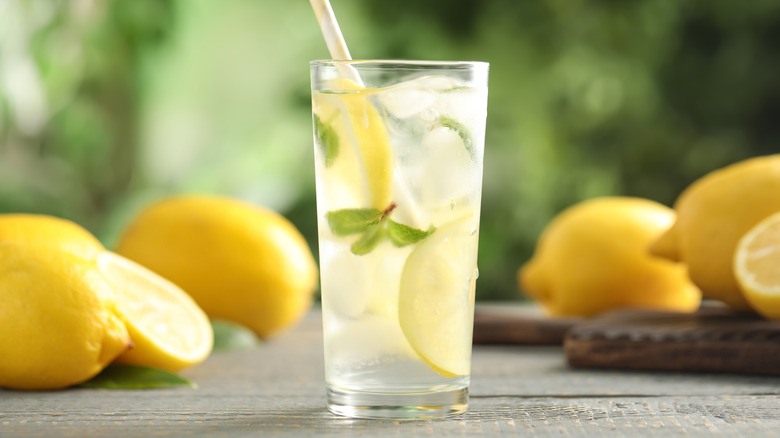 New Africa/Shutterstock
Pairing cheese and lemons may seem a bit unusual — after all, The Kitchn notes that citrus and fruits with high acidity have nothing to do on a cheeseboard. These high-acidity foods often turn the taste of cheese acrid and make it curdled, which is why they're most commonly avoided in cheese pairings. But what to do if you love both cheese and lemons so much that you want to taste both at the same time? 
For starters, you could try an unusual Canadian cheese originating from Prince Edward County, Ontario, called Lemon Fetish. This feta-like cheese is made from pasteurized sheep's milk, and it's rolled in a layer of Red Fife wheat and another layer of grated lemon zest, which gives the cheese clean, lemony, and lactic aromas. Due to its dry texture, this tangy and citrusy cheese is usually paired with avocados and cucumbers (per TasteAtlas). 
And if you want to pair your cheese with something lemon-based, you can use one popular non-alcoholic beverage to go with it.
Pair lemonade with fresh goat cheese or young goat Gouda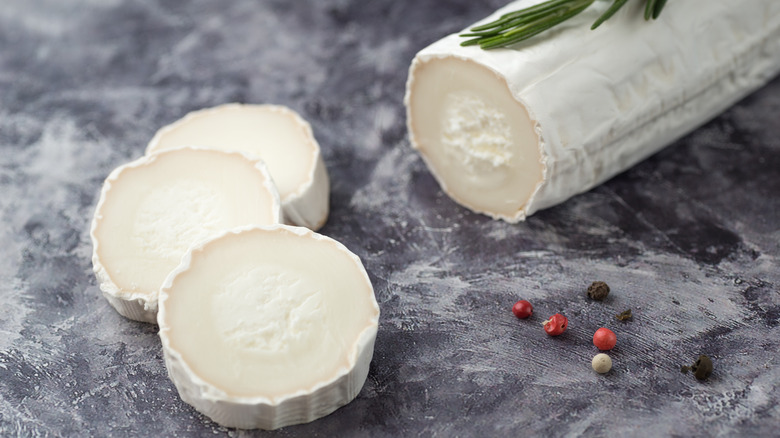 Sloniki/Shutterstock
According to Food & Wine, there are a few great non-alcoholic beverages that can be paired nicely with cheese. Heavier teas such as Oolong and Pu'er pair well with aged Gouda, coffee goes well with Brillat-Savarin or Comté cheese, and hot chocolate makes for a surprising pairing with blue cheeses. Those who love lemons and citrus fruits should opt for lemonade, although it's a bit tricky to pair it with cheese. Most cheeses that go well with a cold glass of classic lemonade are made from goat's milk. 
According to pairing expert Kirstin Jackson, your best bet is to take a fresh goat cheese and a glass of unsweetened (or lightly sweetened) lavender lemonade, and then wait for the taste sensations on your palate. Young goat Gouda is also a great cheese option, as its rich and herbal flavors will nicely contrast with the lemonade flavors. Matching Food And Wine reveals that pairing lemonade with cheese works well if the young and fresh goat's cheese is first mixed into a salad. 
And if you want other beverages to drink while eating your soft goat's cheese, recommendations include elderflower cordial and apple juice.