Copycat Big Mac Sauce Recipe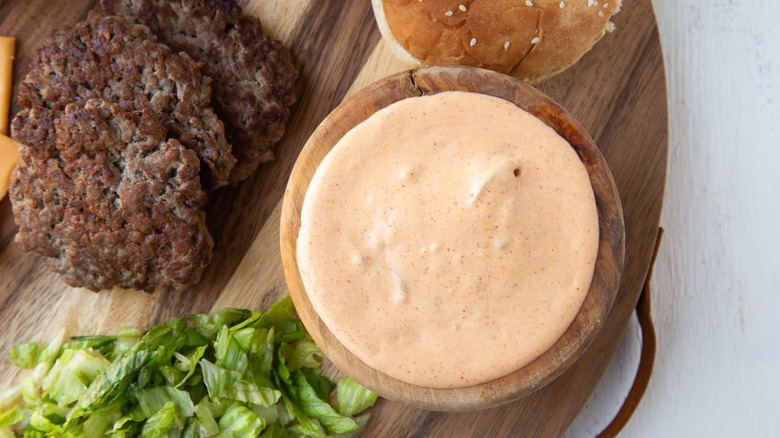 Kate Shungu/Mashed
You know what they say... always imitated, never duplicated. While that may be true in most situations, that's not really the case with this copycat Big Mac sauce. This is quite literally an "awesome sauce" that tastes so close to the one at McDonald's, you probably won't even be able to tell the difference between the two. All you need are a handful of ingredients, and then you can whip up the sauce in the comfort of your home rather than making an extra run to McDonald's.
Recipe developer Kate Shungu came up with this recipe that will have you making Big Mac sauce all the time. "I love how easy it is to make a Big Mac at home. It's such comfort food, and making homemade Big Macs with the sauce is a fun twist on burger night," Shungu explains. She also shares why her version is perhaps even a little better than the original. "This version contains many of the same ingredients as the McDonald's big mac sauce, but none of the preservatives or dyes," she notes. We're lovin' that! 
Keep reading to find out how to make this special sauce.
Gather the ingredients for this copycat Big Mac sauce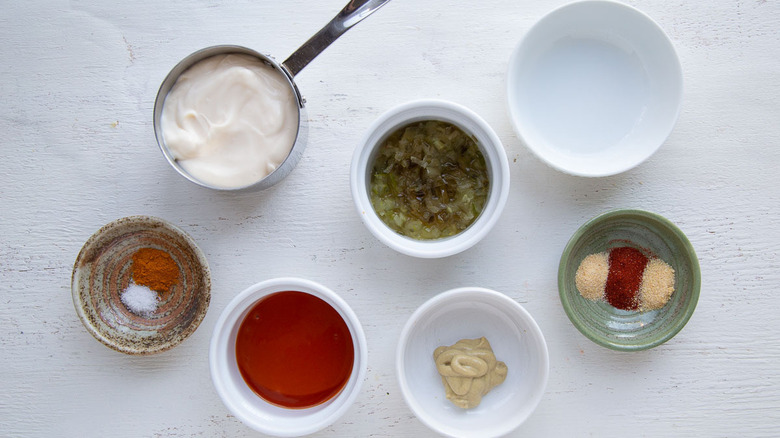 Kate Shungu/Mashed
As we all know, this sauce is bursting with flavor, which means it requires quite a few ingredients. Pick up mayonnaise, pickle relish, French dressing, Dijon mustard, white wine vinegar, onion powder, paprika, garlic powder, turmeric, and salt.
Once you have those items, you can make this copycat Big Mac sauce.
Add the ingredients to a bowl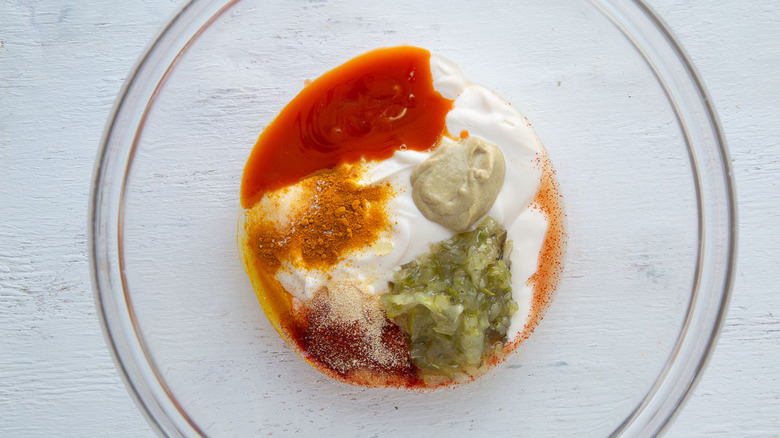 Kate Shungu/Mashed
Select a large bowl that is big enough to hold all the ingredients. This recipe is simple because you can go ahead and measure out and load all the ingredients right away. This includes the mayonnaise, pickle relish, french dressing, Dijon mustard, white wine vinegar, onion powder, paprika, garlic powder, turmeric, and salt.
"There are plenty of copycat recipes out there, but none contain turmeric, which is actually listed in the McDonald's ingredient list," Shungu explains, adding "[but this version contains turmeric, which lends a bit of spice and a lovely yellow hue." 
Mix the ingredients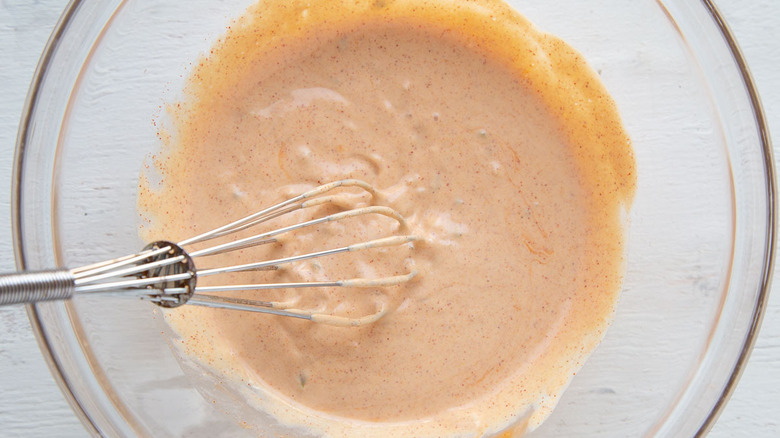 Kate Shungu/Mashed
Now that you have all the ingredients loaded in the bowl, use a whisk to mix and combine the sauce. "This sauce will come together easily, so either a spoon or whisk works well," Shungu says. 
The melody of flavors tastes just like the real deal. "The sauce is a combination of creamy (from the mayonnaise) and tangy (from the vinegar and French dressing), with warm spices and savory flavor from the pickle relish," Shungu explains. 
Serve your copycat Big Mac sauce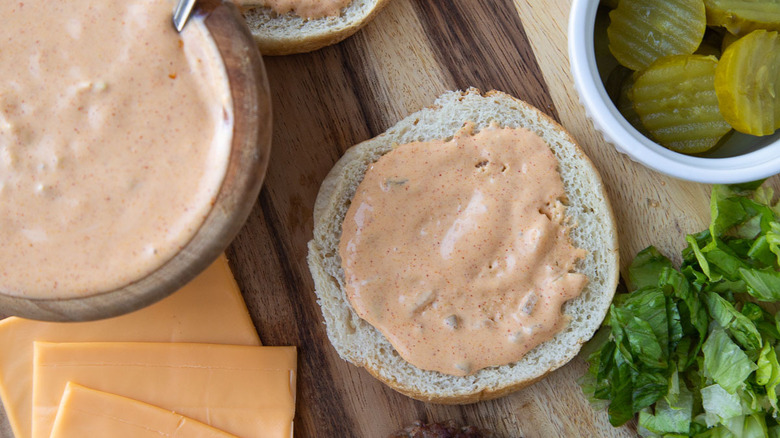 Kate Shungu/Mashed
Grab a spoon and lather the copycat Big Mac sauce on your burger buns, and trust us — you will feel like you're eating at the fast food giant. Shungu also shares a few other ways that she likes to serve this sauce. "In addition to burgers, this sauce is great for dipping french fries or spreading onto a turkey sandwich," she says. 
This is also great to make ahead of time since you can stretch the leftovers. "Leftovers will keep 1–2 weeks in the refrigerator," Shungu shares. We hope this sauce satisfies all of your Big Mac cravings! 
Copycat Big Mac Sauce Recipe
All of that delicious lip-smacking flavor, but without those added preservatives. Burger night just got a whole lot saucier!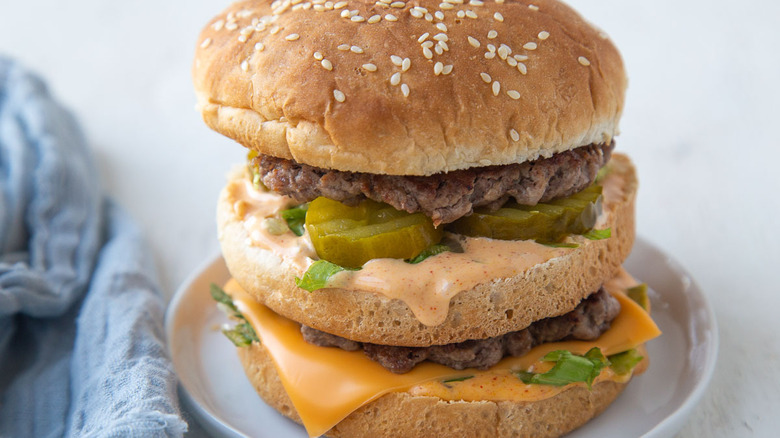 Ingredients
¾ cup mayonnaise
2 tablespoons pickle relish
2 tablespoons French dressing
1 tablespoon Dijon mustard
1 tablespoon white wine vinegar
¼ teaspoon onion powder
½ teaspoon paprika
¼ teaspoon garlic powder
¼ teaspoon turmeric
pinch of salt
Directions
Place all ingredients in a large bowl and mix to combine.
Serve on burgers or as a condiment for dipping french fries. Leftovers will keep for up to 2 weeks.
Nutrition
| | |
| --- | --- |
| Calories per Serving | 90 |
| Total Fat | 9.6 g |
| Saturated Fat | 1.5 g |
| Trans Fat | 0.0 g |
| Cholesterol | 4.2 mg |
| | |
| --- | --- |
| Total Carbohydrates | 0.9 g |
| Dietary Fiber | 0.1 g |
| Total Sugars | 0.6 g |
| Sodium | 100.1 mg |
| Protein | 0.1 g |