A Viral TikTok Is Putting A Spotlight On How Eggs Are Made At A Hotel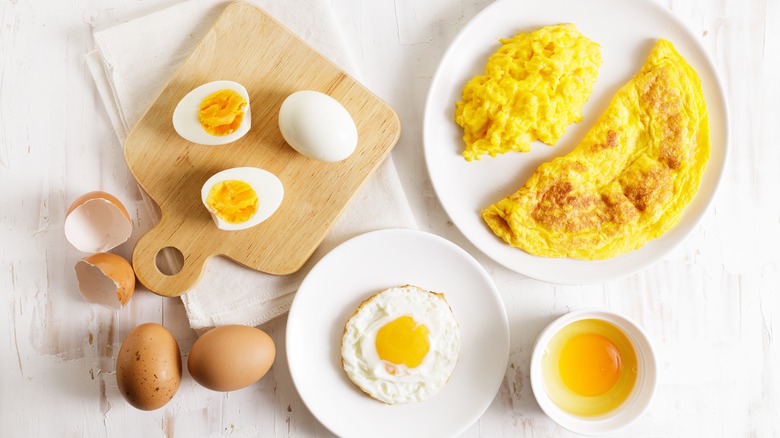 SherSor/Shutterstock
Whether they're for breakfast, lunch, or dinner, eggs are bound to be on many of the menus you might encounter. It doesn't matter if you're eating a hearty bowl of ramen, strawberry french toast, or a Cobb salad – eggs can work with them and a wide range of other dishes. One place you're probably sure to find the versatile protein is at a hotel's continental breakfast.
Just imagine waking up early at a hotel and following the smells of fresh fruit, pancakes, and bacon swelling in the hotel lobby. There are few things that beat it, especially when it doesn't cost extra. Some people go straight to the waffle maker, and others might opt for toast and black coffee. And there will be people who check out the eggs. However, preparing them in a way that's universally palatable is no easy feat, especially when there are so many ways to make eggs.
Recently, a hotel employee posted a video on TikTok of the eggs they were cooking. It caused quite a stir in the comments as other TikTok users were alarmed by their thick appearance. One even commented, "That's just custard at that point." A second added, "no thank you i'm full." The video also had people discussing how eggs are made at hotels.
Hotel workers described making eggs in different ways
In the viral TikTok posted by _eg_girl, a hotel employee scrapes the eggs together to create a batch of scrambled eggs that look more like flan to some commenters than like a breakfast protein. User bbdkid1996 remarked, "I worked hotel and our eggs looked way better than that." Although it looks unappetizing to some, a number of people thought "they look good" or insisted that's how eggs are supposed to be cooked (heated and then scrambled).
Other commenters spoke about their experiences as hotel breakfast employees. User Lin wrote, "Our eggs always came frozen and in cake form, and we'd heat it up on a little heater." Another recalled having to microwave eggs until the machine broke and forced them to use a frying pan. In 2021, a hotel employee went viral on TikTok for sharing their methods for preparing eggs. A powdered form was soaked in water for rehydration and microwaved (per Daily Dot).
While some people might not like how they look, there's nothing unhealthy about the hotel eggs that have gone infamously viral on TikTok, even if they're powdered. Livestrong reports that despite not having as many vitamins as fresh eggs, powdered eggs are healthy to eat. And according to the FDA, as long as your eggs are thoroughly cooked or treated, they're safe for consumption.