The Best Lunch Boxes For Kids In 2022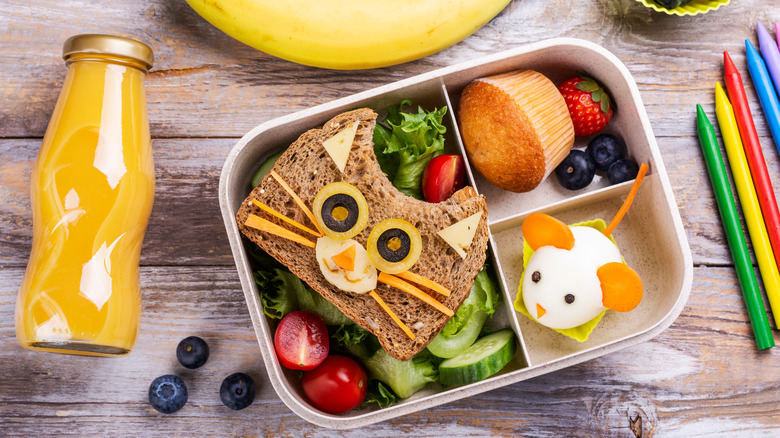 Ekaterina Markelova/Shutterstock
We may receive a commission on purchases made from links.
Making sure that your kids have fresh, nutritious meals every day is one of the best things you can do to provide for your children. In fact, according to a study by the Brookings Institution, students who eat higher-quality food tend to perform better academically. The only way to guarantee that your kids are eating a healthy lunch is to pack it yourself — but in order to make sure it can safely travel, you need a well-designed lunch box. It's not a stretch to say that when you invest in a good lunch box for your kids, you are also investing in their health and development.
Long gone are the days of flimsy, old-fashioned paper bag lunches. We now stand on the precipice of a seemingly endless sea of lunch bag options that vary in just about every way imaginable. Lunch bags come in different shapes, sizes, materials, and color schemes. Some are collapsible and others are made with durable stainless steel. With so many choices out there, it's easy to get paralyzed into a prolonged state of hesitative indecision — but that's where we come in. Always happy to help guide you, we've taken the time to track down some of the best lunch boxes out there for your little ones.
How we selected products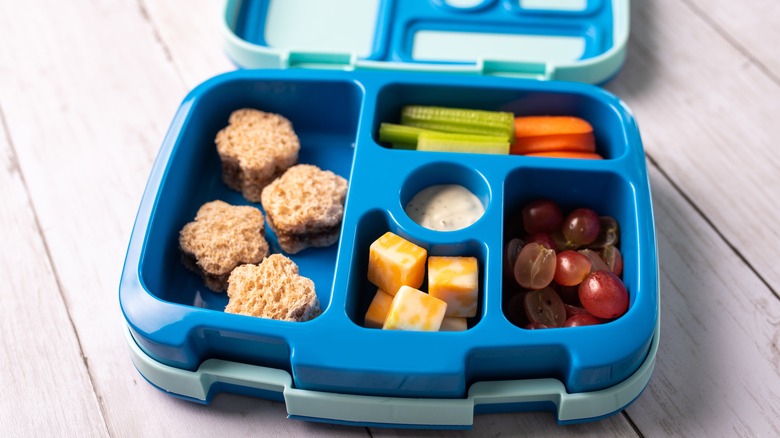 Tanya Consaul Photography/Shutterstock
In our mission to provide you with some of the best lunch boxes for kids around, we took a number of factors into consideration during our selection process. Because customer reviews offer unique insights into a product's true performance, we combed through user feedback in an effort to gather accurate data from verified purchases. Carefully taking note of each lunch box's strengths and weaknesses when it comes to design, we whittled our list down to only the best models on the market.
Variety was another top priority during the selection process. Our goal here was to provide you with a wide assortment of top-notch lunch boxes to choose from, so we made sure to include a diverse mix of models. From matching lunch box and backpack bundles to some of the most inexpensive options on the market, we've got you covered. Here are the best lunch boxes for kids in 2022.
Best overall lunch box for kids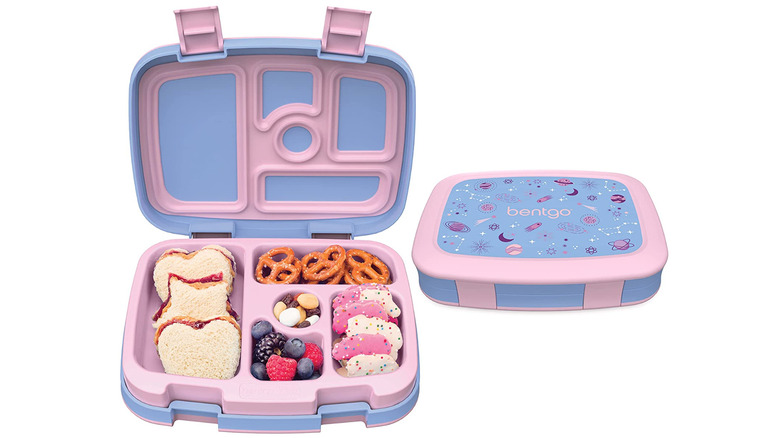 Bentgo
If you're looking for a lunch box for your kids that has it all, we have a great match lined up for you. The Bentgo Kids five-compartment kids lunch box brings a lot to the table, starting with 25 different themes and color schemes to suit the unique personality of your little one. Magical unicorns, dinosaur fossils, tropical flamingos — this lunch box offers all kinds of cute and colorful options that are sure to bring some smiles.
But this lunch box has more to offer than mere aesthetics. It also features a leak-proof design that efficiently seals the lid to the food tray, so that when your kiddo's lunch box inevitably takes a tumble, the food inside stays nice and secure. Speaking of tumbles, this lunch box also has rubber-coated edges to provide an extra layer of durability to protect it from damage when it's dropped. On top of all this, the five-compartment removable food tray inside of this lunch box is safe for the microwave and the dishwasher. Bentgo also goes the extra mile and donates some of its profits to Feed the Children, which has been a leading anti-hunger organization for more than 40 years. So when you buy this lunch box to feed your kids, your support is also helping to feed other children, too. It also happens to have a 4.7 star rating after more than 49,000 glowing reviews. All things considered, this purchase is a no-brainer.
You can buy the Bentgo Kids five-compartment kids lunch box on Amazon for $29.99.
Best budget lunch box for kids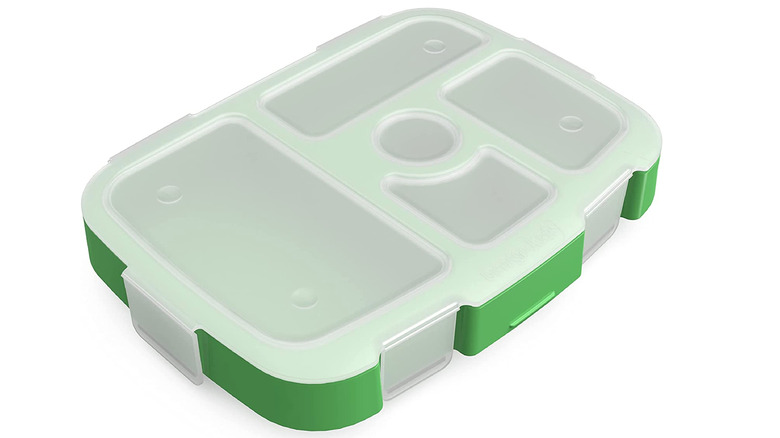 Bentgo
School supplies add up. New clothes, shoes, backpacks, folders — every year, there's always a long list of stuff kids need to get ready for another round of classes. Pinching pennies wherever you can helps, and a good place to start is with a new lunch box. This model from Bentgo might be relatively plain-looking, but let's be real: eating lunch isn't exactly a fashion show. What's most important here is that it's high-quality and it's cheap, clocking in at under ten bucks.
This lunch box has five compartments with perfect portions for your little one. It features a transparent lid that makes it easy to see the food inside and six secure locking clamps around the perimeter to ensure it's properly sealed. The interior food tray is microwave safe and also safe for the dishwasher (though the company recommends using the top rack). It's also available in a few different colors, including blue, green, purple, and seafoam. Customers with verified purchases also frequently praise its perfect size and leak-proof design. At the end of the day, this lunch box is well-designed, easy to clean, and very affordable. What else could you ask for?
Purchase the Bentgo Kids covered food tray on Amazon for only $9.99.
Best lunch box for preschoolers and kindergarteners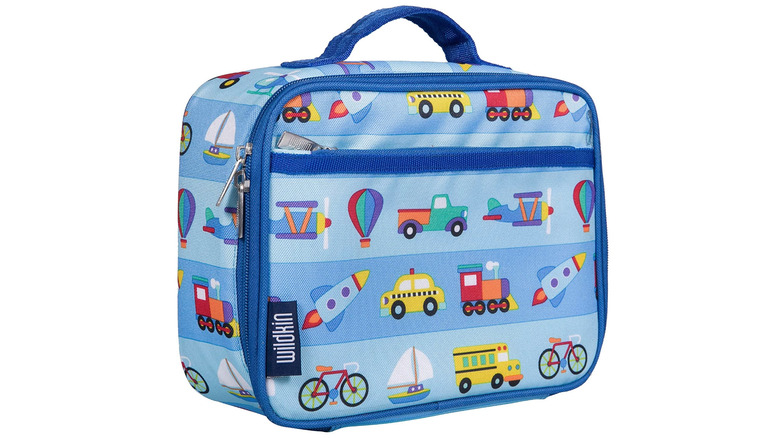 Wildkin
The youngest of the little ones out there tend to get a kick out of zoo animals, robots, and fire trucks. This playful and colorful lunch box from Wildkin is available in 21 unique designs that run the gamut from horses to sharks. But it goes above and beyond color schemes to deliver a well-designed lunch box for a reasonable price.
For starters, this lunch box is lightweight and easy to carry, and it also has an interior mesh pocket for easy access to quick snacks. A simple, easy-to-use zipper efficiently seals the lunch bag shut, and it has more than enough room for a standard bento box and an ice pack. This particular model also won a Mom's Choice Award, which is a worldwide respected program composed of panelists from different industries that evaluates the quality of products for children (via Mom's Choice Awards). Well-insulated and designed with a premium, durable fabric, this lunch box is efficient and made to last.
You can buy this Wildkin lunch box for kids on Amazon for $24.99.
Best insulated lunch box for kids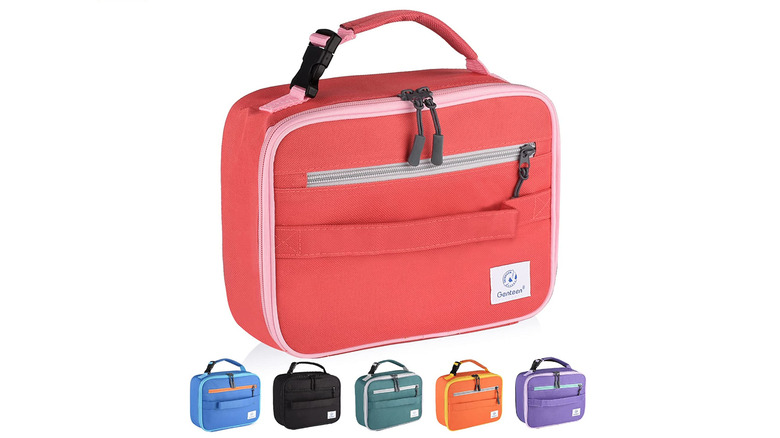 Genteen
When it comes to lunch boxes, good insulation is the name of the game. Adding multiple layers of insulation (especially a foam core) to a reusable lunch box helps food maintain temperatures much better than paper or plastic lunch bags (via Kangovou). This lunch box comes with three layers of lining, including a foam core to shield food from outside temperatures.
This lunch box also comes with a zippered front pocket for easy access to other items like a phone, utensils, quick snacks, or anything else your kiddo needs to keep close by. The side handle is padded to enhance comfort and it also has an adjustable buckle. There is another handle located in the middle of the lunch bag for another carrying method if there's some concern about food leakage from another container inside. It also comes in six different colors to provide a nice range of styles. With multiple pockets and a spacious design, this lunch box is well-insulated and made with premium materials. If you're looking for a well-designed lunch box that will keep your kids' lunch cold, this is the deal you've been waiting for.
Purchase the Genteen insulated lunch bag on Amazon for $13.98.
Best lunch box for elementary school kids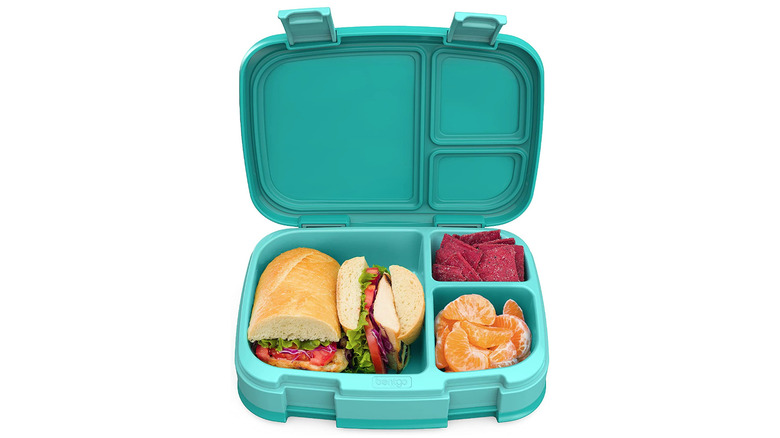 Bentgo
When kids grow up a bit and get too cool for childish artwork, it's probably a good idea to have a plain lunch box lined up with a more straight-forward design. This lunch box has a simple look that comes in a handful of colors — and it also scored high marks at Home Tester Club for its ideal design features. It has a removable divider that can easily slide into this lunch box's largest compartment to create another area for more food.
With a leak-proof design, this lunch box does a phenomenal job at keeping food separate and contained. This lunch box can hold nearly five cups of food, features secure locking clamps, and has a removable tray made with food-grade material. The inner tray is dishwasher safe, and it's been praised by customers with verified purchases for its durability. Did we mention that it comes in six different colors and has over 12,000 ratings that earned it 4.7 stars?
You can buy this leak-proof Bentgo Fresh lunch box on Amazon for $28.92.
Best microwave-safe lunch box for kids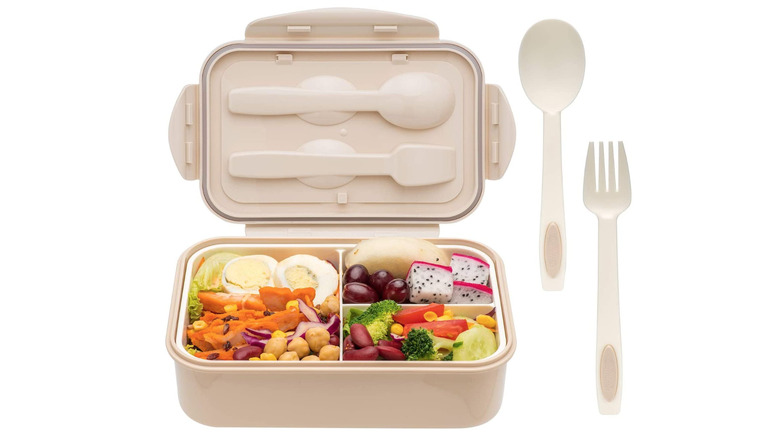 LOVINA
Warming up food for lunch can be tricky if you don't have a microwave-safe vessel. According to Digg, microwaving dishes that aren't deemed safe for the task can cause some serious problems ranging from melting plastic to the leaching of carcinogens. But with plenty of microwave-safe options out there, there's no need to put yourself or your children in harm's way. This bento box from Lovina is microwave safe between two to four minutes (up to 248 degrees Fahrenheit) — plenty of time to warm up a little lunch.
One caveat: Lovina recommends that you remove the lids before microwaving, which is a request most companies make for the sake of safety. It's also safe for the freezer and the dishwasher, and it even comes with flatware and dedicated utensils storage slots on the lid. The three provided compartments provide plenty of space for all kinds of food, it's leak-proof, and it comes in three different colors.
Purchase the Lovina bento box for kids on Amazon for $14.99.
Best backpack and lunch box bundle for kids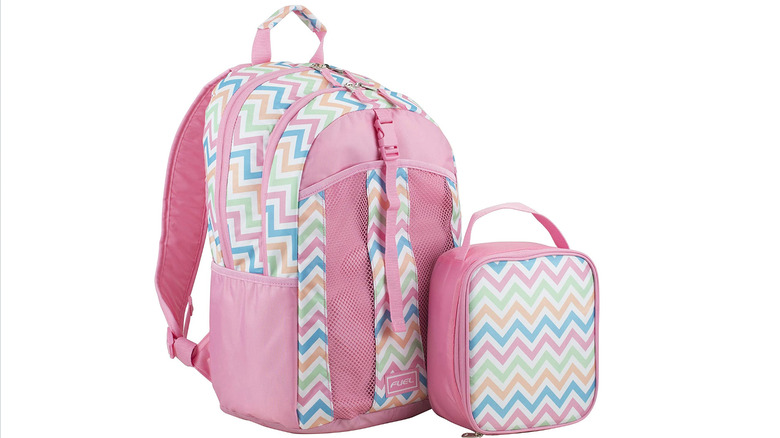 Fuel
Since you're on the hunt for a new lunch box, we're willing to bet there's a good chance that you're also on the prowl for a new backpack, too. Why not kill two birds with one stone and score both of them in a single purchase? This bundled package from Fuel offers a lunch box with a matching backpack for a very reasonable price. With over 25 different patterns and colors to choose from, you're bound to find a bundle that catches your eye and suits your needs.
The lunch bag in this deal is insulated, has a simple zipper, and features a convenient carrying handle. Of course, the lunch bag can easily fit right inside of its matching backpack for optimal portability. The backpack itself is great too, with two side pockets for water bottles to encourage proper hydration. And all of this costs about the same as it would if you just bought a single lunch box. The bottom line: this deal is a real steal. You'd be wise to take advantage while it lasts.
You can buy this Fuel lunch box and backpack bundle on Amazon for $29.99.
Best lunch box for middle schoolers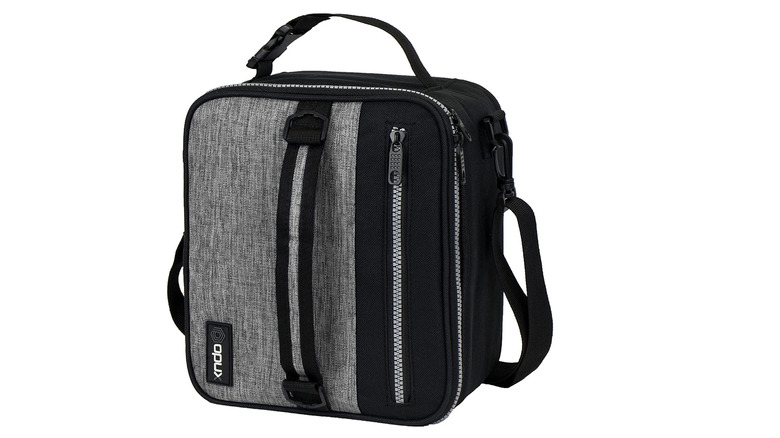 OPUX
By the time kids hit middle school, there's a good chance they're ready for a lunch bag that isn't covered in toy trucks and cartoonish cats. This lunch box has a nondescript look to it that stands very little chance of causing any kind of stylistic embarrassment.
This lunch box is the perfect size — not too big, not too small. It features an over-the-shoulder strap and a small handle to provide four different ways to carry it. This lunch box has an exterior pocket with a zipper that has enough space for odds and ends, such as utensils and napkins. It's made with a premium polyester fabric that's designed for durability, has enough space for up to 12 cans of soda, and comes equipped with a dual zipper for easy access. This lunch box also features a mesh net pocket on the inside of the lid for even more storage. At under 17 bucks and with thousands of positive reviews, it's clear this deal is a winner.
Purchase the Opux premium insulated lunch bag for kids on Amazon for $16.99.
Best freezable lunch box for kids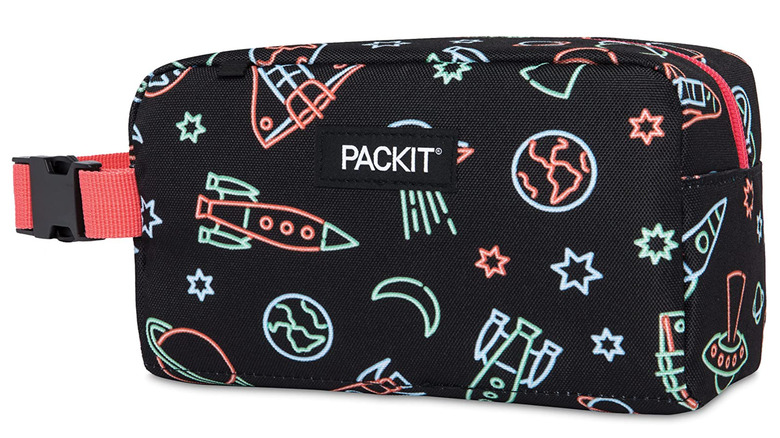 PackIt
Freezable lunch boxes have their advantages. Being able to toss a few snacks in the freezer is a great way to ensure that your food will stay fresh for a longer period of time after you take it out once it begins to thaw. Fresh fruit, yogurt, or even a slice of pizza — there are tons of different foods that can end up maintaining their structure and freshness better if they get frozen first. The beauty of this freezable lunch box for kids is that it doesn't require an ice pack.
You're probably rightfully wondering how that's possible. And the answer is: freezable gel. This lunch bag has a freezable gel injected into its lining that essentially functions as a permanent, built-in ice pack. You could throw a couple pieces of fruit in here and by the time lunch rolls around, there's a good chance it'll still taste nice and cold like it was plucked right out of the fridge. This bag also with a buckle clip for easy attachment.
You can buy the PackIt freezable snack box on Amazon for $17.99.
Best lunch box for high schoolers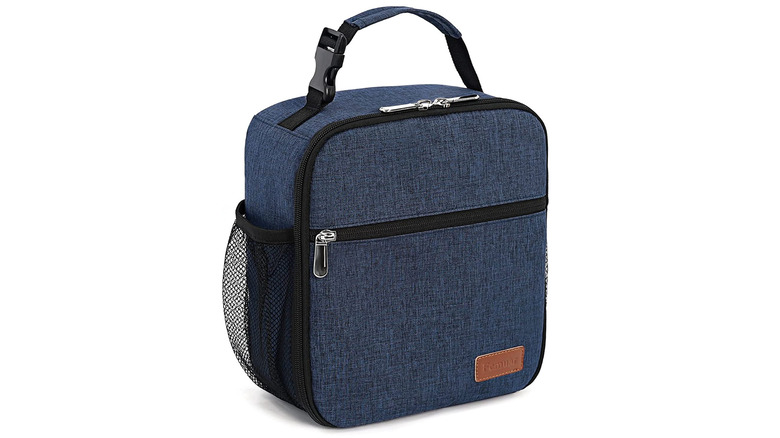 Femuar
By the time high school rolls around, kids tend to have a seemingly insatiable appetite. Having a good-sized lunch box for your kids is a great way to make sure they're eating a full, nutritious meal. This lunch box from Femuar can fit almost two gallons of food inside. That equates to enough space for a few canned drinks, a standard piece of Tupperware full of food, and a couple pieces of fresh fruit — more than enough to keep your high schooler properly fueled-up for the afternoon.
We all know how immensely frustrating it can be when cheap zippers get damaged and permanently stuck in place. Fortunately, that's not something you should have to worry about with this bag. This lunch bag features durable, high-quality, break-resistant zippers to ensure optimal performance and longevity. It also comes with an inner mesh pocket for a little extra storage — a great spot for bagged sandwiches to stay cool without getting crushed. There is an exterior zippered pocket too with enough space to hold essentials like a phone, keys, or wallet. With 4.7 stars after more than 3,900 reviews, there's clearly a lot of reasons that this lunch box is one of the hottest deals out there.
Purchase the Femuar portable lunch box on Amazon for $15.99.
Best stainless steel lunch box for kids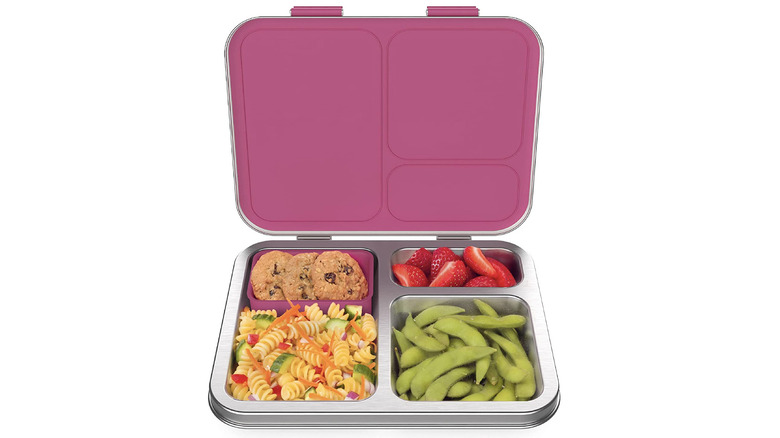 Bentgo
Stainless steel has its charms. For starters, it's one of the most hygienic materials available and it's very easy to clean (via Tampa Steel). But it's also highly durable and resistant to corrosion. In other words, stainless steel is the type of material that could go to hell and back yet emerge relatively unscathed — making it a great contender to survive continual use at school.
The stainless steel lunch box features three separate compartments and also comes with an extra removable silicone food container — perfect for containing some snacks like mixed nuts, fresh fruit, or cheese and crackers. The lid on this lunch box has grooves lined up to match the compartments in the food tray below it, creating a highly leak-resistant seal that safely and consistently keeps food properly contained. This model also features recently updated latches that lock down to ensure an airtight seal. Safe for the dishwasher on the top rack and lightweight, there's a lot to love about this lunch box.
You can buy this Bentgo Kids stainless steel lunch box on Amazon for $49.99.
Best collapsible lunch box for kids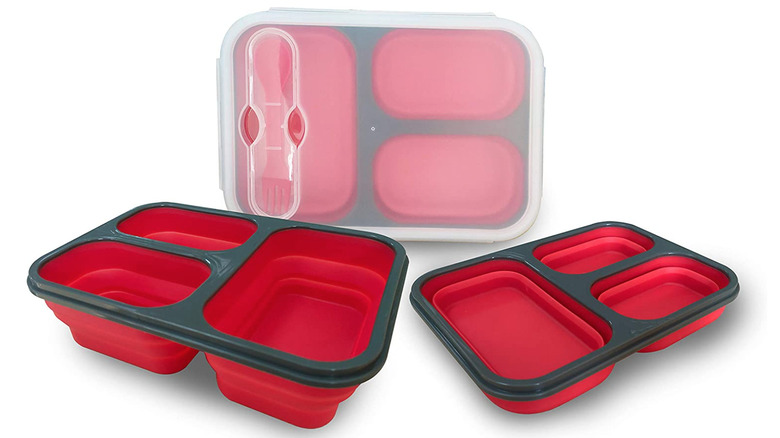 Exclusivo Bolsillo
Collapsible lunch boxes make it easy to save a little space. Once this lunch box is emptied out and the meal is finished, it can be gently pressed downward into a flat rectangle and easily slipped into another bag or backpack. Beyond its sleek design and fluctuating size, it also happens to be non-toxic and BPA-free, and it's made with food-grade silicone. But the great features don't stop there.
This collapsible lunch box is also safe for the dishwasher and the microwave (once the lid is removed) thanks to its thick, premium silicone. It's lightweight and leakproof, and it even comes with a convent double-sided utensil with a fork on one side and a spoon on the other — with the added bonus of a special utensil slot molded right into the lid. The three compartments inside of the food tray have more than enough space for a good-sized lunch, broken up into two 250 ml compartments and one 600 ml compartment. With a practical design that saves space and a cheap price tag like this, it's no wonder these are flying off the shelves. Score one for yourself while it's still available.
Purchase the Exclusivo Bolsillo collapsible lunch box on Amazon for $13.99.