Little Caesars Just Threw Shade At Pizza Hut On Twitter
What happens when you have four chain pizza shops within 10 miles of your house? A pizza war, of course — as well as a difficult decision when you're craving a pie for dinner. If Domino's is in the mix, there's a pretty good chance you'll be choosing it; according to Statista's 2021 findings, it's the best-selling pizza chain in the United States, with $8.64 billion in sales last year. Second is Pizza Hut ($5.51 billion in sales), followed by Little Caesars ($4.23 billion). Rounding out the top four is Papa John's, which boasted $3.59 billion.
Despite there being an obvious champion (numbers never lie), the battle between these chains to win over each other's customers is ongoing. Evidence of the debate can be found on Reddit, when a user asked the r/fastfood subreddit, "What is your go to Pizza chain?" The answers varied tremendously, with votes for Domino's, Pizza Hut, Little Caesars, Marco's, and several more. "I've always loved Domino's. I love their sauce and their pepperoni," read one comment. Another user wrote, "I usually go with Papa John's but it's my go to mostly because they have a good rewards program."
The only thing this proves, though, is that everyone has different opinions. Regardless of which side you're on in the pizza wars, you probably find it funny when food chains roast their competitors on social media — something that Little Caesars did this week.
Little Caesars threw shade at a Pizza Hut menu item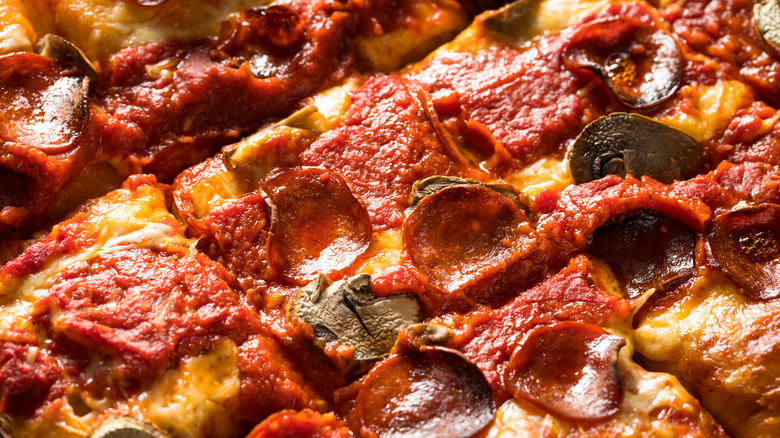 Brent Hofacker/Shutterstock
Although social media can be both a blessing and a curse, it's definitely the former when it comes to hilarious fast food battles. On November 9, Little Caesars took to Twitter to write, "Name a time someone made you lol. I'll go first: A Dallas-based company with a red roof selling Detroit-Style pizza." If the red roof reference didn't give it away, a quick search of where Pizza Hut is headquartered will. And if you consider that Little Caesars is from Detroit, Michigan, it will add another layer of hilarity to the post.
The shade was obvious to the fans who commented. "Little Caesars throwing shade at the Hut. That's funny," one Twitter user replied. Another individual answered the posed question. "I'll go second. A Domino's selling pizza that [is] not that delicious. Little Caesars is better," the comment read. While most fans seemed to laugh at the "shots fired," one Detroit-style pizza connoisseur pointed out that Little Caesars has work to do on its own Detroit pies, which serve the cheese as the final layer instead of the sauce. At the time of writing, Pizza Hut has not yet dished out a response.