Burger King's Royal Crispy Chicken Sandwich Is Getting An Italian Makeover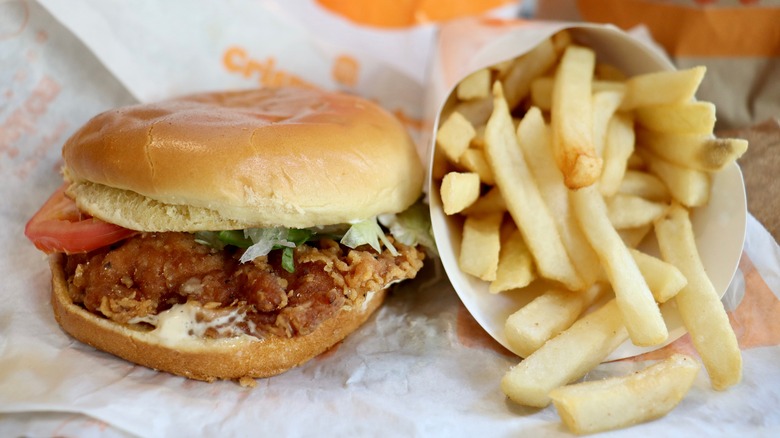 Ant DM/Shutterstock
When it comes to fashion, it's fairly common knowledge that some of the best clothing, shoes, and accessories come from Italy. The boot-shaped country is home to some of the most famous luxury designers, including Versace, Gucci, and Prada (via Think In Italian), not to mention that it also hosts the prestigious Milan Fashion Week twice a year  — and we're sure some of you would happily trade their clothes for apparel with the words "Made In Italy" on the tag.
Unfortunately, hopping on a plane to Italy for a closet refresh may not be an attainable goal for a majority of us. But if dressing head-to-toe in the finest Italian leather is your dream, you may be happy — or envious — after hearing about the latest news from Burger King. According to Chew Boom, the chain's Royal Crispy Chicken Sandwich will soon be living out the dreams of fashionistas everywhere, as the sandwich is set to undergo an Italian makeover of its own.
BK's Royal Crispy Chicken Sandwich with an Italian twist
Is it normal to be jealous of a sandwich? Because we may or may not be envious of Burger King's chicken sammie after hearing about its upcoming Italian makeover. Sadly, the latest installment to the eatery's new line of Royal Chicken Sandwiches won't include a complimentary Gucci bag or Prada shoes, however, the BK Italian Royal Crispy Chicken Sandwich will feature a white meat chicken breast fillet, two slices of mozzarella cheese, and marinara sauce (per Chew Boom).
The sandwich will debut nationwide on Thursday, November 17, though select Burger King locations will start serving it as early as November 14. Don't let the "royal" in its name fool you, either. Despite the name, Chew Boom says that the price for an Italian Royal Crispy Chicken Sandwich à la carte will start as low as $5.49. Che bella!
Burger King's newest entrée drops nearly one year after the chain brought its Italian Chicken Sandwich back for a limited time. A take on the eatery's famous Original Chicken Sandwich from 1979, YouTube channel, Peep This Out, found the Italian-inspired modifications made it a "very lovely situation overall." For the sake of Italian food lovers and chicken sandwich fanatics alike, hopefully the new sandwich will be the same.