Burger King Finally Launched Its Line Of Chicken Sandwiches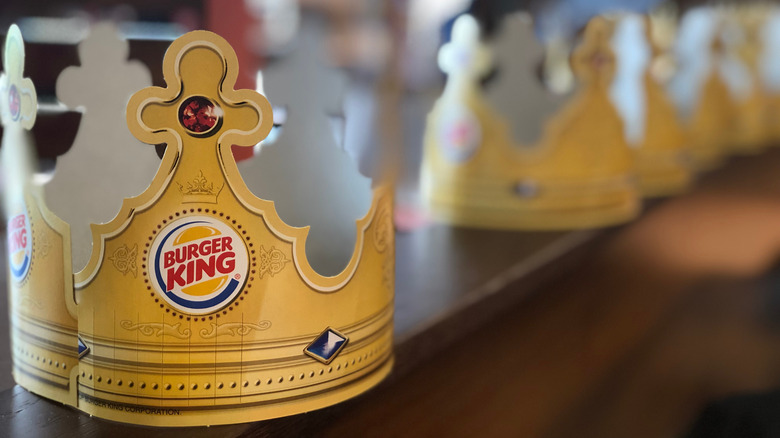 Kate Krav-Rude/Shutterstock
Last year, the launch of Burger King's Ch'King sandwich was big news. At the time, the fast food chain explained it had spent two years "perfecting" the new item, and even made the bold statement that the hand-breaded sandwich "might be as good as the Whopper" in a press release. Whether or not the Ch'King was as good as the Whopper is up for debate, but it certainly didn't have the same staying power.
It turns out that the Ch'King sandwiches are already being replaced with a new line of chicken sandwiches, according to Chew Boom. This information might not come as a surprise to some Burger King fans who reside in New York or Virginia. In both states, Burger King tested out the new offerings back in May. Now the rest of the country will be able to get it on the taste test. Chew Boom reports that the chain is ready to roll out new chicken sandwiches this month, and customers nationwide will have the opportunity to try the new lineup.
These are 4 Royal Crispy Chicken Sandwiches to choose from
While the chicken sandwich wars are evolving into a battle over finger foods for some fast food retailers, Burger King is still making strategic moves in the chicken sandwich arena. Chew Boom reports that the chain is launching four Royal Crispy Chicken Sandwiches nationwide this month. The quartet of new sandwiches includes a Bacon and Swiss Cheese Royal sandwich that comes with "savory sauce, creamy Swiss cheese, crispy bacon, lettuce, and tomatoes," and a Southern BBQ Royal sandwich with barbecue sauce, caramelized onions, bacon, and cheese. There's also a saucy Royal Crispy Chicken Sandwich simply topped with lettuce and tomatoes, and a spicy version of that sandwich that comes with a "triple pepper spicy glaze" instead of the "savory sauce." All four new sandwiches reportedly include a crispy white meat breast fillet served on a toasted potato bun.
Only time will tell if the new sandwiches will last longer on Burger King's menu than the Ch'King. Yahoo! Sports points out that the chicken patty on the new Royal chicken sandwiches isn't hand-breaded and looks "slightly thinner" than the patty on the former Ch'King. Though the Ch'King had its fans (Brand Eating said it was "thick," "juicy," and "tender"), it may not have hit the right numbers. Yahoo! Sports reports that the CEO of Burger King's major franchisee Carrols Restaurant Groups claimed "They spent a fortune on the chicken sandwich and it just didn't do what it was supposed to do."