A Couple Makes Their Dreams Come True By Getting Married At Aldi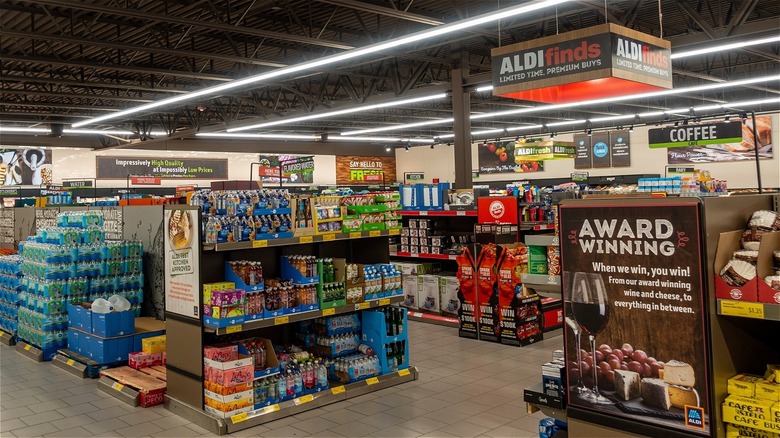 Joni Hanebutt/Shutterstock
Weddings held in nontraditional places may not be something everybody understands, but really, it's not something for anyone to understand. The day of your marriage is for you and your spouse only, which means you get to choose what makes you happiest. Whether it's the restaurant the happy couple had their first date at or a buffet spot they always enjoy on vacation, more and more marriages are happening in spaces involving food.
To piggyback off that, Taco Bell actually hosts weddings at its Las Vegas location. This decision likely proves quite profitable, as according to Simply Eloped, around 300 people per day (or 10,000 each month) get married in the popular Nevada city. Along with an upstairs chapel, the Taco Bell wedding venue includes a private area for 15 guests, merchandise such as branded champagne flutes and a sauce packet garter, a 12-pack of tacos and Cinnabon Delights, and a "sauce packet bouquet." You can walk into this Taco Bell in Vegas, ask to get hitched, and apparently you'll be paired with an officiant "within as little as four hours."
It's not just fast food joints: This month, a couple was wed at their favorite grocery store, and as a treat, Aldi paid for the whole thing.
A contest provided everything for free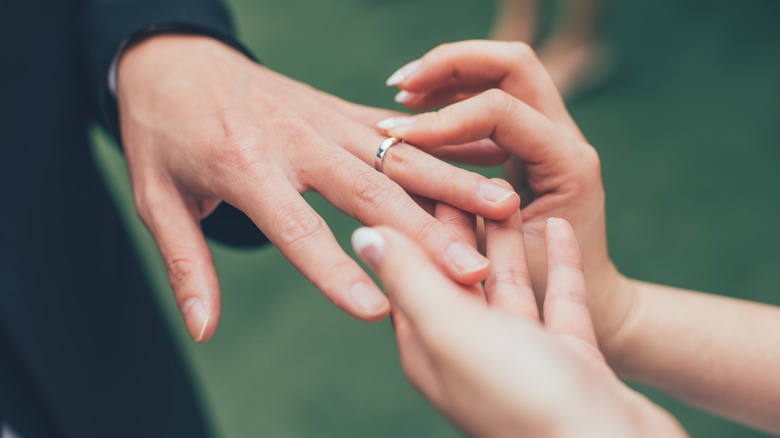 Hakim Graphy/Shutterstock
"Walking down the aisle" will never have the same meaning again. According to People, Michael Hurd and Jessica Bojanowski celebrated their wedding day in a Batavia, Illinois Aldi on Wednesday, November 9. The grocery store made several arrangements, such as providing beer and wine, a three-tiered carrot cake with a grocery cart topper, and an officiant, who happened to be a grocery store employee. As far as food goes, guests were able to enjoy a giant check-out-lane sized charcuterie, chicken sliders, jumbo coconut shrimp, and a special cider cocktail.
To further sweeten the deal, the couple was gifted with a slew of home goods including free groceries for a year, and guests of the wedding left with several party favors. "[Aldi] has always been a key part of our relationship. We work opposite schedules, so weekends are the only time we get to really see each other. We've always cherished our Sunday morning Aldi shopping dates. It's something we look forward to doing together each week," the couple explained.
Per Business Insider, Aldi made the pair's dream a reality by offering a free wedding to one contest-winning couple if they agreed to exchange vows in its store. In order to hold the event at its Illinois headquarters, the company provided travel, hair, makeup, and a photographer. The discount grocery chain also shelled out for as many as 50 guests to attend the wedding, free of charge.