Reddit Gave An Aldi Mac And Cheese A Rare 10 Out Of 10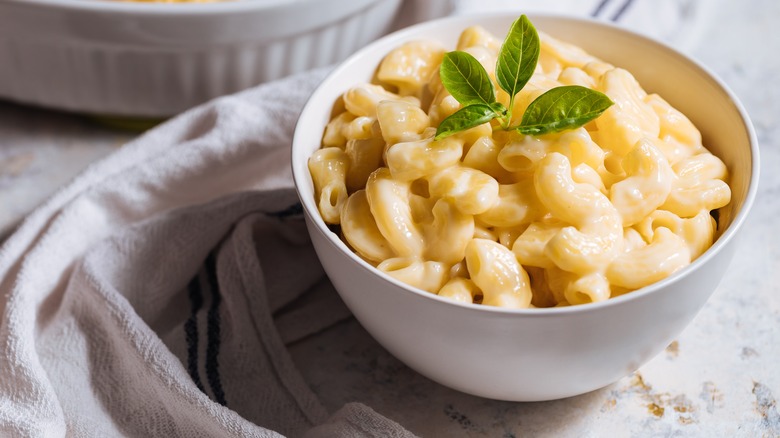 harexape/Shutterstock
Anyone up for a hot, fresh serving of mac and cheese? Having gained its popular reputation throughout the 20th century as an "ideal American food," mac and cheese has made its way throughout millions of households' dining tables and restaurants (via Smithsonian). The dish is not only a favorite among Americans but also global citizens. Canadians reportedly eat more boxes of the famous Kraft Mac & Cheese brand than Americans (via Food Network).
Everyone has their favorite mac and cheese brand and type. We all like what we like after all. Some aim for a creamy consistency while others prefer a balanced mix of cheeses and flavors instead of just one. Because of the versatility and creativity that comes along with it, brands have made dozens of different mac and cheese food offerings to customers, ranging in various flavors and shapes. From Kraft Original, Marie Callender's Vermont White Cheddar, Annie's Shells, and Real Aged Cheddar, Velveeta Shells and Cheese, and more, it can get quite overwhelming sometimes in your local grocery store aisle. Still, though, we welcome new and improved versions of mac and cheese as they come in, and once the secret is out, it is hard to prevent others from knowing about them.
In the latest mac and cheese game, Aldi has a brand become popular with some customers even claiming it as a 10 out of 10 when it comes to flavor and creaminess.
White Cheddar for the win
According to Reddit, Aldi has some amazingly delicious ready-to-eat mac and cheese that customers are ranking it a 10 out of 10. That's a pretty hefty ranking to be putting out there for all to see, but customers are pretty confident in their conclusion about it. This isn't any old mac and cheese though. Park Street Deli's offers customers a bowl of ready-to-heat and serve white cheddar macaroni & cheese. The bowl is described as "creamy macaroni with real white cheddar, parmesan, and romano cheeses." 
We can easily get on board with that. "This Mac & cheese is a 10/10. That's it, that's the post," the original Redditor posted. Another customer wrote, "I finally bought this and just ate it, and it was very good! I have a very high bar for mac and cheese, and in my opinion, it was even better than the actual Panera mac. Noodles not soggy, and not gritty at all. Very creamy."
According to Aldi Reviewer, Park Street Deli's white cheddar macaroni & cheese is a staple at the grocery store, meaning it should be on shelves year-round. It sold for $2.49 last year, but with inflation, could have jacked up in price this year.