Hostess Holiday-Themed Treats Are Finally Back On The Shelves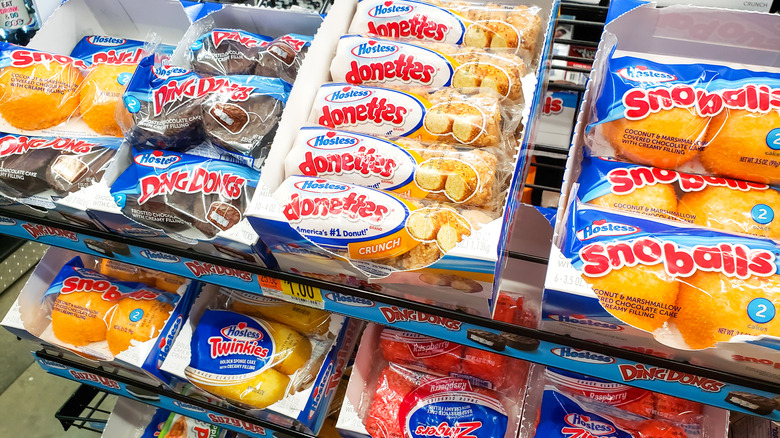 The Image Party/Shutterstock
There are so many things to look forward to this time of year. If decorating the Christmas tree, singing holiday tunes, and eye-balling that mountain of wrapped gifts isn't enough to fully warm the cockles of your heart, you can always anticipate the return of your favorite holiday foods. Mmm, holiday foods.  
What are some of America's favorite holiday snacks? According to a Zippia study of the Google Trends for each state, it turns out that the preferred holiday dessert is cheesecake, with nine states ranking it supreme. General Mills examined which Christmas cookies received the most clicks in every state and determined that Betty Crocker's classic peanut butter blossoms rule the roost, with seven states giving them top honors. Not everyone, however, feels moved to whip up a classic New York Cheesecake or a batch of cookies in the colder months. What about those who instead prefer a pre-made sugary snack? 
Well, Hostess has some fabulous news for the time-strapped sweet tooths in the crowd, as the brand has just released some delectable holiday-themed goodies to add some sweetness to the lives of non-bakers.
Mint Chocolate Twinkies are back with some friends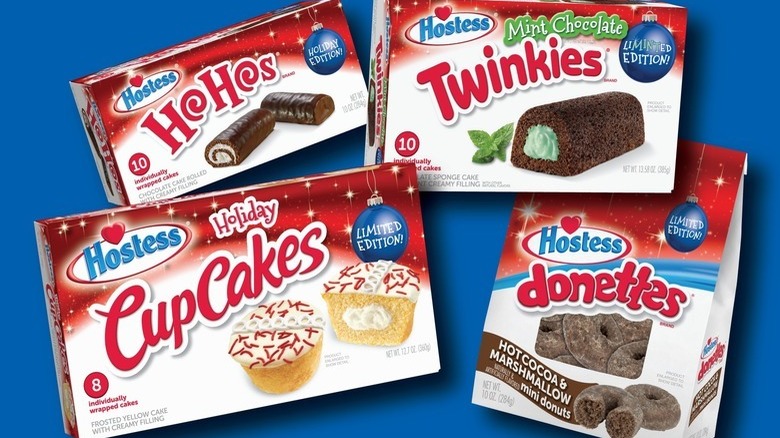 Hostess
America loves Hostess. In fact, data from Statista shows that in 2020, more than 3 million Americans scarfed down at least eight servings of these beloved snacks. It makes sense, then, that the company's festive offerings would be of interest to a sizable audience. So without further adieu, a press release has announced this year's Hostess treats are Holiday HoHos, Holiday CupCakes, Mint Chocolate Flavored Twinkies, and Hot Cocoa & Marshmallow Flavored Donettes. These limited-time goodies will hit shelves this month. 
Fans familiar with Hostess' holiday offerings won't have anything novel to sample this year, as all four items are returning from previous seasons (except for the "new" Holiday HoHos, which feature the regular recipe in festive packaging). For the uninitiated, one Redditor likened the filling of mint chocolate Twinkies to a McDonald's Shamrock Shake, while reviews for the Donettes say they're very chocolaty with a hint of marshmallowy sweetness.