We Tried Smoothie King's New Limited-Time Holiday Smoothies. They Filled Us Up With Cheer And Protein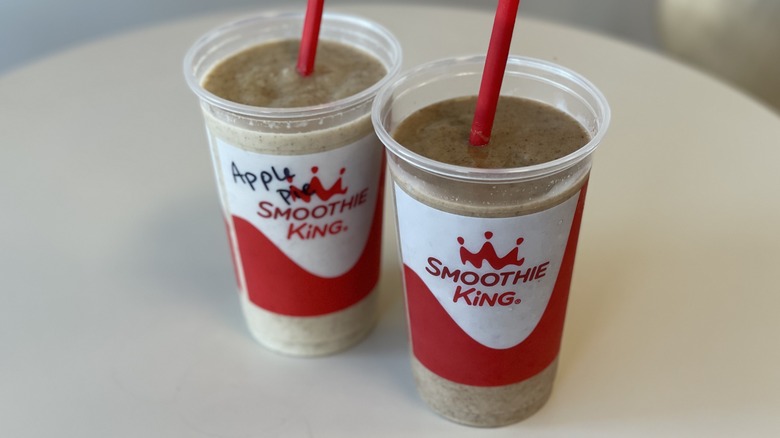 Steven John/Mashed
If you have never been to a Smoothie King before, this holiday season is a good time to change that. And while the chain has almost no presence out West, there are hundreds of Smoothie King locations dotting the South, the Midwest, and the East Coast of America (in fact, there are more than 1,135 Smoothie King locations at the time of this writing, per data company ScrapeHero), so you probably won't have much trouble finding one. Why is this a good time to head to a Smoothie King? Because this might be the only time you can get a Snickerdoodle or Apple Pie smoothie from this health-driven chain.
"But hey, what's the deal?" you loudly shriek as you scan the menu posted on the wall of your local Smoothie King, adding: "I don't see a Snickerdoodle or Apple Pie smoothie listed here at all." OK, so you probably would not have shrieked out those exact words, and in fact, you would more likely have kept your voice pleasant and moderated and your word choice more balanced. Either way, you would have been right. The new Smoothie King smoothies will not be appearing on any printed menus — they are only available via the Smoothie King app or for order via Smoothie King's website (Though we imagine most Smoothie King employees would be happy to indulge you and blend up one of these new holiday-themed treats if you asked in person).
What's in Smoothie King's new limited-edition smoothies?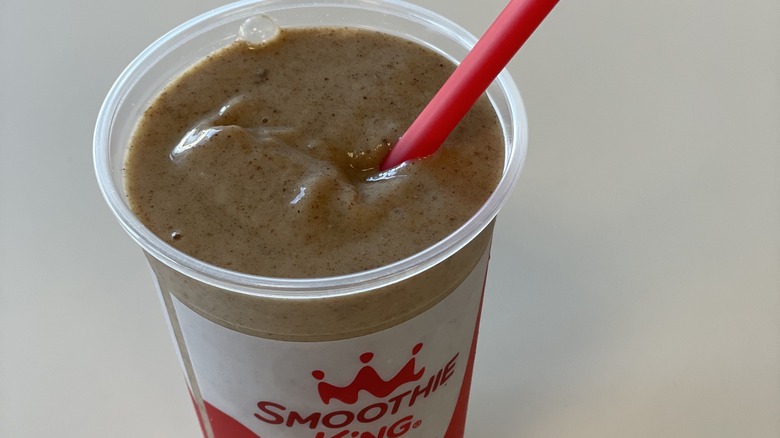 Steven John/Mashed
What you won't find in either of these new smoothies from Smoothie King is a lot of junk, nor will you find a lot of added sugar (in terms of overall sugar content, they're rather high, which we'll get to later). As the smoothies were brand-new on the day we tested them — in fact, they had not even launched yet; the employee who made ours was preparing them for the first time — we had to check the same sheet of ingredients and step-by-step instructions Smoothie King staff used for prep in order to verify the ingredients. We can tell you that in the Snickerdoodle smoothie, you'll find water, bananas, almond milk, dates, almonds, vegan protein (which is likely sourced from peas and goji berries, based on the vegan protein Smoothie King usually uses), cinnamon, and ice.
In the Apple Pie smoothie, you'll find water, bananas, blended apple juice, almond milk, almond butter, turbinado (that's a minimally processed brown sugar, the stuff you find in packets of Sugar in the Raw), Super Grains (which is, per Smoothie King's site, "A blend of seven ancient grains including Flax, Chia, Quinoa, Amaranth, Buckwheat, Millet, and Teff"), cinnamon, and ice. So there you have it: nothing hard to pronounce, nothing mysterious, nothing artificial. These smoothies are made with real foods and they really are a decent, healthy option whether consumed as a breakfast, for workout fuel, or when there's no time for lunch or dinner.
How much do the new Smoothie King smoothies cost?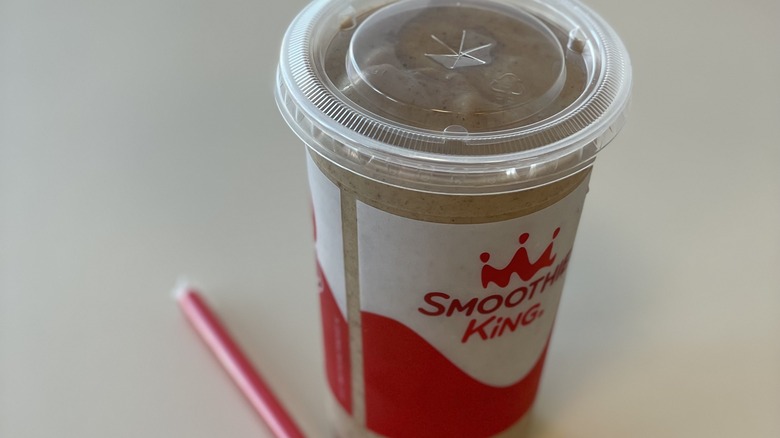 Steven John/Mashed
As you may have noticed with all foodstuffs these days — not to mention toys, rent, clothing, haircuts, and many other things — prices are notably higher on smoothies than they were in the past. When we checked the prices on these two new Smoothie King smoothies, we were a bit surprised, but do keep in mind, as we did, that the larger sizes of smoothies really are meal-sized, so you are getting your money's worth in terms of pure calories and protein and such. Anyway, let's face the music here. Both the Apple Pie and Snickerdoodle smoothies cost the same. At our local Smoothie King (and prices may vary by location), the 20-ounce size costs $5.78. A 32-ounce Apple Pie or Snickerdoodle smoothie will cost you $7.96, and a 40-ounce selection will run you a hefty $9.57.
Nearly $10 for a smoothie — not cheap. And then when you start adding in "Enhancers" or additional fruits, veggies, proteins, or other extras, things can get even more expensive quickly. Want to beef up that 40-ounce Snickerdoodle smoothie with a shot of "Pure Recharge" (which is caffeine, vitamin B12, and ginko biloba) and some whey protein? You would have just created a 12-plus-dollar smoothie. Granted, you'd be full and feeling alert and energized for hours, but that's still pretty pricey for a liquid lunch.
For how long will Smoothie King's holiday smoothies be available?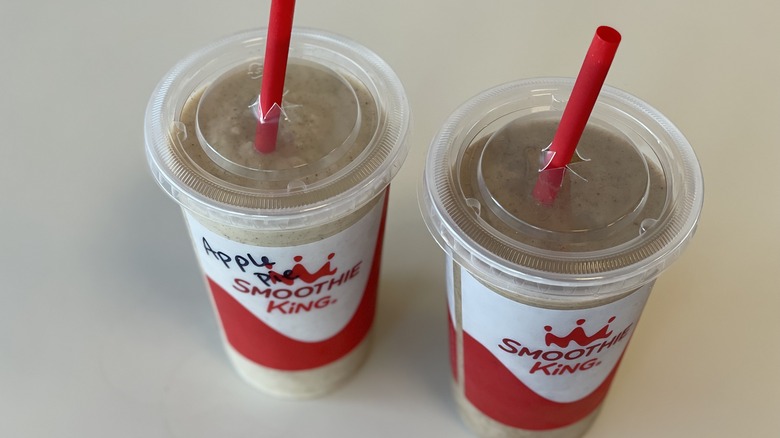 Steven John/Mashed
These limited edition holiday-themed smoothies are tied to the winter holidays of 2022. They dropped just this week (the week starting Monday, November 14), and per the information we got from a PR firm that works with Smoothie King, they will only be available through Monday, December 26, the day after Christmas — or the day known as Boxing Day in the UK, Australia, Canada, and New Zealand, according to our wall calendar. There's only six-week window, give or take, during which you can tap on the Smoothie King app or head to the company's website and get a Snickerdoodle or Apple Pie smoothie.
Here's the thing, though: With Smoothie King, you can always customize your smoothies in myriad ways, so you could effectively recreate one of these limited-time holiday smoothies later so long as you took careful note of the ingredients. And we'd like to think we have made that pretty easy for you to do already. For example, you could order, say a Banana Boat smoothie and then ask the Smoothie King employee helping you to add apple juice and cinnamon and you'd be pretty darn close to the flavor of the Apple Pie smoothie. So don't fret too much if here Boxing Day has already come and passed and you still haven't gotten to Smoothie King, you can create replicas of the holiday flavors any time.
How do the new Snickerdoodle and Apple Pie smoothies compare to other Smoothie King menu items?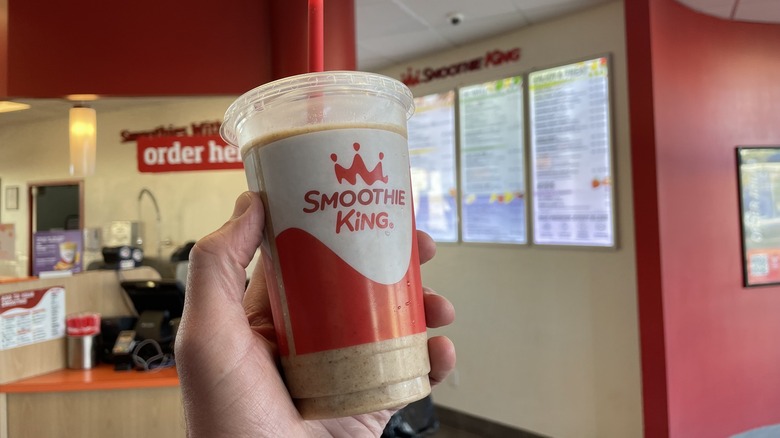 Steven John/Mashed
Based on the fact that you can verily create (or recreate, that is) a DIY take on the Snickerdoodle or Apple Pie smoothies by dressing up and customizing other smoothies that are always on the menu, it's probably little surprise that these smoothies are easily compared with other offerings from Smoothie King. Like so many Smoothie King smoothies, bananas are the primary ingredient here and, in terms of taste and texture, they define the smoothies. That's the same thing you'll find with many other options from the chain, from Banana Berry Treat to Passion Passport and beyond. And what's rather lovely about Smoothie King is that regardless of what any smoothie from there has as a first ingredient, it's almost always a fruit or vegetable, not frozen yogurt or a powder blend or anything. When it's not bananas leading the charge, it may be strawberries, pumpkin, kale, or carrots.
Do note that by Smoothie King's standards, these new smoothies are more on the treat than on the health side. In addition to being prominently featured on the "Secret Holiday Menu," they are also listed in the "Enjoy A Treat" category. 
What's the nutrition info for Smoothie King's newest smoothies?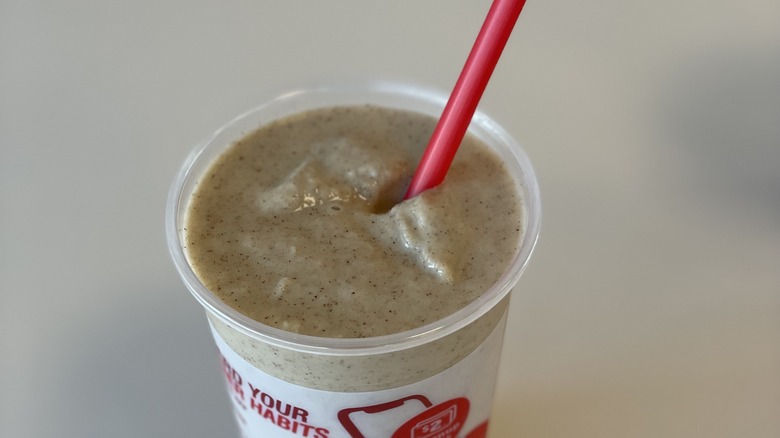 Steven John/Mashed
Alright, so here's really the thing about these smoothies: if you order a huge size, as in the 40-ounce smoothie, you're really getting more than you need in all regards, from calories to protein, fat, and sugar. As these are brand-new and limited-time offerings, the entire nutrition info has not been posted on Smoothie King's website, so you're going to have to trust us. We know from asking Smoothie King that a 20-ounce Apple Pie smoothie has 550 calories, 15 grams of fat, 81 grams of sugar, and 8 grams of protein. So if you double that to the 40-ounce size, that's a whopping 1,100 calories, a hefty 30 grams of fat, a best not to even think about it 162 grams of sugar, and a welcome 16 grams of protein, at least.
As for the Snickerdoodle smoothie, a 20-ounce serving there has a much more manageable 370 calories, 8 grams of fat, a still more than we'd like 44 grams of sugar, and a decent 11 grams of protein. Double it all for the 40-ounce Snickerdoodle smoothie and you're facing 740 calories, 16 grams of fat, 88 grams of sugar, and 22 grams of protein. And we're fine with all of that save for the sugar content — sure, it comes from natural ingredients, but that's still way more sugar than any of us should be having in a smoothie, not to mention in an entire day.
Did we enjoy Smoothie King's new Apple Pie and Snickerdoodle smoothies?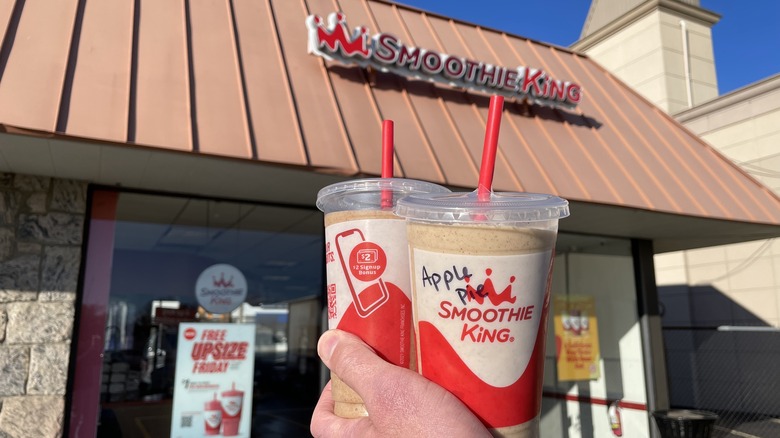 Steven John/Mashed
Yes, we very much enjoyed the new Smoothie King smoothies, and especially the Snickerdoodle smoothie — we'll tell you why in a moment, but first let us be clear about one thing: Surprisingly, these smoothies are not super sweet. Sure, there's an undeniable sweetness to both of them, and as noted they do have sugar — both added and naturally occurring — but these are not sugar-bomb milkshakes or anything like that. In both the Apple Pie and Snickerdoodle smoothies, the sweetness is very much balanced by the flavors of banana and cinnamon and, in the Apple Pie variety, by apple, of course.
We preferred the Snickerdoodle smoothie for three reasons. First, it simply tasted great. Second, we liked how it genuinely called to mind (or to taste buds, anyway), the flavor of the classic cookie for which it is named. And third, we loved how it was tasty and satisfying yet much lower in calories and sugar — and a bit higher in protein — than the Apple Pie option. As for the Apple Pie smoothie, the apple flavor and pie-like sweetness are perfectly pleasant. Had we not tried the two shakes side by side we'd be giving the Apple Pie a warm review instead of a runner-up shoutout.