Snickerdoodle Cookies Recipe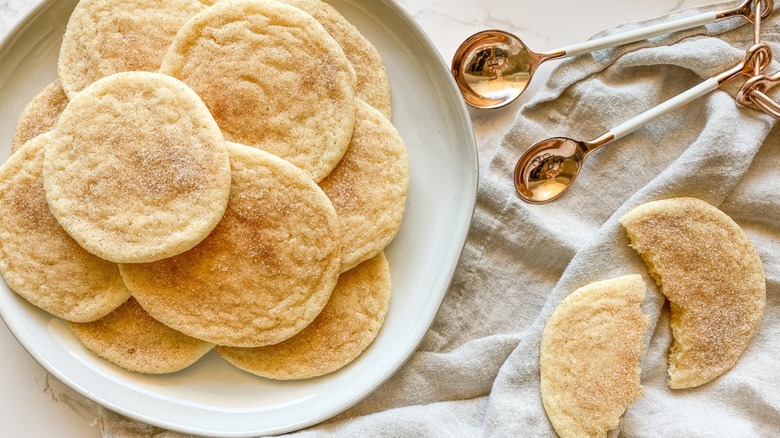 Kristen Carli/Mashed
Snickerdoodle cookies are a favorite among kids and adults — a classic treat that will always be in no matter the season. Although they are usually served during the holidays or maybe fall for their cinnamon flavor, the sugary dessert is great all year round. But what makes them so special? Well, snickerdoodles have a slightly crunchy exterior, especially along the edges, and a soft, chewy interior — the various textures that people usually look for in cookies. They also have a blend of flavors — that buttery, cinnamon goodness that makes hearts melt with every bite.
While it's easy to buy any type of cookies nowadays, homemade ones are still the best. Not only will you eat freshly baked ones, but you will also have full control over how you want your treats to come out. Now, are you craving some snickerdoodle cookies? Make them at home! According to recipe developer and registered dietician Kristen Carli of Camelback Nutrition & Wellness, anyone can make snickerdoodles, even people who have never baked before. The cookies are super easy to prepare and are made with simple ingredients.
Gather your ingredients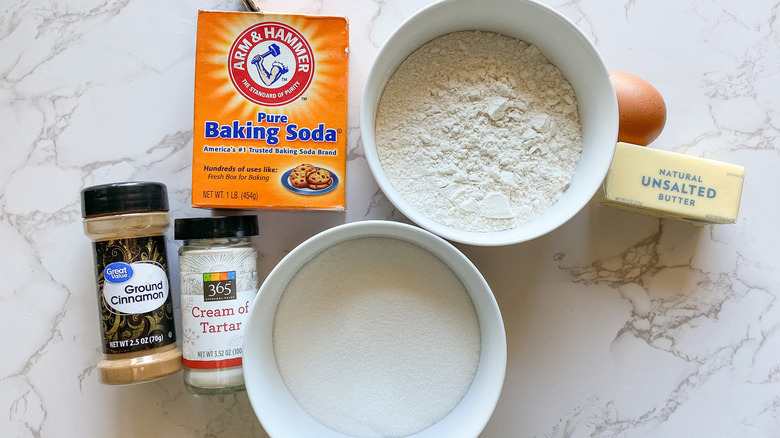 Kristen Carli/Mashed
Measure ingredients, preheat the oven, and prepare baking sheets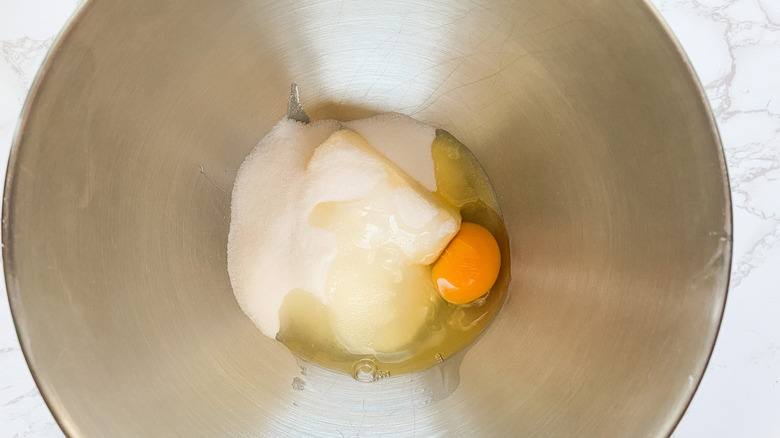 Kristen Carli/Mashed
The prep time to make snickerdoodles cookies will take about 20 minutes. To avoid extending the time, prepare and measure your ingredients beforehand. The next important step to make is to preheat the oven to 350 degrees Fahrenheit. Doing so will allow it to reach the needed temperature for baking the cookies. This step will help you in achieving the right cook time. When everything is set, grab two large baking sheets and place parchment paper on each. Set aside.
Mix the ingredients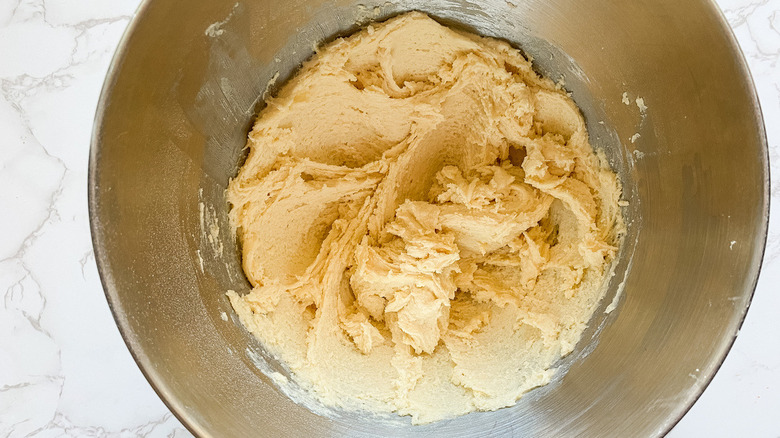 Kristen Carli/Mashed
To get started, add the butter, 3/4 cup of sugar, and egg in the bowl of a stand mixer — beat until combined, then set aside. Though Carli used a stand mixer to combine the ingredients, you can also use a hand mixer. In another mixing bowl, combine the flour, cream of tartar, baking soda, and salt. Mix thoroughly, then pour into the previous batter. A tip is to add the dry mixture in sections while beating to incorporate everything.
Mix the cinnamon and sugar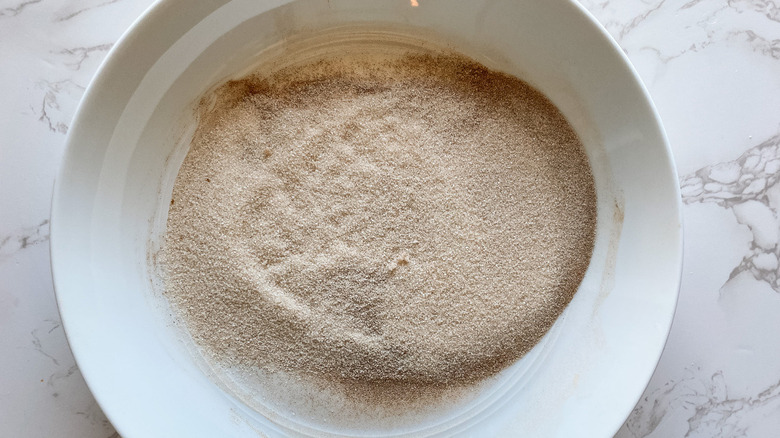 Kristen Carli/Mashed
In a small bowl, combine cinnamon and sugar. Mix thoroughly, then set aside. Now grab your bowl of cookie dough, then scoop out about a tablespoon of dough and roll into a small ball. Carli advises not to make the size too big to ensure the proper distance of each cookie. As you know, the dough melts under the heat, and if the size is too big — it will spread to the other cookies. Roll the balls into the cinnamon-sugar mixture, and make sure all sides are covered.
Place coated cookie dough on the baking sheets and freeze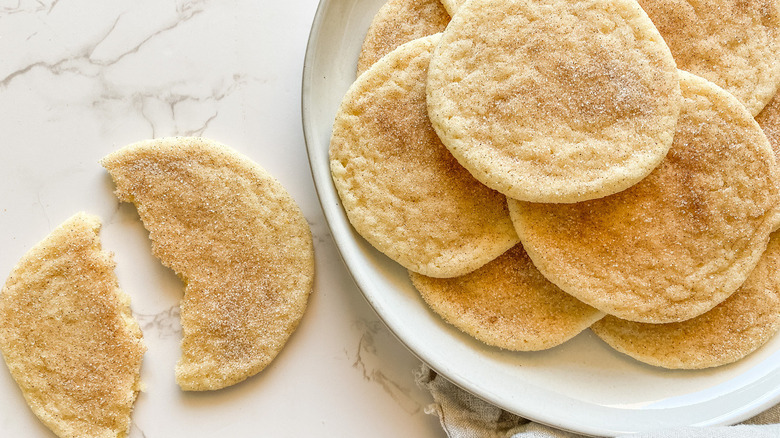 Kristen Carli/Mashed
After shaping and coating the cookie dough ball, place it on the baking sheet. Repeat the step until you use up all of the dough, and make sure that the cookies have at least 2 inches distance. Press down each cookie dough ball gently to flatten.
When you're done, don't think that you're ready to bake just yet. You will need to pop your baking sheets in the fridge for at least 10 minutes to get perfectly shaped cookies, as the frozen dough tends to hold its shape better than unfrozen ones. "The most important part is to make sure to freeze the dough and space out the dough at least 2 inches apart on the baking sheets," says Carli. "Because of the high-fat content from the butter, these spread a lot while baking. If you don't do these steps, you will end with a baking sheet of one giant snickerdoodle!"
Bake your snickerdoodle cookies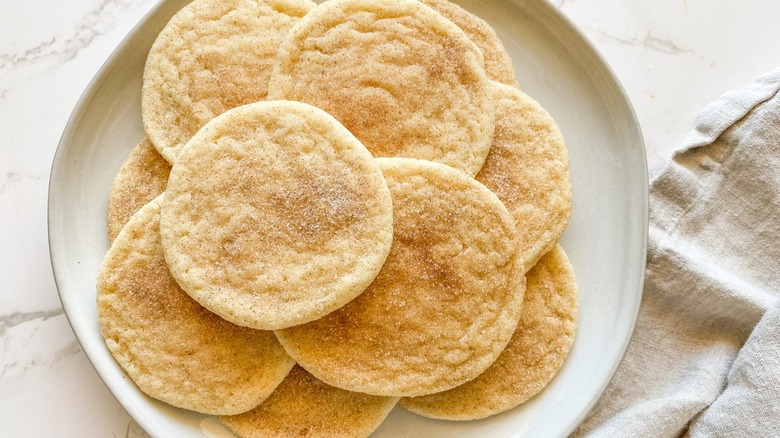 Kristen Carli/Mashed
After the freezing time, you can then place your baking sheets inside the oven. Bake your cookies for at least 8 minutes. You can serve the cookies freshly baked, later in the day, or the next day — the snickerdoodles will taste great either way. Carli suggests storing leftovers "in a large plastic bag" at room temperature to keep them fresh. She also notes that you can store them for up to 10 days.
Snickerdoodle Cookies Recipe
You'll want to make these snickerdoodle cookies all year round -- they're soft and chewy and filled with cinnamon goodness.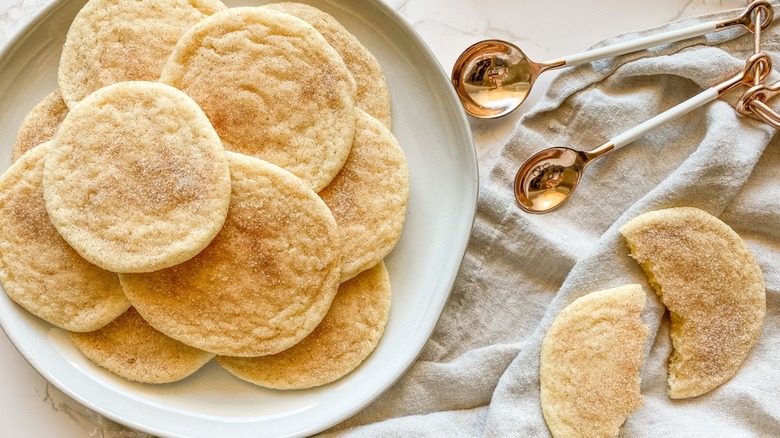 Ingredients
½ cup unsalted butter
1 cup sugar, divided
1 egg
1 ¼ cup flour
1 teaspoon cream of tartar
½ teaspoon baking soda
¼ teaspoon salt
1 teaspoon ground cinnamon
Directions
Preheat oven to 350 F. Prepare 2 large baking sheets with parchment paper. Set aside.
In the bowl of a stand mixer, add the butter, ¾ cup of sugar, and egg. Beat until combined.
In a separate bowl, add the flour, cream of tartar, baking soda, and salt. Mix to combine. Pour into the bowl of a stand mixer. Beat until combined.
In a separate small bowl, add the cinnamon and ¼ cup remaining sugar. Stir to combine.
Scoop out about 1 tablespoon of dough and roll into a ball. Do not make these bigger than 1 tablespoon or they will melt together when in the oven. Roll in the cinnamon-sugar mixture until completely covered.
Place on baking sheet at least 2 inches apart and press down gently to flatten. Repeat with all dough until about 12 cookies are made.
Freeze the baking sheets for 10 minutes.
Bake for 8 minutes.
Serve the snickerdoodles fresh, later in the day, or the next day!
Nutrition
| | |
| --- | --- |
| Calories per Serving | 186 |
| Total Fat | 8.1 g |
| Saturated Fat | 5.0 g |
| Trans Fat | 0.3 g |
| Cholesterol | 33.7 mg |
| | |
| --- | --- |
| Total Carbohydrates | 27.0 g |
| Dietary Fiber | 0.5 g |
| Total Sugars | 16.7 g |
| Sodium | 100.9 mg |
| Protein | 1.9 g |