The Canned Pumpkin You Should Buy For Your Thanksgiving Pie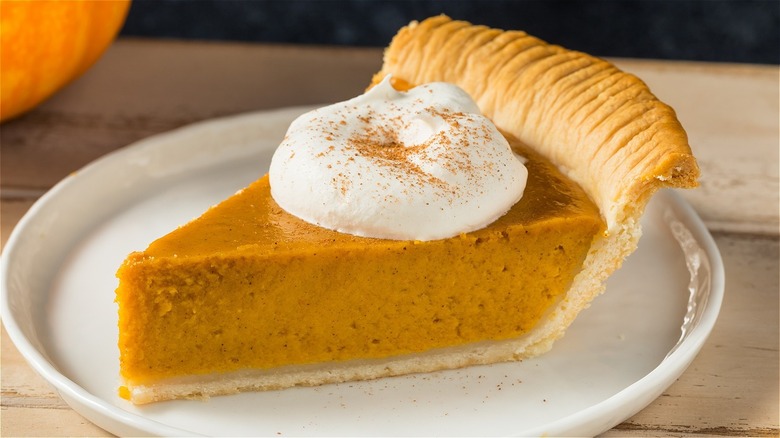 Bhofack2/Getty Images
Time to start finding the pumpkin pie recipe you will be using for this year's Thanksgiving feast. If you are new to the pumpkin pie world, then you may be unaware of the different ways you can bake the classic pie. You can make it completely homemade, with a fresh pumpkin straight from the patch, or you can buy canned pumpkin puree that makes the baking a little easier for those in a time crunch.
Knowing what to buy when it comes to the sacred pumpkin pie can be a little intimidating. There are a lot of different recipes out there with a lot of different recommendations. Which makes sense, since it is a very historical pie dating back to the 1600s (via History). But, one of the most confusing questions can be canned pumpkin versus fresh pumpkin. However, there is an answer backed up by bakers who use the product themselves. While a lot of it has to do with childhood memories of the stuff, there's a reason it's been around for decades and the final product, the pumpkin pie itself, is always delicious.
A childhood favorite comes to mind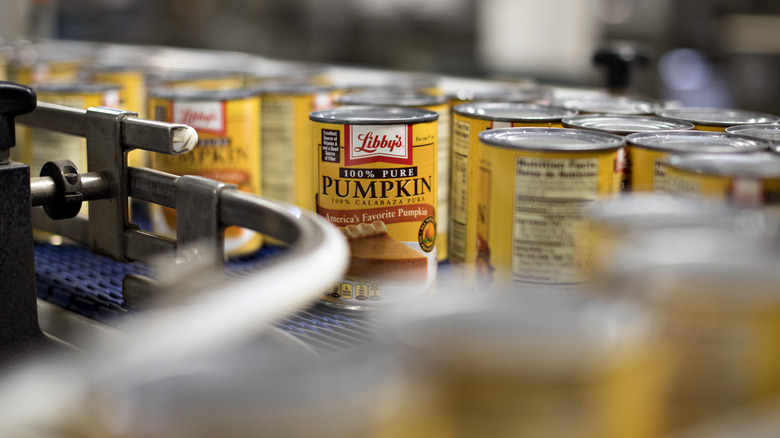 Bloomberg/Getty Images
When it comes down to it, the answer seems to be that Libby's 100% Pure Pumpkin is the ideal canned pumpkin for your Thanksgiving pumpkin pie. Make note, not the canned pumpkin pie mix that you may be confused with, but the pure pumpkin that has no added sugars or spices. In this Huffington Post article, it seems most bakers use the canned pumpkin due to pure nostalgia. It's also one of the best brands of canned pumpkins. Libby's canned pumpkin has been around for over 100 years, according to their website, meaning generations have had access to this canned pumpkin for all their pumpkin pie needs.
The can also has a classic pumpkin pie recipe on the back of it that people have relied on for years. It's a convenient go-to recipe when making pumpkin pie for Thanksgiving. But you can also use the brand in any other pumpkin pie that calls for canned pumpkin, like this 5-ingredient pumpkin pie recipe, or other recipes like soups, smoothies, and other options.