Pumpkin Pie Recipe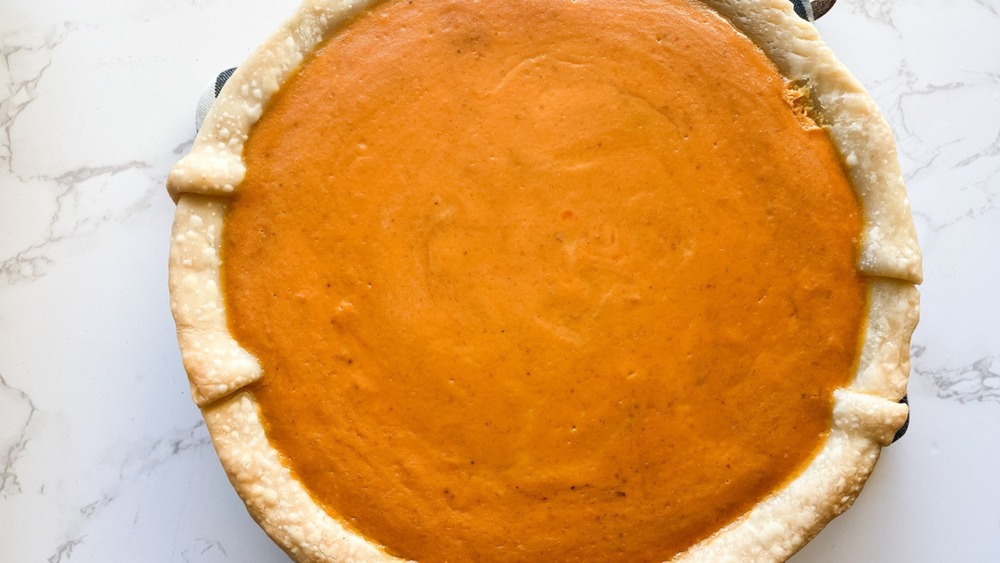 Kristen Carli/Mashed
How many of us have bought a pumpkin pie? Be honest! You know you have. But wouldn't it be amazing to master a homemade pumpkin pie recipe you can whip up any time company is expected? Or, you just want to enjoy a creamy, delicious slice of comfort food? The good news is that registered dietician Kristen Carli has developed a recipe along with Mashed that she swears you needn't be intimidated by.
"This is a super easy recipe," Carli told Mashed, adding, "It utilizes store bought crust and only a few ingredients." Yes, you get the best of both worlds — you will not need to fuss with getting a pie crust to turn out just right. But, your friends and family can enjoy a pumpkin pie you created in your own kitchen. Talk about a win!
Meanwhile, we asked Carli when she likes to whip up this quick and easy dessert. Is it only at Thanksgiving? On the contrary, she said, "This pie is reminiscent of all your favorite fall flavors and spices." Is there ever a wrong occasion for that?
Grab a few quick pumpkin pie ingredients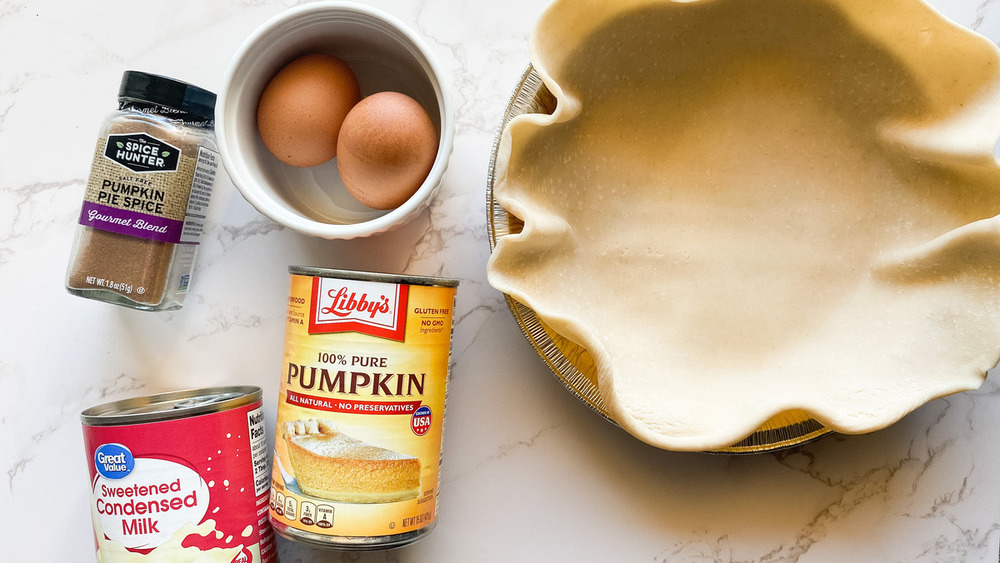 Kristen Carli/Mashed
Would you believe this sweet and savory pumpkin pie recipe comes together with just six ingredients? You will simply shop for a refrigerated pie crust — of course, you can make your own if you have a favorite recipe — as well as a can of pumpkin puree, a can of sweetened, condensed milk, and pumpkin pie spice. Grab some salt from the pantry, and two eggs from the fridge. Then, you are ready to make a treat your guests — or hey, just you — will be talking about long after the dishes are done. 
As far as kitchen tools, the easy theme continues, with Carli's recipe requiring only a pie tin or plate, a knife, a mixing implement, foil, and a mixing bowl. 
Once you have everything you need to make your pumpkin pie, go ahead and preheat your oven to 425 degrees. Then start dreaming about the pumpkin pie that is about to fill your kitchen with the best of smells.
Prep your pumpkin pie crust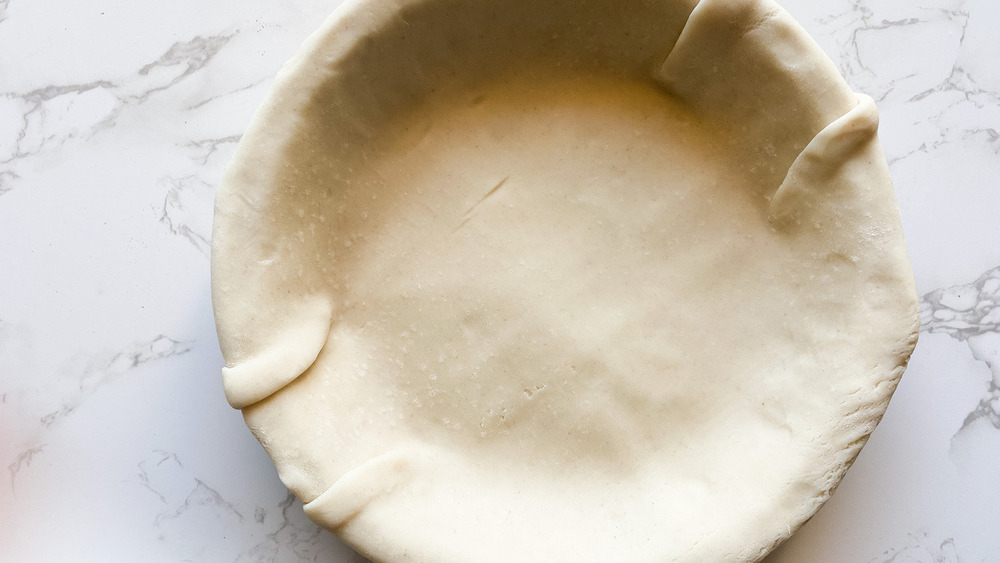 Kristen Carli/Mashed
The first step to realizing pumpkin pie glory is to simply — yet carefully — place the store bought pie crust in a pie plate. You will gently fold the edges of the crust over the rim of the plate. Then, take a knife — Carli recommends using a sharp one for this delicate task — and go ahead and slice around the outer edge of the pie crust, removing the overhang completely. 
At this stage, you will set the crust aside and turn your attention to your yummy pumpkin pie filling. Then, we are going to share Carli's truly ingenious hack that prevents your golden, delicious crust from burning in the oven. The only thing you'll be asking yourself is why you didn't know about this trick sooner! Meanwhile, we know — your taste buds are going crazy imagining biting into this soft slice of heaven on a plate! 
Combine the pumpkin pie filling ingredients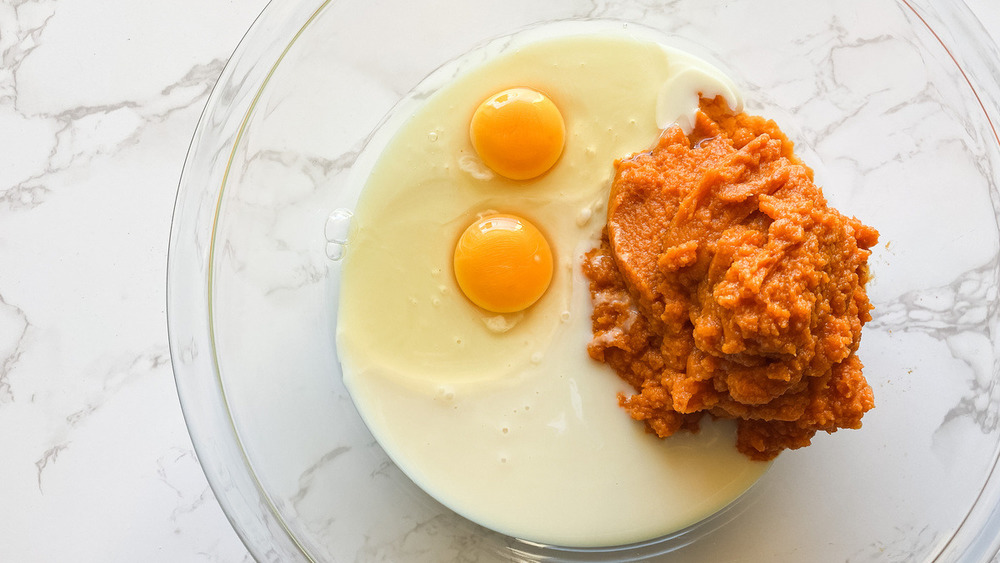 Kristen Carli/Mashed
To create your simple yet scrumptious homemade pumpkin pie filling, it is truly so easy with Carli's super-accessible recipe. You will whisk the eggs, pumpkin puree, sweetened condensed milk, salt, and pumpkin pie spice together. Yes, it all goes in one bowl, all at once. As Ina Garten would say, "How easy is that?" 
Just note that your pumpkin pie filling ingredients should be well-combined before you move on to the next step, which is to pour your sweet-scented, vibrant-hued filling into the prepared pie crust. At this stage, Carli recommends placing the pie plate on a baking sheet in case of spillage during the cooking process. Because yes — you would really hate to have that filling drip down into your oven and start smoking. 
Finally, grab that aluminum foil before you place your ready-to-bake pumpkin pie in the oven. Your world is about to be rocked.
Prep your pumpkin pie for the oven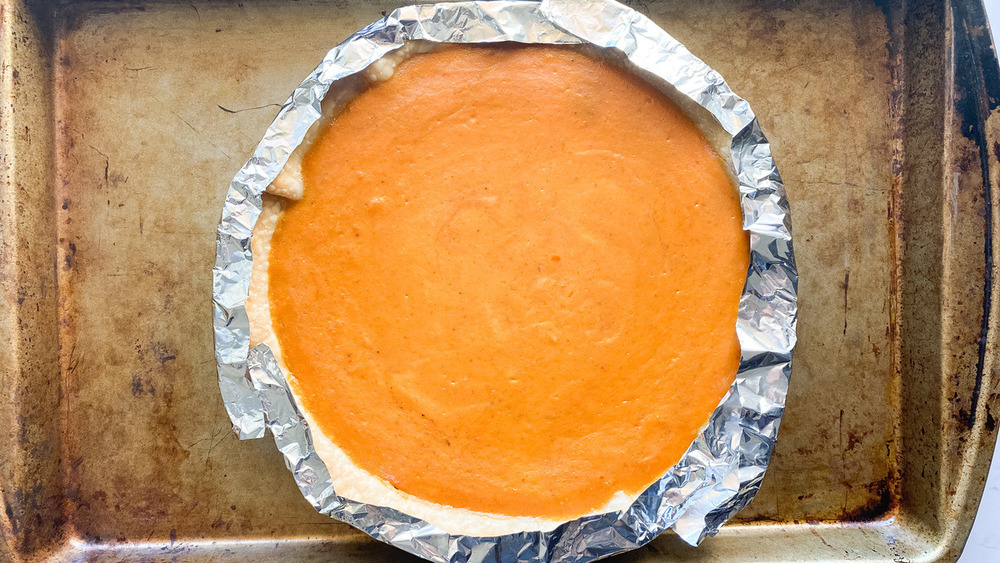 Kristen Carli/Mashed
Carli's pie crust trick involves covering your edges with foil strips. Why didn't we think of that? Since there is nothing worse than baking a pie you are so proud of, only to have the filling turn out perfectly, while the edges of your crust are all burnt, tasting terrible, and looking even worse. Sigh. Who would want to serve a burnt pie to anyone, let alone have to eat it oneself?
We asked the registered dietician about her pie crust hack, and Carli was all humble, simply telling Mashed, "Yes, the foil strips cover the pie crust edges, preventing them from burning." As if this trick was not totally genius! Well, we think it is, and feel confident home cooks will adapt her tip for quiches, other pies, and, well, any recipe that involves a pie crust, be it store bought or homemade.
Chill your pumpkin pie out before enjoying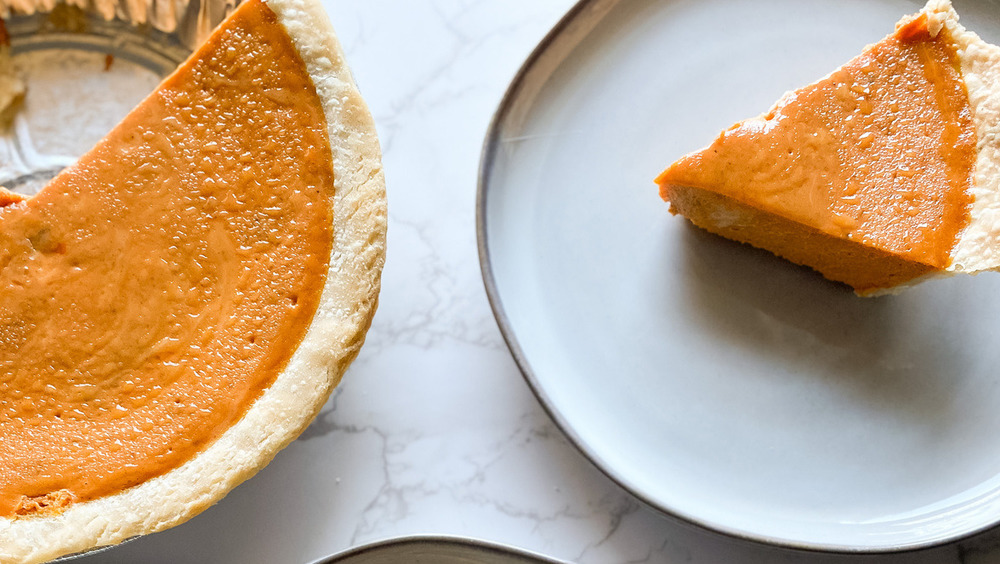 Kristen Carli/Mashed
Your pie will bake at 425 degrees for just ten minutes. Then, go ahead and lower the temperature of your oven to 350 degrees and bake your pumpkin pie for 30 minutes more. 
As Carli explained about this method, "For this pie, we want to start with high heat to begin to cook the crust, but then lower the oven to cook the filling." You will want to look for a pie that is almost set. As Carli puts it, the filling should be "jiggly but not liquid." Once this consistency is achieved, remove the dessert from the oven, and let it cool, with Carli suggesting your chill your pie before serving it. The chilling stage should be "at least four hours or overnight," she told Mashed.
Then, yes, you are ready to enjoy your pie with a crowd, or solo. If you even have leftovers, Carli says, "They will store in the fridge for up to five days in an airtight container."
Pumpkin Pie Recipe
Pumpkin pie might be a Thanksgiving staple, but don't be surprised if you find yourself wanting to make this classic pie recipe all year-round.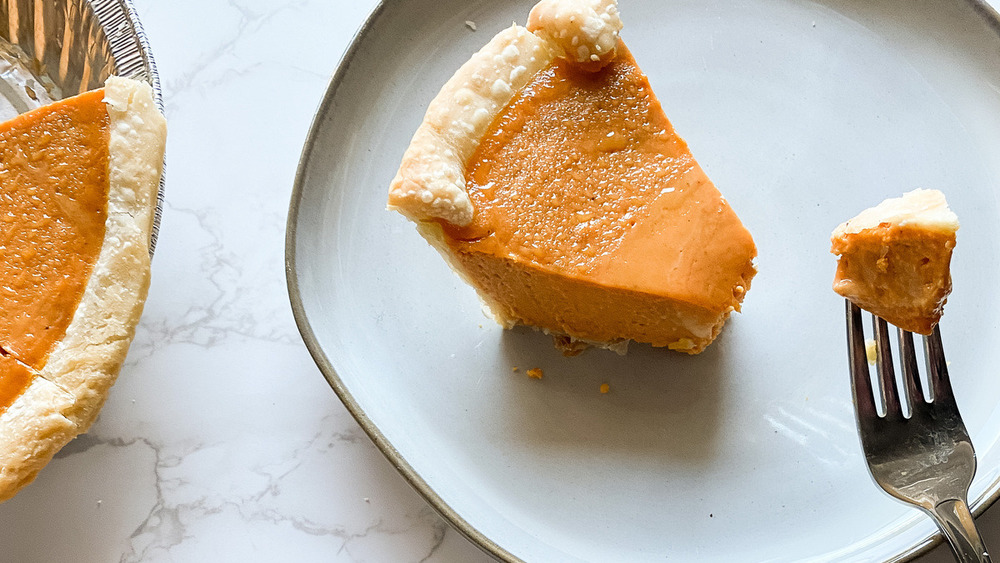 Ingredients
1 refrigerated pie crust
1 15-ounce can of pumpkin puree
1 14-ounce can of sweetened condensed milk
2 eggs
1 teaspoon salt
2 teaspoon pumpkin pie spice
Directions
Preheat oven to 425 degrees. Place pie crust in a pie plate and fold over edges. Taking a sharp knife, slice around the outer edge of the pie crust, removing the overhang.
Whisk eggs, pumpkin puree, sweetened condensed milk, salt, and pumpkin pie spice until combined. Pour into pie crust.
Place pie plate on baking sheet. Cover edges of crust with foil strips.
Bake at 425 degrees for 10 minutes and then lower the temperature to 350 degrees and bake for 30 more minutes. The pie should be almost set, jiggly but not liquid.
Remove pie from oven, let cool. Chill before serving.
Nutrition
| | |
| --- | --- |
| Calories per Serving | 322 |
| Total Fat | 12.8 g |
| Saturated Fat | 5.9 g |
| Trans Fat | 0.0 g |
| Cholesterol | 56.9 mg |
| | |
| --- | --- |
| Total Carbohydrates | 46.3 g |
| Dietary Fiber | 2.1 g |
| Total Sugars | 28.8 g |
| Sodium | 331.5 mg |
| Protein | 6.7 g |