Mashed's Exclusive Survey Uncovers The Over-The-Top Theme Restaurant People Most Want To Visit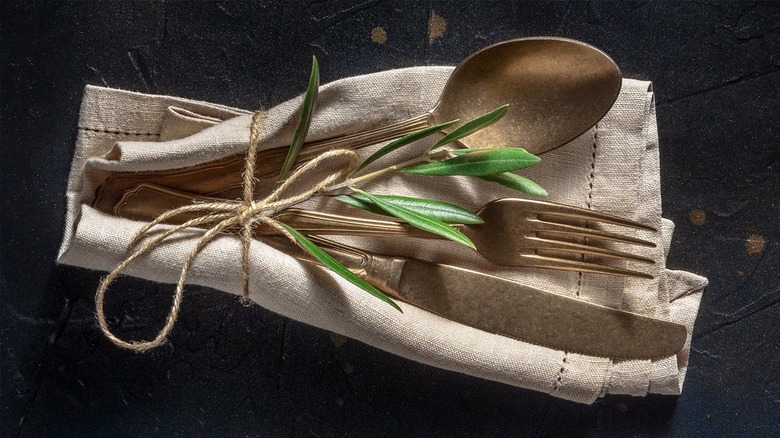 Plateresca/Shutterstock
Most chain restaurants don't tend to have a theme that extends much further than "we serve [insert type of] food here" unless you count the vaguely Australian-ish Outback Steakhouse or that whole "trapped in an episode of 'Happy Days'" thing that Johnny Rockets has going on. There are, however, quite a few indie restaurants that are all about the ambiance, including The Haunted House Restaurant in Cleveland, the spy-themed SafeHouse in Milwaukee, and a scattering of restaurants across Europe and Asia with themes ranging from Harry Potter to the TV show "Friends."
The biggest names in themed restaurants, however, are few in number. In fact, we could really only come up with five: Hard Rock Café, Jimmy Buffet's Margaritaville, Medieval Times, Planet Hollywood, and Rainforest Café. While the food at these establishments may never be in the running for a Michelin star, the whole over-the-top dining experience is one you won't soon forget. If you could only pick one of these restaurants to visit, though, which one would it be? Mashed conducted one of our (metaphorically) patented exclusive surveys to find out which themed restaurant is the people's pick. Of the 604 people we polled, the majority chose one where you get plenty of entertainment along with your meal.
For a good time, readers prefer Medieval Times
The restaurant that came out on top of our poll with about 27.5% of the votes is one that's actually more dinner theater than eatery – while Medieval Times will feed you a multi-course meal, the food is actually secondary to the jousting show and Renaissance festival-type pageantry. Coming in a close second, however, is a restaurant whose chill vibe doesn't run to anything more dramatic that searching for a lost shaker of salt: Jimmy Buffet's Margaritaville, the favorite of 24.5% of respondents. Rainforest Café has dialed back drastically on its rainforest theme in recent years as well as closing many of its locations, but it's still sufficiently popular to come in third in our survey with almost 21.9% of the votes. Fourth place, with 16.2%, goes to another Café, the Hard Rock (bet you can guess their theme).
Trailing the pack with 9.9% of the votes is Planet Hollywood, a chain whose website promises "rare, selfie-worthy artifacts from Hollywood history" but only if you're in Orlando, Las Vegas, or the Los Angeles International Airport (or Paris, Malta, or Qatar, these being the remaining overseas outposts). Yes, they used to be a lot bigger. As per CBC, back in the '90s, there were nearly 80 Planet Hollywoods, but it looks like this hasn't been their millennium. We can only hope that their last-place finish here won't prove to be the final nail in this chain's coffin.