Trader Joe's Fans Are Freaking Out Over Its Returning Candy Cane Chocolate Covered Almonds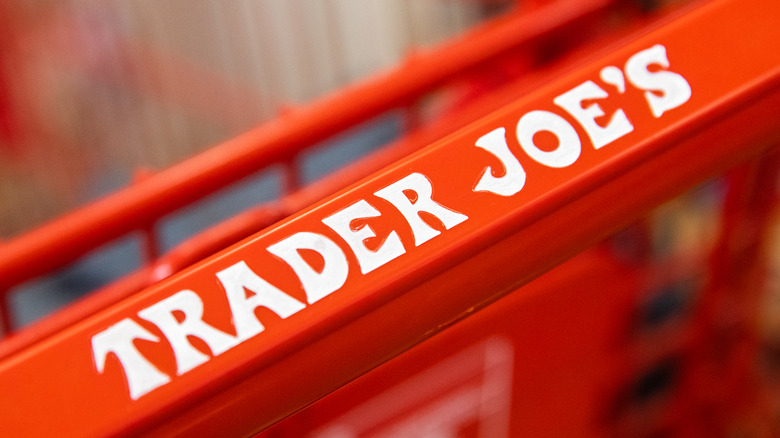 Bloomberg/Getty Images
Just how many seasonal products does Trader Joe's carry? As one exec put it, "If we took all of those limited buy or seasonal-type products and made them every day, there'd be no room in the store to introduce new products," explaining why the chain can't sell its famous butternut squash mac and cheese or holiday-popular Jingle Jangle all year (via SFGATE). Of course, the store's ever-changing seasonal displays only seem to make shoppers more excited about hitting up their local Trader Joe's to see what's in stock that day and may be gone tomorrow.
With the recent arrival of the winter holidays' seasonal items, one thing fans are excited about right now is Trader Joes' candy cane chocolate covered almonds. Billed by TJ's as "roasted almonds dipped in dark chocolate, then enrobed in white chocolate and covered with candy cane bits," a recent sighting of the sweet treat on Instagram has got fans all in a tizzy. While the return of Trader Joe's candy cane ice cream may have Instagram divided, the decision is unanimous when it comes to these pepperminty, chocolaty almonds.
Fans call these almonds addictive
Devoted fans and newbies alike are clearly won over by the TJ's candy cane chocolate covered almonds, saying they have "the perfect amount of dark chocolate" under all those layers of white chocolate and candy cane pieces, per @traderjoeslist on Instagram. TJ's enthusiasts took to the comments of the fan account's post and said things like, "I could eat the whole tub in one sitting, they are so good!!" and "I ate the whole container in a night, too friggen good." Those new to the product also approve: "Had these for the first time this year and I was blown away!!! Sooooo good!!!!!" wrote another user.
Some worry that TJ's might sell out of this beloved holiday treat, with one respondent saying, "Oooh i hope they'll still have this when I get a chance and go!!" The reason Trader Joe's runs out of products can be any number of things. One explanation is the truck-to-shelf system, meaning that the stores don't have a huge stockroom in the back, and what you see out on the shelf is basically what's available that week, per CNBC. This helps ensure that produce is fresh, but it can also lead to disappointment for shoppers with a specific list. If you're worried about popular items, like these candy cane chocolate covered almonds, selling out at your Trader Joe's, ask a team member when their shipments come.