How Gordon Ramsay Totally Changes Behind The Scenes Of Hell's Kitchen - Exclusive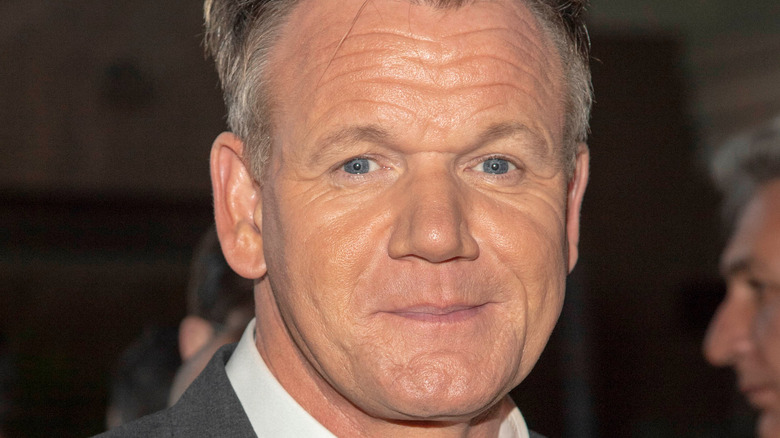 Eugene Powers/Shutterstock
After nearly two dozen seasons, "Hell's Kitchen" is arguably a staple of food competition TV. So is Gordon Ramsay, for that matter. He's built a solid reputation over the years as a commanding chef in the kitchen with high standards and no tolerance for ruined orders and raw dishes. He's been known to raise his voice on the set of "Hell's Kitchen" and appears to impart a certain level of fear among contestants with his looming presence behind the judging table.
Yet he's also garnered a great deal of adoration and respect from so many who've had the opportunity to work with him or cook for him. That includes Season 21 competitor Alex Najar, who caught up with Mashed about his time on the show and shared details about what goes on both on and off the camera. He claimed that what you see on TV doesn't tell the full story of Ramsay as a host and a mentor. In an exclusive interview, Najar opened up about why Ramsay always appears so intense on "Hell's Kitchen" and what he's really like behind the scenes.
Gordon Ramsay gets personal behind the scenes of Hell's Kitchen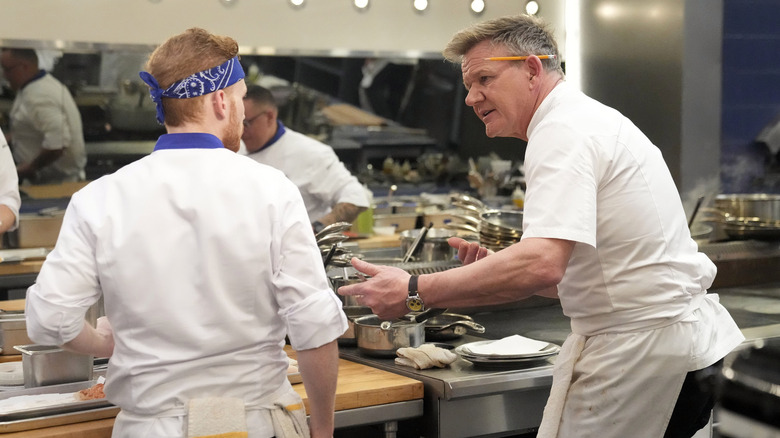 FOX
The chance to compete on "Hell's Kitchen" is no doubt as overwhelming as it is exciting. Would you want to put yourself on the line in front of the formidable force that is Gordon Ramsay? Alex Najar told Mashed that he shared those sentiments going in. "Going into it was super nerve-wracking, especially meeting him for the first time ... I was ready to be picked on," he said. But he'd also be the first to admit that first impressions aren't everything, especially when it comes to Ramsay.
"That man is probably one of the greatest people I've ever met in my life," said Najar without an ounce of hesitation. He added that he got the chance to know Ramsay in a way that we don't get to see on the show. He said that after his team "won the first challenge ... we got to go out and eat dinner with him. We had conversations with him that nobody else ... will ever have, and that really changed a lot of perspectives." Najar says he knows those moments "probably will never get aired," but he said he's okay with it, "because it's something that's super sentimental to me now."
Gordon Ramsay expects a lot because he cares a lot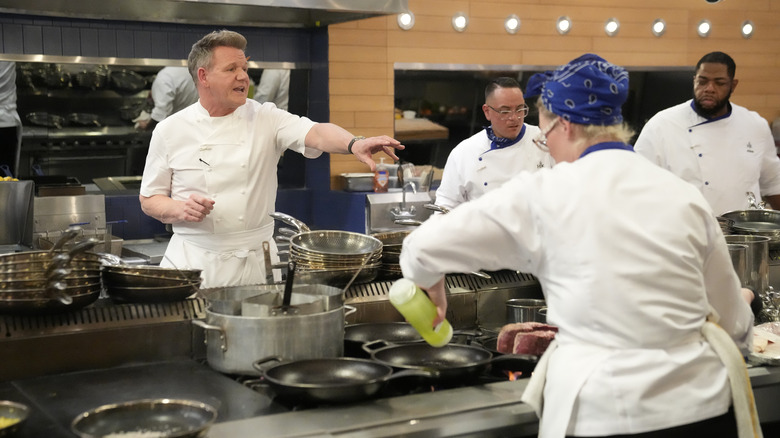 FOX
Alex Najar also shared some insight on why Gordon Ramsay comes off the way he does on the show. The reason "he's the way he is on camera," according to Najar, is because "you have to set those boundaries. He's not there to be friends with you. You're essentially interviewing for one of the best jobs that you could get. It's a $250,000 salary. You get to work for Gordon Ramsay's company. It's a resume builder like no other. You have to take it seriously."
Najar added that Ramsay was "super awesome" along the way about teaching and explaining to the chefs how to improve. Add that to the high stakes, and the high expectations make sense. "Every time he yelled, I was like, 'I get why you're yelling,'" said Najar. "When you're presenting any kind of food, it doesn't matter what kind of situation you're in, playful or not, it has to be perfect."
Catch new episodes of "Hell's Kitchen: Battle of the Ages" every Thursday at 8/7 CT on FOX, or stream episodes on Hulu.