Miller Lite Vs Coors Light: Everything You Need To Know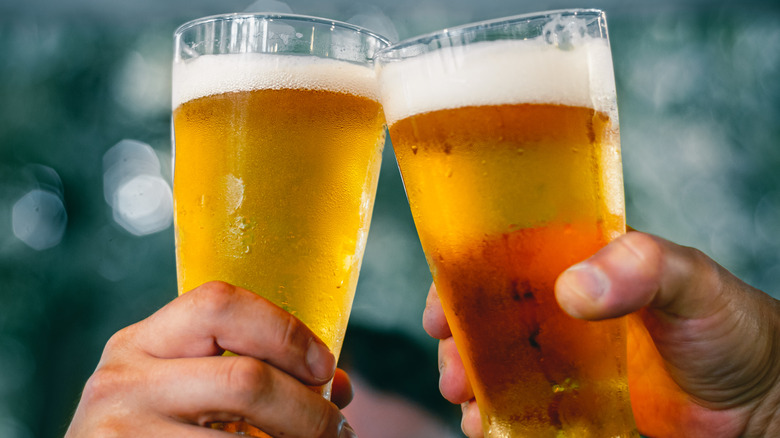 siamionau pavel/Shutterstock
Miller Lite and Coors Light are two heavyweight titans of the beer industry. Both brands are owned by the massive beer conglomerate Molson Coors (via Molson Coors). Additionally, both are among the best-selling beers in America (via Restaurant Clicks). As their names indicate (albeit with alternate spellings), each are light beers with a low 4.2% alcohol content (per CraftJacks). But what, if anything, sets these two beers apart? Well for one, their origin stories are quite different.
It may surprise people to learn about the beer that was eventually going to become marketed as Miller Lite was first developed by a biochemist named Joseph Owades (via All About Beer Magazine). It. was sold under the name Gablinger's Diet Beer by Rheingold Brewery, where Owades was employed. However, no one seemed interested in the concept of a diet beer at the time. And after another failed attempt at that angle under the moniker Mister Brau Lite, the beer received a makeover from Miller. Luckily, the transformation modified the recipe into a more drinkable, low-calorie beverage that launched in 1975 to great commercial success, initiating the light beer movement.
Coors Light entered the light beer fray in 1978, a full 100 years after Adolph Coors founded the Coors Brewery in 1873. The "Silver Bullet" as its silver cans became nicknamed, boosted Coors' sales for a time. Then a 2016 merger brought these two popular light beers together under the same umbrella of Molson Coors Brewing Company (per Denver Business Journal).
Taste and temperature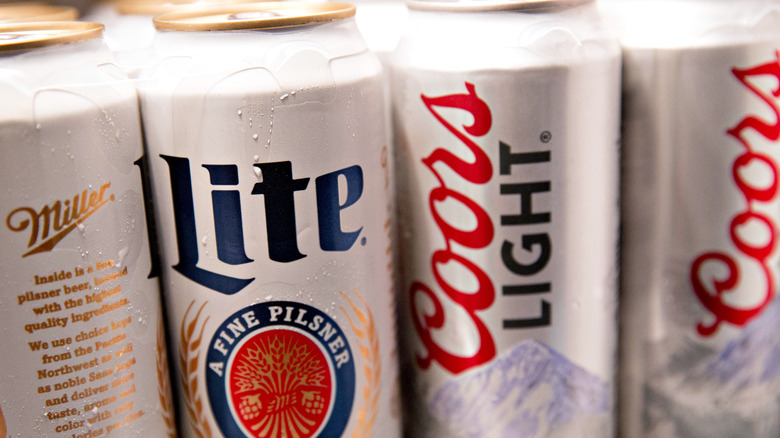 Bloomberg/Getty Images
So, are there any discernible differences in taste and style or are they pretty much interchangeable as far as light beers go? With its iconic advertising slogan, "great taste, less filling," Miller Lite sought to establish itself as a flavorful, low-calorie beer (via Hook Agency). And as it relates to calories, Miller Lite does contain a few less than Coors Light at 96, compared to the latter's 102 (via VinePair).
In fact, some beer taste testers have characterized Coors Light as a light, balanced, refreshing lager (per The Takeout). Miller Lite, on the other hand, was described as a watery beer. Although to be fair, the internet teems with blind taste tests weighing on these and other light beers, such as Bud and Natty Light, according to Insider. But depending on which clip you watch, each unique judging might yield disparate results.
Both Coors and Miller are meant to be light in body and flavor and served cold. Although, Coors Light has even taken the temperature aspect to a whole other level and made that one of its signature attributes (via CNN Money). They redesigned the can so that the mountains would turn blue when the beer reached its peak drinking temperature, which became central to their marketing approach.
If you want to explore a comprehensive list of 20 types of beer and what makes them different, we've got you covered as you search for the beer or style that best matches your specific palate.