You Could Win Free Denny's For A Year By Buying A $6 Shirt
Imagine paying a $6 fee in exchange for a free meal from your favorite restaurant for an entire week. Or even better, a free meal from your favorite restaurant for an entire month or, perhaps just for the sheer heck of it, you'll get a free meal for an entire year. That sounds like a pretty good deal, right? 6 dollars to eat free for an entire year! If you think this sounds like too fantastic to be true, then you might want to bring that up with Denny's.
Denny's, a restaurant that proudly bills itself as "America's Diner," is well-known for one very specific niche: very cheap but hearty breakfasts. You might be familiar with the "Grand Slam" meal, a veritable breakfast buffet of pancakes, bacon, sausage, and eggs, that was introduced back in 1977 for the grand total of $1.99 (via KCET). You may also have heard of the Everyday Value Slam meal, a three to four-course breakfast that Brand Eating reports as being made up of "eggs, two bacon strips or sausage links, and two buttermilk pancakes, French toast, or biscuits and gravy" — all for a starting price of $5.99. While the prices of these value meals today may have changed slightly, they're still relatively cheap choices if you want a hot and quick breakfast.
But Denny's wants you to enjoy an Everyday Value breakfast for free for an entire year. All you have to do is put up 6 bucks for a shirt.
Denny's wants you to show off your Diner Drip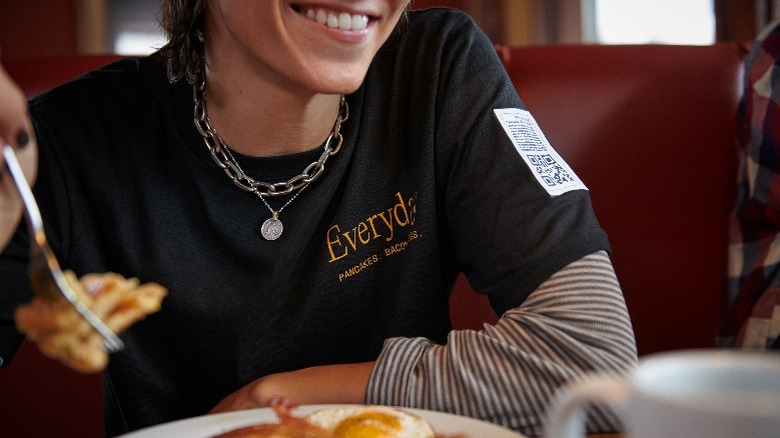 Denny's
You're probably thinking to yourself: "This is just one of those raffle things companies like to do. You put in 6 bucks for a shirt and your name gets entered to have a chance to win free food for a year." But Denny's isn't doing any of sort nonsense raffle or rigged lottery. No, the deal is simple: Pay $5.99 for an Everyday Value Tee and get a free breakfast for a year.
As PR Newswire explains, Denny's newest T-shirt acts as both a fashion statement and a "breakfast subscription." The Everyday Value Tees are black shirts with bronze lettering that hail the values of the Everyday Value breakfast, alongside a QR code that is sown into each shirt. It's this QR code that, when scanned, allows the wearer to be eligible for a free Everyday Value breakfast. Each QR code is unique to each shirt, so there's no way anyone else can use the code except those who wear the shirt. 
But, even though all you need to do is wear the shirt to get free breakfast, there's a catch. Only 150 shirts will be released to the public, and they will be available on the aptly-named Diner Drip at midnight on Black Friday. If you can't get the Everyday Value Tee in time, don't worry! Denny's has everything from vintage t-shirts to hoodies, so you can still wear your "diner drip" while you eat your pancakes and bacon.