Bobby Flay Explains How To Cook Gravy The Day Before Thanksgiving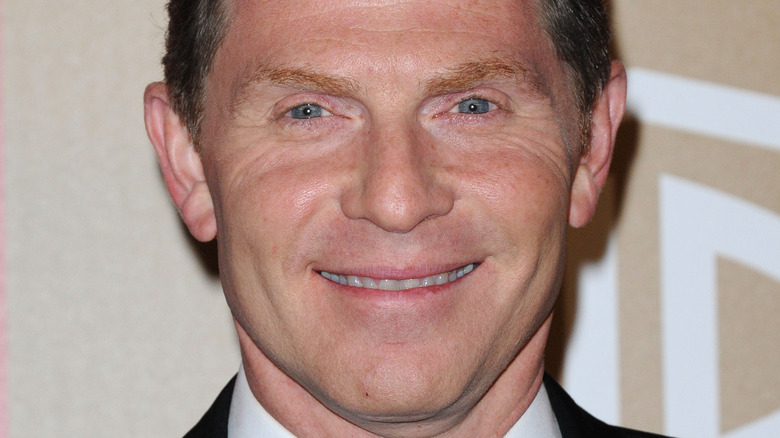 DFree/Shutterstock
When it comes to making a mouth-watering Thanksgiving spread, you've got it all figured out — with one worrisome exception. Your homemade gravy has you a wee bit stressed out. After all, so much can go wrong. It could be too watery, too thick, too salty, or completely bland. And, don't even get you started on the possibility of lumps. Ugh.
Take a deep meditative breath and unfurrow those brows. It's going to be alright. Thankfully, the internet and a bevy of talented culinary experts are here to help you show your gravy boat who's boss. Perhaps, the soothing words of Betty Crocker will do the trick. The stalwart brand says that all you need to do is save your drippings and pour some back into the roasting pan to be stirred and cooked with flour and some of the juices and broth from the turkey. And, if you do encounter an army of evil gravy lumps, She Knows recommends whisking with all your might until they're dissolved or using a mesh strainer to remove the stubborn things.
But what if you don't want to wait for turkey juice or even Turkey Day to make gravy? Thankfully, Bobby Flay's a Thanksgiving pro. As he told the "Today" show (via Twitter), "It's probably [his] favorite day of the year." So you can bet the chef has gravy figured out. In fact, according to Flay, you can also prepare your gravy on the day before Thanksgiving, making the big day less frazzling.
Bobby Flay recommends chicken stock and Wondra flour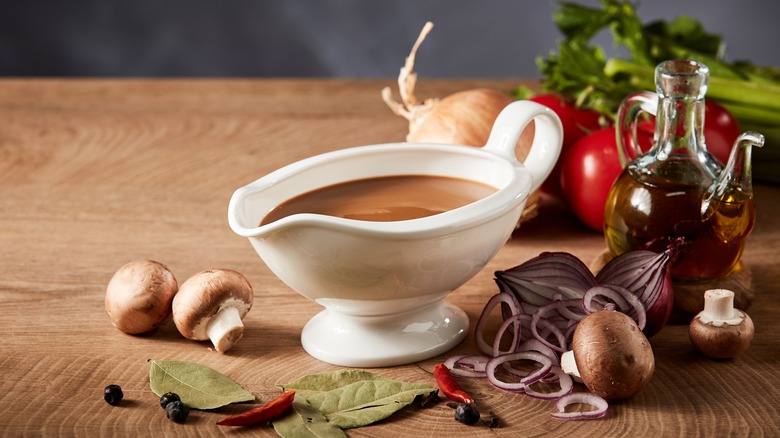 stockcreations/Shutterstock
When Bobby Flay appeared on the "Today" show's installment of "Bobby Flay Answers Your Thanksgiving Questions," he offered up some valuable gravy advice. A viewer admitted that gravy was her "nemesis," asking if there was a way to create gravy the day before Thanksgiving, so she wouldn't spill turkey grease all over her outfit. Flay put on his culinary superhero cape and saved the day.
He recommends mixing chicken stock and flour, suggesting that Wondra flour would be best as it "cooks out very easily." You simply add some salt and pepper, let it "cook down until you get the concentrated flavor of the stock," and complete it by adding some butter. Butter does, after all, make everything taste better. If you're still stuck on the words "Wondra flour," perhaps this will help. A product description (via Bakers Authority) claims Wondra flour is cooked and dried in advance, helping to prevent lumps and allowing the flour to dissolve more readily.
Thanks to this easy gravy-making trick, you can enjoy a relaxing Thanksgiving Day basking in the knowledge that your gravy is already made. So throw on your pants with the most forgiving waistband, grab that fork, and dig in.