Domino's Is Now Delivering Pizzas From Electric Cars And You Can Win One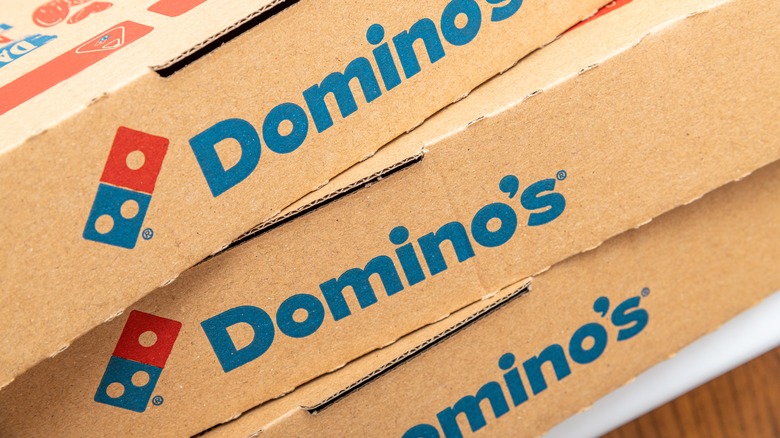 Yalcin Sonat/Shutterstock
According to a press release from Domino's Pizza, the popular pizza chain is revamping the way it delivers pizza by introducing a brand new line of electric delivery vehicles to many of its locations throughout the United States. Domino's already uses electric scooters and bikes to deliver its food to customers around the United States and internationally in select locations. Interestingly, Domino's even tested delivering its pizzas with drones in New Zealand.
Aiming to further minimize its carbon footprint and emissions, Domino's decided to add electric vehicles to its delivery fleet rather than gasoline-powered cars because electric cars have better safety features, less maintenance costs, no emissions from the tailpipe, and a sufficient battery life that could handle deliveries for days at a time before needing to be charged. The company could also save money by not having to pay for expensive gasoline.
Furthermore, the pizza chain hopes to appeal to hopeful delivery drivers without their own vehicles that would otherwise not apply for the position. However, this isn't the first time the company had a fleet of delivery vehicles. In the 1980s, Domino's had Chevy Chevettes, with a few stores in Michigan using Ford Rangers in 1998, according to Domino's. The company then transitioned to the Toyota Yaris in 2006 and custom DXPs in 2015. Here's what new car Domino's will be using for most of its deliveries.
Two lucky fans can win a 2023 Chevy Bolt EV
According to the press release from Domino's Pizza, around 800 electric 2023 Chevy Bolt vehicles with Domino's branding will make their way to select Domino's corporate and franchise stores, with 100 of them arriving in November 2022 and the remaining 700 arriving by the end of 2023. As of November 21, 2022, Domino's has 112 electric vehicles already on the road, per Domino's. To celebrate the new electric delivery vehicles, Domino's is holding a giveaway for two lucky fans to win a 2023 Chevy Bolt EV of their own.
Hopeful winners can enter two different ways. First, every online Domino's delivery order placed from November 21, 2022 to March 12, 2023 will instantly count as one entry, with a maximum of 15 entries per person (via Domino's). The other way fans can enter is by sharing a TikTok or Instagram Reel explaining why they are "pizza's biggest fan" from November 21, 2022 to December 4, 2022 and using hashtags #Contest and #DominosDeliversAChev, per the press release.