Rachael Ray Admits To 'Squealing' Over Her Own OG Pots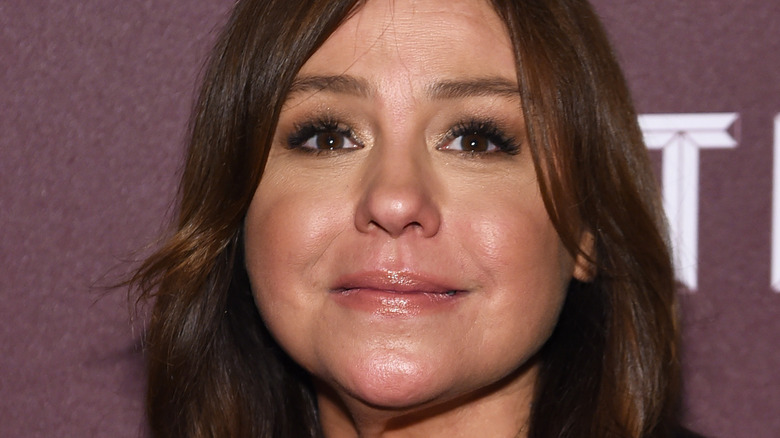 Jamie Mccarthy/Getty Images
Despite having cabinets full of different types of pots and pans (we're talking your cast iron, your stainless steel, your nonstick – you get the picture), home cooks might gravitate toward a particular kitchen utensil. Even the occasional professional chef, such as Reviewed's Kiki Aranita, admits to relying on certain pots and pans. When cooking at home she almost always used her Made In frying pan and pink Le Creuset Dutch Oven. Celebrity chefs, too, might have go-to cookware, and Rachael Ray is no different.
Ray recently took to Instagram to celebrate the 15-year anniversary of the release of her favorite and very first pasta pots, writing in the caption, "My OG babies still bring me so much joy." They include the 8-Quart Oval Covered Pasta Pot with Pour Spout and the 5-Quart Covered Oval Saute with Helper Handle. It's quite something that they remain among Ray's favorites, as a quick Google search will tell you that since these OG pots were released, an assortment of other Rachael Ray branded cookware became highly rated and available at retailers such as Macy's, Kohl's, and Bed Bath & Beyond. Then again, maybe nothing beats a classic, especially if it makes Ray gleeful.
Rachael Ray's OG pots make her giggle with glee
In the Instagram post, Rachael Ray said she loves the pots for their versatility, noting the variety of foods that one could cook in them. The 8-quart pot could handle 12 ears of corn on the cob and 2½ pounds of pasta. Ray thought "the most fun" part is that you don't have to wait for the pasta to bend to fit in the pot because of its unique oval shape. "I smile and squeal or give a little giggle to myself every time I drop pasta in it," she said.
The 8-quart pot is popular on PotsandPans, where it has earned a rating of 4.9 out of 5 stars from 17 reviewers. Othe of them wrote, "I absolutely loved pasta, so when I got this pot I was so excited. I used it recently to make spaghetti. I was actually able to use that one pot to fry my hamburger, onions, and peppers, as well as make the sauce ... Definitely a must have for any pasta lover!" Over on Instagram, user @nicoleamoresano found the pots to be long-lasting, writing, "I still have the same 5-quart one with [the] long handle going on 15 years! Your pots and pans withstand the test of time, I've bought other brands just to try out and yours are the only ones I ever keep."