2022's Pardoned Turkeys Have The Cutest Foodie Names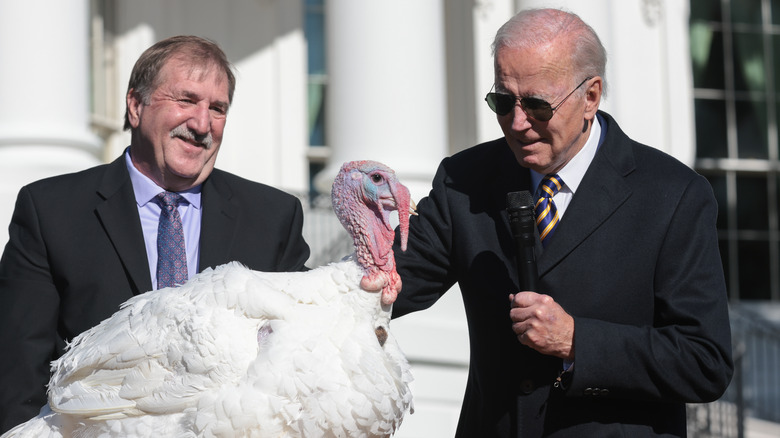 Bloomberg/Getty Images
The first presidential pardoning of a turkey occurred all the way back with Abraham Lincoln, the father of Thanksgiving (via Smithsonian Magazine). However, that turkey, who got a formal written reprieve from President Lincoln at the behest of his young son Tad, was not destined for the Thanksgiving table, but for the Christmas table. In the years that followed, turkeys became a popular gift to the White House at Thanksgiving, however, it wasn't until President Kennedy that one officially received a pardon again (per White House History).
The tradition of sending the turkey on to a petting farm began with Thelma "Pat" Nixon (via White House). The former First Lady known for her charitable work accepted the traditional White House gift of turkeys on behalf of her husband in 1973, but instead of sending them to the White House kitchens, she sent them instead to Oxon Hill Children's Farm. While First Lady Rosalynn Carter also sent the turkey she was presented with to live at Evans Farm Inn in 1978, the formal practice we know today wasn't formally established until George H. W. Bush's tenure in office (via White House History). That being said, Reagan did make sending a turkey to a farm a part of the Thanksgiving tradition.
Now for a little more about this year's lucky gobblers.
President pardons turkeys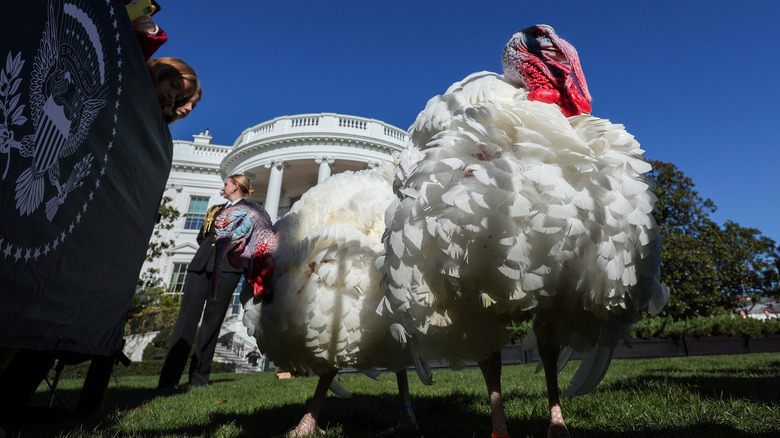 Win Mcnamee/Getty Images
Regardless of the real reason we eat turkey on Thanksgiving, it's a tradition for many of us. Also a tradition for many: watching the president pardon to big, fluffy birds and send them off to live happily ever after on a farm. Which, unlike when you usually hear that in connection with animals, they really mean it this time.
This year's birds, named Chocolate and Chip, were pardoned "based on their temperament and commitment to being productive members of society," joked President Biden (via Twitter). The birds' names are in honor of the President's favorite ice cream flavor (per People). These are some big birds, too. Chocolate, who the President joked "loves catching sun on the Outer Banks," weighed in at 46 pounds and Chip, who "loves barbecue and basketball," waddled in at a whopping 47 lbs.
The turkeys are usually named after food pairings. 2021's lucky birds were Peanut Butter and Jelly (via USA Today). 2020 saw the reprieve of gobblers Corn and Cobb and 2019 saw the release of the adorably named Bread and Butter. Good luck in your new lives, Chocolate and Chip!