The Best Waffle Mixes In 2022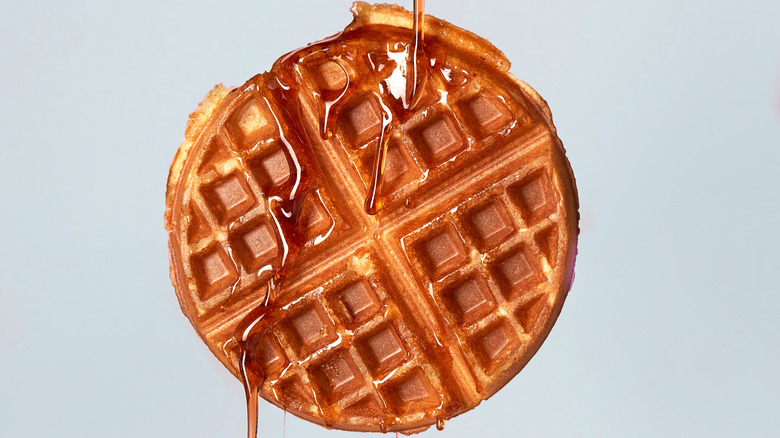 Andres Mejia A/Shutterstock
We may receive a commission on purchases made from links.
Sure, you can make your own waffles from scratch. However, waffle mixes contain all the dry ingredients you need to whip up waffles in a matter of minutes, making the early morning rush for a delicious breakfast much easier. Although you might feel bad turning your back on Grandma's famous homemade waffles, the convenience of these mixes may reduce some of your guilt. Plus, some of them may even rival the taste of your favorite homemade waffles.
How can you find a waffle mix that works for you? Most importantly, avoid using a mix made for pancakes for waffles. According to MasterClass, waffle batter has more fat and sugar content than pancake batter, and its different ingredient content yields a fluffier result. However, many mixes are labeled for both waffles and pancakes. Just be sure to follow the instructions on the label to mix up the right amount of ingredients for waffles. Also, consider the nutrient content you prefer. Waffles aren't known for being a super healthy food, but many modern waffle mixes cater to a broad range of dietary needs with varieties like sugar-free, gluten-free, and whole-grain. We've included options for everything from low-carb to organic waffle mixes to help you find the best mix for your breakfast (or dinner if you're a savory waffle kind of person).
How we selected products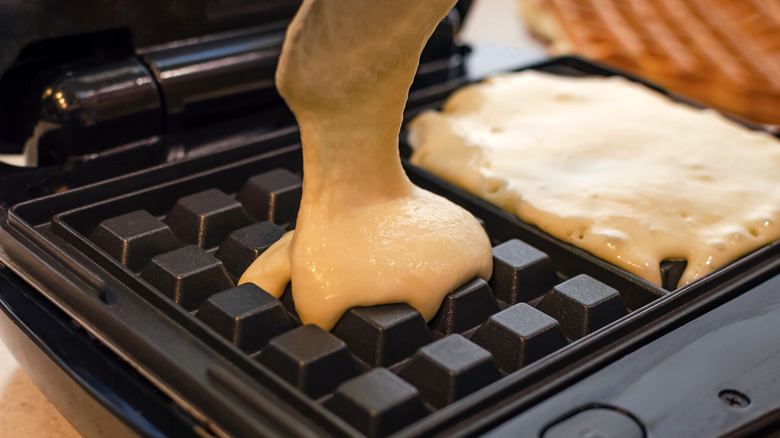 SERSOLL/Shutterstock
Waffle mixes can seem very similar to one another, and to be fair, many of them are. However, we wanted to showcase an excellent variety of waffle mixes to give you plenty to choose from, especially if you typically shy away from waffles for dietary reasons. We specifically searched for the best waffle mixes to fit numerous dietary needs and preferences. We also tossed in some options based on flavor, waffle type, and budget to make sure just about everyone can select their best match.
Once we selected our categories, we studied each mix's nutritional content to ensure they matched the categories we chose. Then, we dug deep into customer reviews, which is often one of the best ways to learn what people really think of products. We combed through reviews on manufacturer websites, Reddit, blogs, and online marketplaces that sell waffle mixes to get a good mix of reviews from real customers. The best of the best based on what they offer, how well they fit into our categories, and the customer reviews they received ended up on our list of the best waffle mixes in 2022.
Best overall waffle mix
The Golden Malted brand is known for producing "America's Favorite Waffle" for more than eight decades. If you've ever eaten breakfast at a hotel or amusement park, there's a good chance that Golden Malted is behind those delicious waffles (via Golden Malted). Eventually, the brand expanded its offerings to help people replicate their favorite waffles at home with its premade waffle and pancake mixes. This original version in its beloved canister — Golden Malted Original Waffle and Pancake Mix — is perhaps its most popular at-home product. It contains Golden Malted's famous flour and leavening blend that you mix with melted butter, eggs, and your choice of milk to make fluffy, tasty amusement park-style pancakes right in your kitchen (via Amazon). 
Reviewers of this mix gush about the flavor and how easy it is to use. One reviewer on the Golden Malted website said, "Great flavor, some of the best waffles I've made at home. I spent extra to get this brand as I was told it is the exact brand used in Walt Disney World parks and restaurants, and I was attempting to duplicate a waffle sandwich recipe. Came out amazing, and everyone loved it!" An Influenster reviewer said, "This brand never disappoints, and I am in love with the flavor overall."
As of November 2022, you can purchase Golden Malted Original Pancake and Waffle Mix on Amazon for $23.98. 
Best budget waffle mix
When making a simple and affordable waffle breakfast for a large family takes precedence over cooking restaurant-quality waffles, Great Value Complete Buttermilk Pancake & Waffle Mix is your best bet. For about six cents per ounce, this mix can help you whip up tasty waffles without breaking the bank. Even better? You don't need to worry about buying extra ingredients, like butter or milk, to make them. This mix only requires some water to transform into breakfast-worthy waffles, although you're free to add whatever you'd like to boost the flavor.
Because Great Value is a Walmart-exclusive brand, you won't be able to find this mix at other grocery stores or online retailers. However, you can still buy it online if you don't live within driving distance of a Walmart store. Walmart's online reviewers have left over 250 reviews for this waffle mix favorite, amassing an average of 4.6 stars out of 5. One Walmart reviewer is even open to paying more just to get the quality of these waffles: "Highly recommend! I'm really surprised by how good these are. They taste like the waffles at the hotels and [are] super crispy. I'd buy this even if it [were] triple the price. Very yummy!"
As of November 2022, you can purchase Great Value Complete Buttermilk Pancake & Waffle Mix on Walmart.com for $1.76.
Best protein-packed waffle mix
If you're getting bored with eating eggs as your main method for getting extra protein in the morning, try Birch Benders Pancake and Waffle Mix with Protein. According to the American Society for Nutrition, eating a balanced breakfast that includes a healthy dose of protein can increase the number of calories you burn during the day, leaving you feeling full and satisfied and supporting your weight loss goals. This waffle mix from Birch Benders has a whopping 16 grams of protein per ½-cup serving.
More importantly, they don't taste like they're made purely from whipped-up protein powder. These tasty pancakes get plenty of five-star reviews from satisfied customers. One reviewer on the Birch Benders website raved, "This waffle mix is by far, the best I have ever tasted!!!" Another happy reviewer said, "I was surprised at how good it tastes, and my 3-year-old loves his protein waffles! Thank you for helping me unprocess my child's food."
As of November 2022, you can purchase Birch Benders Pancake and Waffle Mix with Protein on Amazon for $6.29.
Best sugar-free waffle mix
Many go-to breakfast foods, like pancakes and popular cereals, contain added sugar to make them so delicious. Waffles are no exception, and some waffle mixes might surprise you with how much sugar is in one small serving. Still, there are waffle options for people who limit their sugar or are completely sugar-free, like Maple Grove Farms Sugar Free Pancake & Waffle Mix. Believe it or not, this mix contains zero added sugars.
The lack of sugar might take some getting used to for some people, but for those who have committed to a low-sugar diet for a while, these waffles seem to do the trick. At the time of this writing, the mix has a rating of four out of five stars on Amazon, with reviewers rating it highly for its surprisingly good flavor despite being free of sugar.
As of November 2022, you can purchase Maple Grove Farms Pancake & Waffle Mix on Amazon for $8.39.
Best waffle mix for kids
Want to make breakfast a little more fun for the kids? Try this Pillsbury Funfetti Unicorn Complete Buttermilk Pancake and Waffle Mix for an entertaining treat. The mix has everything needed to turn your waffles a subtle shade of pink, with bits of sprinkles throughout to add some color and unicorn flare. Although the main instructions are for pancakes, the box also lists directions for waffle-making, for which you'll need eggs, vegetable oil, and water in addition to the mix (via Amazon).
If you're a fan of sweet waffles, you'll probably want to join right in with the kids after you whip these up. One reviewer on Walmart.com stated that they don't top these waffles off with butter and syrup as they usually do because they're already chock-full of flavor and sweetness.
As of November 2022, you can purchase Pillsbury Funfetti Unicorn Complete Buttermilk Pancake and Waffle Mix on Walmart.com for $2.68.
Best fruity waffle mix
There are virtually endless ways to boost the flavor of waffles, but one of the most popular ways to do it is with fruit. Head to your nearest diner, and there will probably be a few different options for fruit toppings, like sliced bananas, fresh blueberries, or tart strawberries. If you prefer more subtle fruit flavor, you'll probably love My Favorite Mixed Berry Pancake and Waffle Mix, which blends tasty berries into the mix so that they're interweaved in every bite. Oh, and they're bits of real pieces of blueberries and raspberries rather than artificial stuff.
This mix has 4.8 out of 5 stars on World Market as of this writing, with one reviewer stating that it's always on their list of must-have pantry items to keep in stock. Another reviewer created their own waffle blend by mixing this berry variety with a lemon pancake mix by the same brand for lots of fruity flavor.
As of November 2022, you can purchase My Favorite Mixed Berry Pancake and Waffle Mix on World Market's website for $4.89.
Best Belgian waffle mix
Belgian waffles are known for being thicker and having deeper crevices than American-style waffles, allowing them to hold plenty of delicious syrup in every bite. They also tend to be a bit fluffier than American waffles, especially when they include egg whites rather than whole eggs (via Belgian Boys). Krusteaz Light & Crispy Belgian Waffle Mix mimics homemade Belgian waffles with a convenient mix that only needs to be blended with egg, oil, and water.
Consider using a Belgian waffle iron that gives the shape and deep pockets of authentic Belgian waffles. After a quick mix of the ingredients, you should have crispy-on-the-outside and fluffy-on-the-inside Belgian waffles. This mix's 4.7 out of 5-star rating proves that it belongs on our list. One happy Krusteaz reviewer said, "By far the best mix I've ever made. It was better than most restaurants. My husband loves waffles, and he loved it. I only used 1.5 tablespoons of oil and added vanilla flavor to elevate the flavor. But it was amazing enough for me to write about."
As of November 2022, you can purchase Krusteaz Light & Crispy Belgian Waffle Mix from Target for $2.99.
Best whole grain waffle mix
According to the Oldways Whole Grains Council, most people should shoot for eating at least 48 grams of whole grains every day. The easiest way to spot a product with a good amount of whole grains is by looking for the whole grain label, which designates products with at least eight grams per serving. Bob's Red Mill 10-Grain Pancake and Waffle Mix has the stamp and offers 31 grams of grains per serving, with at least half of those grams coming from whole grains. This mix includes 10 different types of grains, like oats, barley, and flaxseed, to create a diverse grain profile packed with nutrients.
With egg, oil, and water as your only necessary additions to make waffles, you can easily add grains and fiber to your day in just a few minutes. One serving boasts six grams of protein, four grams of dietary fiber, and no added sugar. One Bob's Red Mill reviewer exclaimed, "A multi-grain pancake/waffle mix that has NO added sugar? I love my weekend waffles! Woo hoo! ... Fluffy, tasty, and SO good!"
As of November 2022, you can purchase Bob's Red Mill 10-Grain Pancake and Waffle Mix on Amazon for $7.05.
Best organic waffle mix
Birch Benders Organic Chocolate Chip Pancake and Waffle Mix proves that organic foods don't need to be boring. This product is Non-GMO Project-Verified, Certified CCOF Organic, and Certified USDA Organic, making it ideal for anyone looking to add more wholesome foods to their diets. It also offers plenty of other health benefits, as it contains zero trans fat, is cholesterol-free, and has BPA-free packaging.
With the addition of organic chocolate chips, you can have a tasty breakfast that you can still feel good about. To make waffles, you'll only need to add water and oil to the mix. More than 500 Amazon reviewers have rated this mix an average of 4.6 out of 5 stars. One reviewer called this mix a "pantry staple." Another Amazon customer used the mix to make Belgian waffles, saying, "I bought this mix to make [Belgian] waffles. ... It worked excellent, and they tasted fantastic. I used their recommended mix ratio, then let it sit for a few minutes before starting to pour the mix in the waffle iron."
As of November 2022, you can purchase a three-pack of Birch Benders Organic Chocolate Chip Pancake and Waffle Mix on Amazon for $13.62.
Best plant-based waffle mix
With so many waffle mix varieties available nowadays, practically every dietary need is covered, including plant-based diets. Otherworld's Original Pancake & Waffle Mix is a vegan-friendly option with no dairy, nuts, or added sugar. As a bonus, it even includes hidden fruits and vegetables from sources like apple and zucchini powder to boost its overall health factor. You only need water to turn the mix into batter, so there's no need to add any ingredients that work against your plant-based lifestyle.
According to reviewers, this plant-based waffle mix provides lots of flavor in its end result. One Otherworld reviewer stated that the original mix is their "favorite flavor," adding, "I often eat them completely plain. Or sometimes with a pinch of salt on top and maple syrup. They're so easy to whip up when I'm running low on time and cook perfectly every time!" Otherworld also has other plant-based varieties, including Blueberry and Banana Chocolate Chip.
As of November 2022, you can purchase a three-pack of Otherworld's Original Pancake & Waffle Mix on Amazon for $34.99.
Best almond flour waffle mix
Simple Mills Almond Flour Pancake & Waffle Mix requires just water or milk, oil, and eggs to transform into tasty waffles made from wholesome ingredients. Made primarily with almond flour, this mix also includes coconut flour for some added flavor, texture, and nutrients without using processed white flour. With only seven ingredients, you won't find any unnecessary extras that dilute the nutritional value of these waffles. It's even gluten-free, vegan, paleo-friendly, dairy-free, and soy-free.
Don't worry — it still tastes incredible. In fact, according to Simple Mills, it's the company's best-selling mix. One reviewer on the website stated, "Even my very picky husband liked these." Another reviewer shared that they swapped their own homemade almond flour waffles in favor of this simpler mix, making large batches ahead of time and freezing them for quick breakfasts.
As of November 2022, you can purchase Simple Mills Almond Flour Pancake & Waffle Mix on Amazon for $7.39.
Best gluten-free waffle mix
If you need a gluten-free option to cater to a dietary need or just for personal preference, try Kodiak Cakes Frontier Oat Gluten-Free Flapjack & Waffle Mix. Rather than using traditional flour packed with gluten, this mix uses gluten-free oat flour, which still provides 100% whole grains to weave in dietary fiber. Other ingredients include brown sugar, tapioca starch, and a leavening mix to help these waffles puff like you'd expect. The mix even has 13 grams of protein per serving to help you achieve a nutrient-balanced breakfast.
What do customers love about these pancakes? Several Kodiak Cakes reviewers mention that the oat flour delivers a unique taste and makes their waffles more filling, leading to a satisfying breakfast. As of the time of this writing, 93% of Kodiak Cakes reviewers give this mix a five-star rating.
As of November 2022, you can purchase Kodiak Cakes Frontier Oat Gluten-Free Flapjack & Waffle Mix on Kodiak Cakes' website for $7.65.
Best low-carb waffle mix
Whether you're following the keto diet or are simply watching your carb intake, Scotty's Everyday Keto Pancake & Waffle Mix can help you adhere to your diet. Each serving has zero net carbs after calculating erythritol and dietary fiber, allowing it to be a low-glycemic breakfast option. It also doesn't contain any nut flours, so it could be an excellent solution for people with allergies or sensitivities.
Add a little water, vanilla extract, and egg to the mix to conjure up fluffy waffles in just a few minutes. Despite its non-traditional ingredients, reviewers love the consistency of the final product. Some Amazon reviewers noted that the taste is somewhat bland on its own, but several added their own toppings and mix-ins, like pecans, cheese, and extracts, to brighten the flavor. At the time of this writing, Scotty's Everyday Keto Pancake & Waffle Mix has a 4.2-star rating on Amazon.
As of November 2022, you can purchase Scotty's Everyday Keto Pancake & Waffle Mix on Amazon for $11.99.