Hendrick's Neptunia Gin Launch Creates World's First Underwater Bar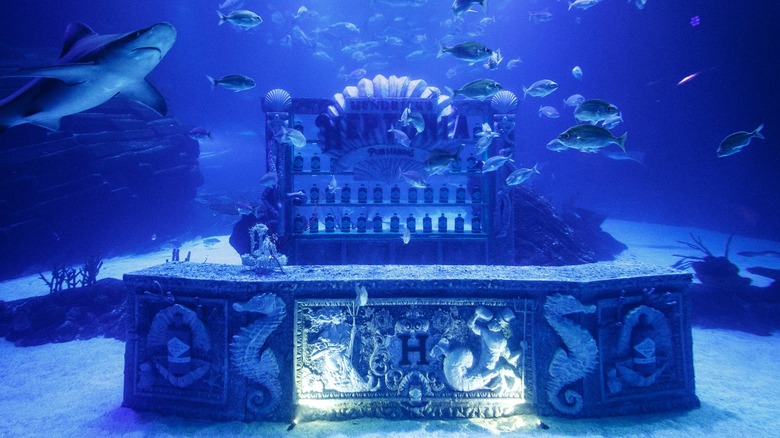 Hendrick's
Considering that water covers 71% of the earth's surface, it's no surprise that the general public has long had a fascination with tales of underwater creatures and cities. Whether it's the lost city of Atlantis, the excavation of the Titanic, or the sirens at the Bermuda Triangle, water folklore has endured for generations. And as time progressed, more fabled stories like "The Little Mermaid" or "SpongeBob Squarepants" allowed us to imagine an entire life under the sea. Well, what if underwater fun could finally be a reality? That's what Hendrick's Pubmarine aims to prove with its new fully underwater bar.
Mixing food and drink with the elements isn't an entirely new concept. For example, tourists in Dubai can enjoy "Dinner in the Sky," eating and drinking from a hanging bar that towers 164 feet above the city. For those who love sea life, underwater restaurants like Under in Norway and Ithaa in the Maldives give patrons a view of jellyfish, sharks, and more while they dine within glass walls built below the water's surface. So what makes the Hendrick's Pubmarine a one-of-a-kind experience? 
Drink and dive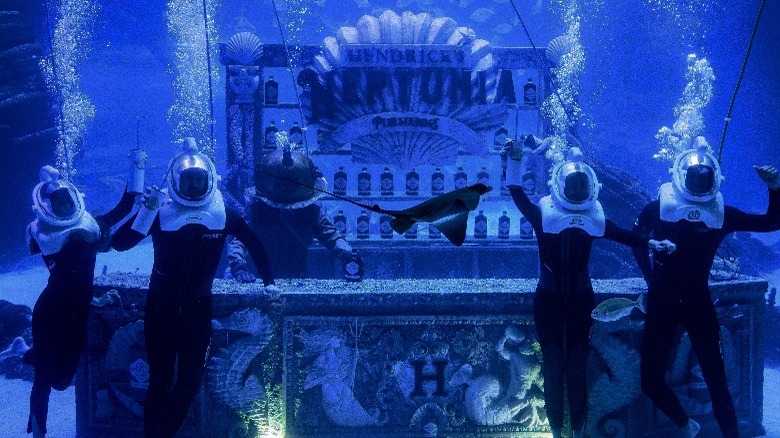 Hendrick's
Gin brand Hendrick's opened the world's "first fully underwater bar," Pubmarine, in a Madrid aquarium in May, according to a press release from the brand. Unlike other underwater food and beverage concepts, this one actually requires patrons to get wet, diving into the tank rather than walking into an underwater room to enjoy their gin and tonic. The experience was conceived to launch Hedricks' new, limited-edition Neptunia gin.
Neptunia's recipe employs "a mysterious blend of refreshing botanicals from the Scottish coast." To really hone in on the gin's sea-inspired flavor, Hendrick's created Pubmarine by consulting with Project Seagrass and National Geographic, using "sustainable materials" so the 10-meters-under bar won't rust and break down. But how can guests enjoy a drink underwater? That's where the experience gets exhilarating.
Surrounded by aquatic animals like sharks, rays, and colorful fish (as well as some human mermaids) in the tank, Pubmarine's customers get decked out in scuba gear before diving down to the swim-up bar, which looks just like one you'd find on land. A video from Hendrick's describes the "pressurized sealed containers" containing the cocktails, allowing divers to sip their drinks through their scuba suit and from a straw — all while breathing underwater.
Pubmarine seems to have been a limited-time opening for the launch of the gin, though Neptunia is still available and benefitting Project Seagrass' seagrass conservation efforts with a portion of proceeds.