The Special Wrap Method For Super-Moist Brisket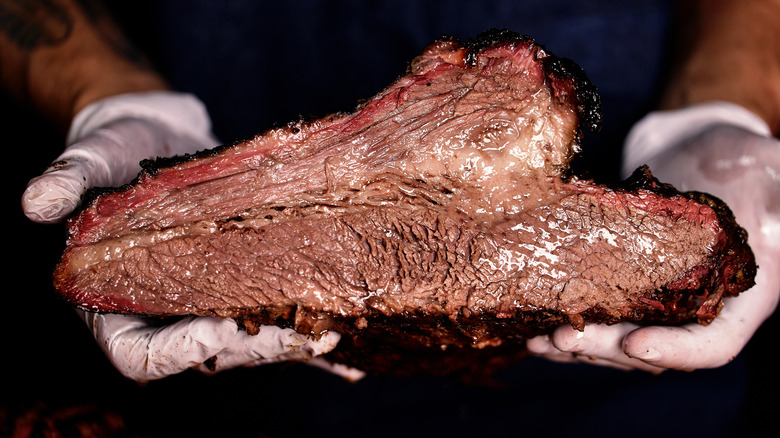 J_K/Shutterstock
"Good things come to those who wait," proclaims the popular advertising tagline from Guinness beer, referencing the time it takes for the freshly poured stout to settle in your pint glass before you can take a proper swig. Heinz once ran similar commercials for its bottled ketchup, touting that the "best things come to those who wait," an allusion to the glacial pace at which the sauce flowed from its glass container onto burgers and fries.
The same might be said for the barbecue warriors who wake at the crack of dawn to prepare smoked brisket for their families or the hungry masses. "Low and slow" is the formula to follow when making brisket — employing a gentle temperature for hours in order to achieve that tender, melt-in-your-mouth, juicy perfection, per Barbehow. Of course, this process is a delicate balance, because if you cook brisket too long or at too high of a temperature, it can become overdone and dried out, ruining a beautiful piece of meat. Luckily, there's a safeguard against this outcome that will help you get perfect brisket every time.
Have your moist brisket and eat it, too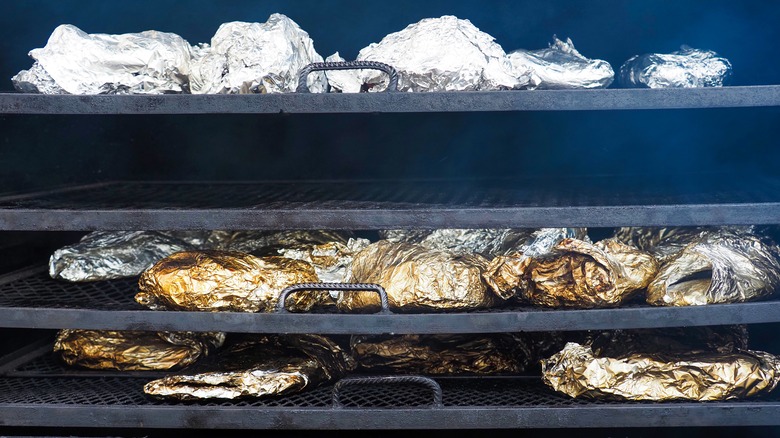 ANGHI/Shutterstock
Tender brisket is a labor of love, as it's a tough cut of meat that takes a while to break down. One trick approved by many pitmasters is a special wrap method to ensure super moist, flavorful brisket. The technique entails wrapping the brisket in either aluminum foil or butcher paper while roasting or smoking. There's even an approach on when to apply the wrap — generally, when the internal temperature reaches 165 degrees, although some pitmasters just eyeball it and wrap based on how dark the crust on the brisket has become, according to Smoked BBQ Source.
Wrapping the meat helps it retain moisture even while its internal temperature rises, giving the brisket that succulent taste BBQ aficionados crave. While foil is a popular choice for the technique, legendary Austin pitmaster Aaron Franklin explained on MasterClass that butcher paper is more breathable and traps less steam, which can result in a tender interior yet crispy crust. 
Finally, wrapping your brisket also brings the added benefit of expediting the cooking process, reducing your wait time. That's yet another reason why barbecue experts use the trick in timed competitions, says Traeger. Good things may come to those who wait, but isn't it better to have your moist brisket and eat it at a reasonable hour, too?