Aldi's Holiday Macarons Are Arriving On Shelves In Time For The Holidays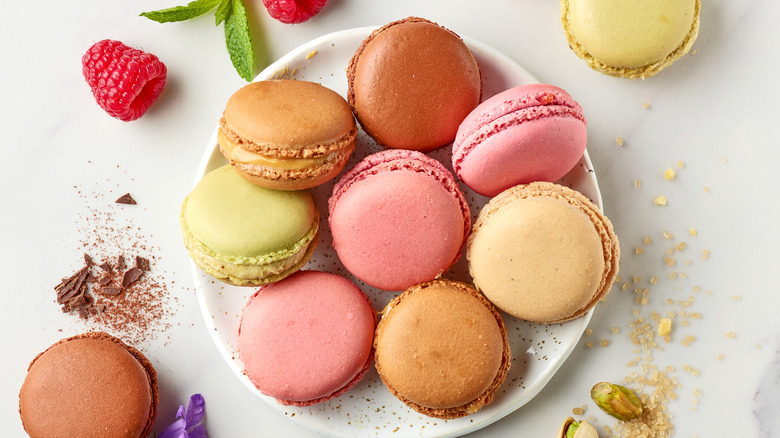 Magone/Getty Images
For many people, cookies are one of the staple desserts of the holiday season. Although you might like to eat the same cookies each year, there are a few small tweaks you can make to add some delicious new twists. Planning to bake a big batch of gingerbread cookies this weekend? Pepper is the one simple spice that will take gingerbread to the next level. Love the soft sugar cookies at grocery stores? Use this TikTok hack to make store-bought soft sugar cookies at home, and add some red and green sprinkles for a little extra fun.
But if you really want to impress a crowd, you can bring macarons to your next cookie swap or holiday gathering. Macarons are notoriously tricky to make, and it's also one of the reasons macarons are typically pretty expensive. But if you have your heart set on macarons this holiday season, you have the option to head over to Aldi. On Instagram, one user shared a photo of macarons from the brand Specially Selected, and these treats come in a variety of seasonal flavors for the winter.
What flavors are Aldi's holiday macarons?
Based on the post from Instagram user, Adventures in Aldi, these festive macarons come in six different flavors. The package has some classic macaron flavors, like pistachio and vanilla. Chocolate lovers can snack on chocolate orange and chocolate hazelnut. The final two flavors are ones you'll find in stores every holiday season, gingerbread and peppermint. Since there's a good amount of variety in this macaron mix, there's sure to be a macaron that fits everyone's taste, and each box comes with 18 macarons.
Although there aren't many reviews on this specific Instagram post yet, people have raved about Aldi's non-holiday macaron offerings on social media. For example, someone asked Reddit if anyone has tried Aldi's macarons, and commenters said, "Great value for what you get. These are just as good as a lot of bakery ones ... Worth the money!" and "Yes, I'm a big fan!" Since the general consensus for Aldi's standard macarons, which are also from Specially Selected, is positive, it stands to reason that the same quality can be expected from this holiday batch.
Want a more ambitious holiday baking project? Try making macarons at home. Start off with this foolproof salted caramel macaron recipe, and be sure to learn how a baker makes the perfect macarons.