The Fast Food Restaurant Japan Can't Get Enough Of On Christmas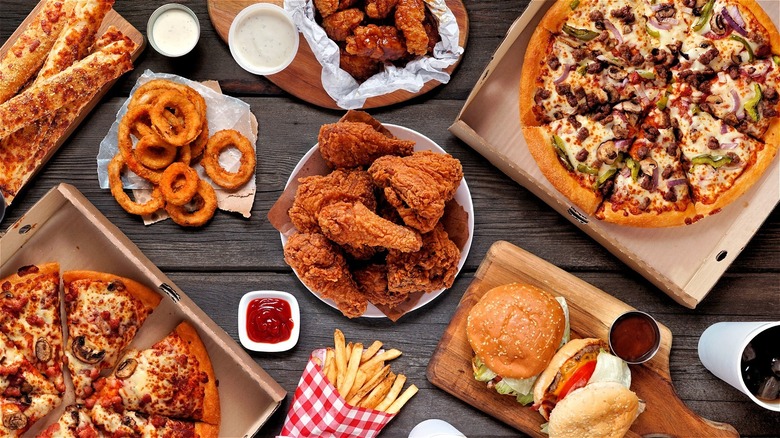 JeniFoto/Shutterstock
When we think of Christmas, it's not usually visions of sugarplums that dance in our heads. Instead, we tend to picture decked-out trees and houses, opening shiny gifts with the family, falling snow, and leaving cookies and milk out for the big man in red. For Japan, that jolly man in red looks a bit different than the rosy-cheeked, big-bearded Santa Claus who we normally associate with the holiday. He may not be St. Nick himself, but the country's favorite yuletide fast-food chain has a mascot that bears a striking resemblance. He's dressed in red packaging, sports a goatee versus a beard, and always has that merry twinkle in his eye.
Instead of giving out presents and filling stockings with coal, Japan's Christmas icon gives the gift of... fried chicken? First opening its doors to Japan in 1970, the now-beloved fried chicken franchise is a staple of the season. Indeed, KFC looks different in other countries, and it wouldn't be Christmas in Japan without grabbing a finger lickin' "party barrel" from good ol' Colonel Sanders.
KFC is Japan's crispy Christmas tradition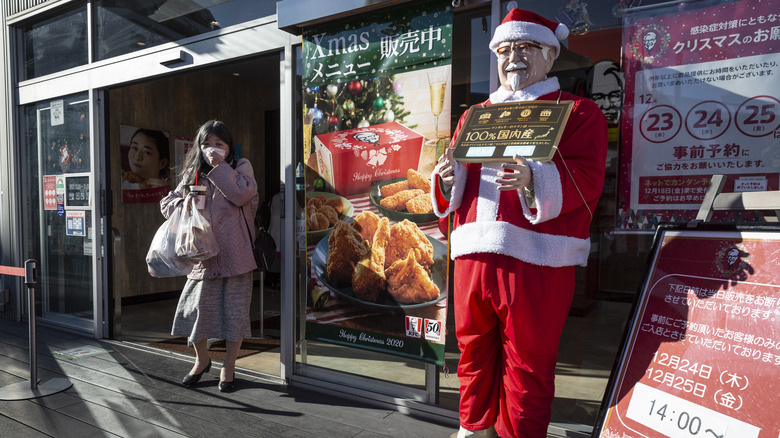 Yuichi Yamazaki/Getty Images
KFC, then known as its original name of Kentucky Fried Chicken, sells more chicken on December 24 in Japan than any other day of the year (via Live Mint). In 1974, the chicken chain launched a Christmas promotion to share its secret recipe and crispy goodness nationwide. The ad campaign's slogan was "Kentucky for Christmas!" and it was an immediate success. The idea for this advertisement originated after a customer who had traveled abroad visited a Tokyo KFC on Christmas day, stating that he couldn't find a traditional turkey in Japan to enjoy for the holiday, so he'd chow down on a bucket of KFC fried chicken instead. The rest is history, and the restaurant has been a Christmas tradition throughout Japan ever since.
Props to whoever created those wildly successful ads, because as CNN Travel notes, they "positioned KFC as an elegant, authentic way to celebrate in true American style, even if that wasn't quite true to reality." Japan's Colonel Sanders even dresses as Santa to spread the good tidings of his fried chicken far and wide. Popular items paired with a festive party barrel of chicken include lasagna, chocolate cake, and even champagne, as pictured in this Instagram post. A KFC Christmas meal even comes with a special holiday plate to dump all your food onto before you dig in to your elegantly fried feast.