Red Lobster's New Shrimp Is Inspired By Its Iconic Cheddar Bay Biscuits
Here's a question for all of you looking for a brain teaser: It's served in every Red Lobster no matter where it's located. Whether you order fish, shrimp, lobster, or steak, it's part of your meal. In fact, if you have enough of them, they're pretty much a meal in itself. If you guessed "those really good cheddar biscuits," then you would be correct.
Having turned 25 years old back in 2017 (according to Red Lobster), these buttery, cheesy dough balls have been a staple of the Red Lobster menu since their introduction back in 1992. If Thrillist's recounting of how cheddar biscuits came about is to be believed, Red Lobster was looking for something to replace their hushpuppies and culinary leader Kurt Hankins began tinkering with biscuit recipes, making them cheesier and replacing sugar with garlic. But whether they were an invention borne from experimentation, a happy accident, or perhaps divine inspiration, it's no secret that the Cheddar Bay Biscuits are a wildly popular crowd-pleaser at Red Lobster. So devoted are some people to these cheddar bread bites that when Red Lobster posted on its Facebook they were retiring cheddar biscuits for sliced white bread (a post made on April 1, or April Fools Day), many people seemed to take the joke very seriously.
If you love cheddar biscuits and also enjoy Red Lobster's shrimp, then the chain's newest item is something to keep an eye on.
Red Lobster is coating shrimp in a cheddar biscuit crust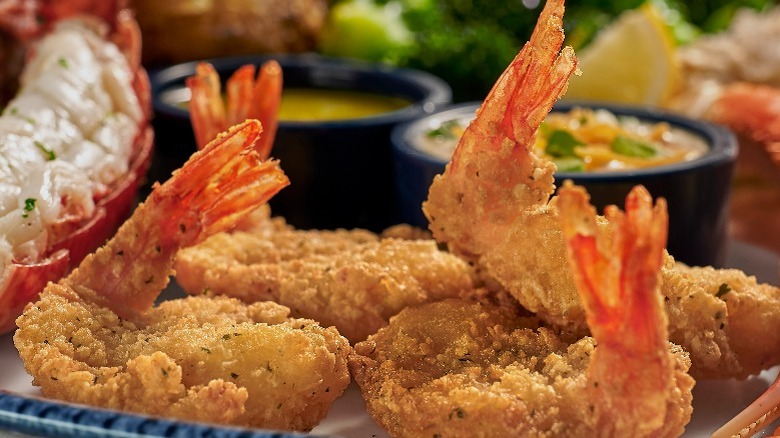 Red Lobster
Some culinary pairings just make sense. For example, you can't go wrong with combining chocolate and peanut butter, red wine and artisan cheese, or beer and pretzels. But one thing that seems to be missing from that list is shrimp and cheddar biscuits, or so Red Lobster believes.
In a press release from November 28, Red Lobster is introducing what it calls "Cheddar Bay Shrimp" — the chain's classic shrimp battered and cooked in a breading similar in taste and texture to the famous Cheddar Bay biscuits. The Cheddar Bay Shrimp will be available as part of the "Create Your Own Ultimate Feast" promotion, which also includes — you guessed it — unlimited cheddar biscuits.
If you're feeling thirsty from all that cheddar bay-crusted shrimp, Chew Boom tells us that three new holiday-themed cocktails are also being introduced alongside the Cheddar Bay Shrimp. These include "Snowglobe Sangria," which is made from Barefoot Moscato, St Germain Elderflower liqueur, white cranberry juice, and "edible shimmer" with cranberries and Sierra Mist, and the "Fireside Martini," a cocktail of spiced rum, amaretto, Baileys Irish cream, and cinnamon sticks, and "Cran-Apple Smash," which mixes Crown Royal Apple Whiskey with cranberry juice and cinnamon.
If shrimp and cocktails somehow aren't enough to get you in the holiday spirit, then maybe wearing Red's Lobster's very own "Cheddar Bay Sleigh Ugly Christmas Sweater" will put some jingle-jangle in your step. Just don't spill any Snowglobe Sangria or cheddar biscuit crumbs on it.