Trader Joe's Fans Are Pumped To Grab These Organic Italian Pastas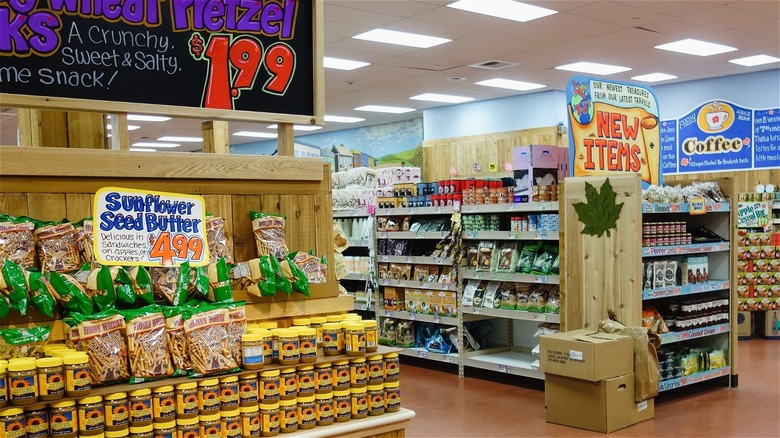 Corinna Haselmayer/Shutterstock
For Trader Joe's customers, there's nothing like a new item on the shelves to get people making a beeline for those signature red shopping carts — especially when a new season arrives. Iconic to the fan-favorite grocery store are seasonal releases in time with popular celebrations. From Pumpkin Palooza in the fall to the countless chocolate options for Valentine's Day, Trader Joe's is all about exciting its fans with limited-edition foods, drinks, and other grocery items.
The holiday season, especially, is a time when TJ's shelves are filled with giftable products and a host of winter-themed goods. As of this month, the store's "flurry of festive products" has finally launched, and there's everything from eggnog and white truffle popcorn to hot chocolate ornaments and hand cream trios. Trader Joe's goes all out for all of the seasons, but the winter holidays are where it thrives — at least, if you ask fans of this new pasta quintet that's making the rounds on Instagram.
Five pastas, one box
Trader Joe's just dropped an alliteration-filled pasta set called the Panoply of Organic Italian Pasta. The array of small portions allows you to try a different shape and flavor of pasta every weeknight, while the elegant packaging displaying each variety also makes it a smart gift for any color-loving pasta fan in your life. According to the Trader Joe's website, the box has five different organic Italian pastas, each a "bronze-die extruded shape (meaning each noodle is terrifically textured, an ideal trait to help sauce cling)." The pasta shapes are made with natural colors and include farfalline, papillon, lemon torchietti, fischietti, and creste di gallo.
Fans are over the moon about the new item, with people on Reddit saying the pastas are "so pretty" and perfect as a host gift. Commenters on an Instagram post by @traderjoeslist were equally pumped about the pasta set and its unique name. "We so rarely use the word panoply that this pasta is a double gift to the world," one fan said, while another commented, "Can't decide if i'm gifting this set or eating it!" As a solution to this dilemma, some people said they would be buying two: one for them and one as a present for someone else. Looking at the price of $9.99, shoppers seem ready to shell out for at least one Panoply of Organic Italian Pasta.