Reddit Is Sharing Which Trader Joe's Items Make The Best Holiday Gifts
The holiday season is in full swing, and while it hopefully brings with it lots of celebrations and tidings of good cheer, it can also bring some additional stress. As the end of the year approaches, it seems our to-do lists get longer and longer, and one major item on that list that can be difficult to cross off is Christmas shopping for those who celebrate the holiday. Whether you're shopping for a whole family, or just looking for that perfect present for your spouse, it can be hard to find the right gift the give to loved ones.
However, one creative shopper seems to have come up with the perfect solution for crossing everyone off the list: heading to your local Trader Joe's. Over the past few weeks, Trader Joe's has released a wide variety of fun and festive seasonal items that have been a hit with shoppers. A baker or pastry fan might just appreciate receiving their Peppermint Chocolate Chunk Cookie Mix or Gingerbread Cake and Cookie Mix. Or perhaps the coffee lover in your life would delight in a few flavored coffee blends, such as the holiday-spiced Wintry Blend Ground Coffee or a sweet mug of Gingerbread Ground Coffee (via EatingWell). Regardless of who is on your holiday shopping list, Trader Joe's wide selection of seasonal items has something for everyone from your picky brother to your already-has-everything mother-in-law, and everyone in between.
Many shoppers suggested Jingle Jangle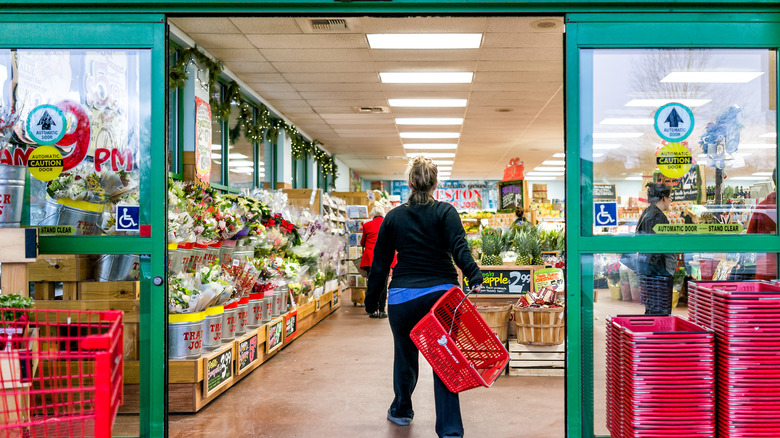 Kristi Blokhin/Shutterstock
Recently, a Reddit user made a post asking in the Trader Joe's subreddit asking, "What's a unique TJ item that you would give as a gift?" Their fellow Trader Joe's fans didn't disappoint, offering many helpful suggestions for the items that would make excellent gifts or fun stocking stuffers. "If a bottle of wine is appropriate, the moon x is very good, crowd pleaser, and great value for $6.99," replied u/Efficient-Cricket-72, who also recommended condiments, flavored nuts, or dried fruits for those who don't drink. "I'm probably going to have some mini gift bags of the peppermint marshmallows and the hot chocolate sticks ready to go," said another user.
While many suggested gifting a variety of assorted holiday chocolate sets, quite a few users specifically recommended the Jingle Jangle, which is a fan-favorite Trader Joe's product that comes around during the holidays. Each tin of Jingle Jangle contains an assortment of delicious treats, including milk and dark chocolate mini pretzels, dark chocolate-covered Joe-Joe's cookies pieces, caramel popcorn coated in dark chocolate, and even mini peanut butter cups in both milk and dark chocolate varieties, per Trader Joe's. The Jingle Jangle might be a chocolate-lovers dream, but these Trader Joe's fans have varied tastes. As one wrote, "That $25 dollar linen apron would make me swoon. As would a plain old gift card."