Subway Just Took Its Footlong One Step Further — With Cookies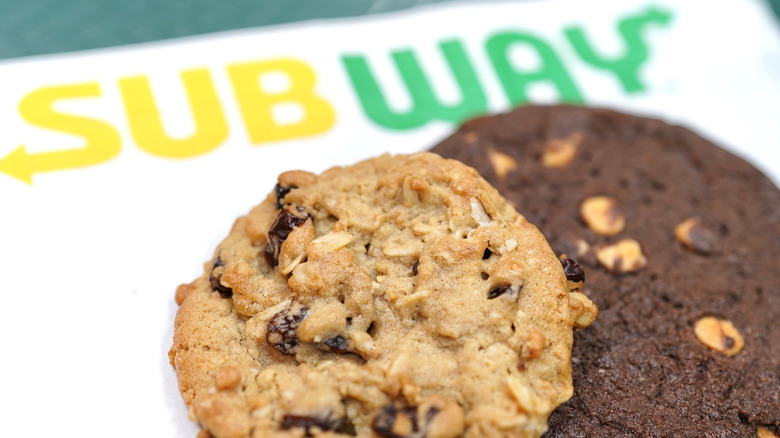 Prachana Thong-on/Shutterstock
National Cookie Day is almost here (Sunday, December 4) and Subway is celebrating in a super-sized way. Although the chain is primarily known for slinging sandwiches, it has a strong cookie lineup too. In fact, Australian Subway shops saw a major bump in cookie sales in 2021, selling nearly 360,000 more than the year before, per QSR Media. Sure, some of that could be a post-pandemic bump, since 2020 was far from a normal year, but that's still a lot of extra (cookie) dough.
The sweet lineup of cookies listed on Subway's site includes flavors like chocolate chip, raspberry cheesecake, double chocolate chip, white chip macadamia nut, and chocolate chip rainbow cookie. If you like these, you're in luck — a company press release explains that the chain is bulking them up for a limited time through its cookie-only pop-up shop, Cookieway. The last (and first) time this pop-up happened was last year in New York City, The Kitchn reported in 2021. Although that event offered some limited-edition cookies and merch, the 2022 installation has gone totally next level, this time offering cookies that span an actual footlong.
The 2022 Cookieway pop-up shop has switched locations for a sunnier spot, as the press release notes this year's installation will be found in the Little Havana Neighborhood of Miami. Specifically, people hungry for giant cookies can find them at the Subway shop in Calle Ocho (1575 SW 8th Street), which TripSavvy describes as "the epicenter of Little Havana."
How to score a footlong cookie from Subway
The National Cookie Day menu at Subway's Cookieway pop-up will have four brand-new cookies in footlong form, the press release says. The first is the Subway Cookie Club, which is a long cookie topped with vanilla frosting, chunks of several popular cookies, sprinkles, and raspberry and chocolate sauce. Another option, the "Great Pickle," features a base of sugar cookies topped with layers of potato chips, bacon crumbles, peanut butter, marshmallow creme, and yes, dill pickles. "The Monster" spotlights peanut butter and chocolate components, with a base of double chocolate cookies dressed with peanut butter spread, peanut butter cups, Reese's pieces, pretzels, and "butterscotch morsels." It's then drizzled with white and regular chocolate sauce. Lastly, "The MexiCali's" base of sugar cookies is covered in dulce de leche. It's then layered with corn nuts and mole and drizzled in white chocolate sauce. The literal icing on the cookie is a combo of espresso chips, Tajin, and ground coffee.
Cookieway is set to open for one day only on December 4 from 1 to 5 p.m. to serve footlong cookies to interested patrons who make a donation to the Subway Cares Foundation. Although the footlong phenoms won't be available anywhere else, other shops will offer bundles of six or 12 cookies. Plus, anyone who orders a footlong sub via the website or app will get to take $2 off the price if they add a cookie. One Redditor called Subway's cookies "godlike," and our survey voted them Subway's most underrated item — this cookie-centric day could be a good time to find out if you feel the same.