This Is Subway's Most Underrated Menu Item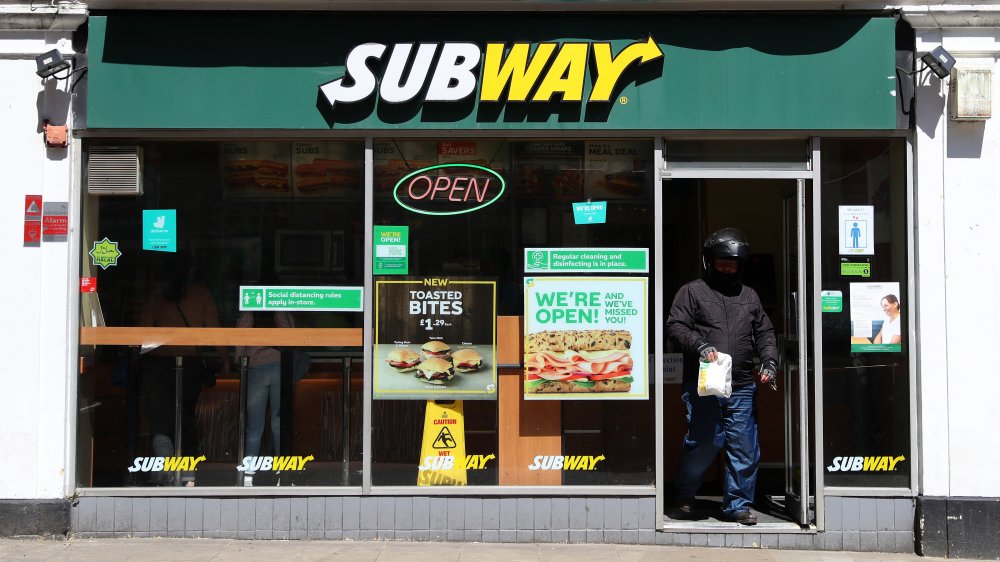 Catherine Ivill/Getty Images
Before we reveal Subway's most underrated menu item, let's start by disqualifying sandwiches from that title. Subway sandwiches might be the chain's bread and butter, but there's no way to declare one as most underrated. You might even say it's mathematically impossible. According to QSR, Subway has more than 37 million sandwich combinations, taking into account all the unique ingredients available in the 100-plus countries where the chain has planted its green and yellow flag. But check out people's favorite Subway sandwich builds on Reddit, and you'll realize 37 million is probably an underestimate. Does that include a meatball sub with added tuna or the Italian BMT where you toast tomatoes and olive oil with the bread and cheese?
The point is, with maybe an infinite number of ways to make a Subway sandwich, we can't reasonably say that one of them is the most underrated item on the fast-food chain's menu. What about the wraps? They're often overlooked, but if anything they are overrated. For the uninitiated, the wrap is all the ingredients you know and love but wrapped in a flour tortilla instead of the usual hoagie bun. Looking at the wraps, you might suspect they are a healthy, low-carb alternative to the standard sandwich. Not true. In fact, Subway wraps pack more fat and carbs than the classic sandwich, according to Livestrong. We need to go deeper into the list of options at Subway.
Cookies are Subway's most underrated menu item
To find the most underrated item on the Subway menu, look to the chain's very short dessert menu. Have you tried their cookies? In a word, to quote a customer caught on a video on YouTube, the cookies rock. Subway's cookie maker does such a good job that it has inspired copycat recipes, including this one on Food.com for Subway's white chocolate macadamia nut cookie. 
Online reviewers can't say enough good things about Subway's cookies. Deidraclair raved about the cookie on ChickAdvisor, giving it five stars out of five. "They are by far the most amazing thing I've ever tasted in my 28 years of life," she said. A Reddit user who goes by "beyond13" started a thread with the question, "Why are Subway cookies so godlike?" The oatmeal raisin cookie caused this person to reevaluate their life. "I love oatmeal raisin cookies but Subway must have the crabby patty secret formula for them," they said, speaking to the Spongebob fans in the Reddit universe. The Redditor also gave Subway props for selling cookies at just the right size. "Subway has mastered the cookie geometry where it's the perfect size for a dessert after already eating a 600-1000+ calorie sub."