The Best Baking Pans In 2022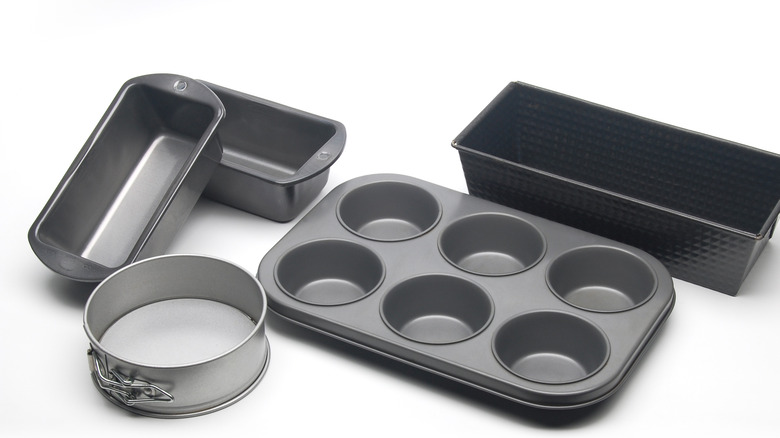 M. Unal Ozmen/Shutterstock
We may receive a commission on purchases made from links.
Who doesn't love a freshly baked dessert? There's something so comforting about a warm, sweet confection, especially this time of year. And an incredible amount of work goes into creating those warm, sweet confections. From choosing the best ingredients to using special methods and techniques, baking something delicious is no small feat. And on top of all that, you also have to select a great baking pan. In fact, that's arguably more important than having the highest-quality ingredients.
A baking pan is responsible for far more than just holding eggs, sugar, and flour while they magically meld together. Baking pans conduct and distribute heat, give the confection its shape, and determine much of the outcome of the dish. Even the best bakers in the world are at the mercy of their baking pans.
To alleviate some of the headache of choosing a quality baking pan, we corralled a list of the best baking pans on the market this year. No matter what you're baking, it'll come out of the oven spectacularly with any one of these pans.
How we chose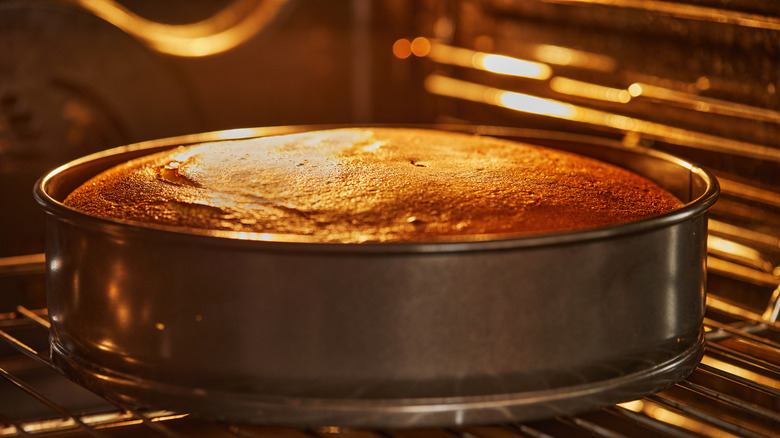 Alexander Donin/Getty Images
To choose the best baking pans of the year, we went straight to the kitchen. To make sure our choices accurately reflect what you, the buyer, wants, we considered what we want as buyers, too. Durable, quality, versatile, and long-lasting pans were at the top of our list.
We weighed our options, too. Should we suggest sets of pans or singular items? What materials should we select? We decided a variety was most sensible, so we created categories that we already use when we're buying baking pans ourselves.
After choosing our categories, we carefully looked at baking pans from large and small brands alike. We looked at different price ranges, different uses, different sizes, and more to determine which baking pans were even worthy of consideration. To make our final decisions, we cross-referenced with user reviews, only suggesting baking pans a large body of customers have had success with. We now present to you the best baking pans of 2022.
Best overall
Of all the bakeware you'll encounter this year, the best is Calphalon. From a trusted brand comes its Nonstick Bakeware Set, six pieces that include cake pans in multiple shapes and sizes, a muffin tin, a loaf pan, and a baking sheet, all for an affordable price. The baking pans are dishwasher safe, can be put in an oven up to 450 degrees Fahrenheit, and, most importantly, will leave you with stellar baked goods that rival gourmet bakeries.
"There is nothing about the bakeware that I don't like. Great for the price. I like them so much I have them as a gift," one reviewer noted on Amazon. Another user posted a review on Calphalon's site, saying, "I wouldn't purchase any other brand because Calphalon is the best in my book. I have a set of cookware I purchased over 10 years ago and it's still beautiful and functional."
Calphalon offers a 10-year warranty, so if your set doesn't fare as well as some customers' cookware, you can get a free replacement. But considering the durability, especially if you take care of your pieces, we expect you'll be enjoying this set for years to come. Whether you purchase it for yourself or receive it as a gift, you'll be happy with Calphalon.
You can purchase this set on Amazon for $43.99 as of December 2022.
Best affordable
Just because you're baking on a budget doesn't mean the goodies need to taste cheap. To save yourself and your eaters from a less-than dessert without spending your life savings on equipment, check out Kitessensu Baking Pans. This set comes with seven separate pieces, including a wire rack, so you can bake cakes, cupcakes, cookies, loafs, and more. The pieces are hand-wash only, but at such an affordable price, you won't be kicking yourself if you err and machine-wash something instead.
Made with carbon steel, these baking pans will evenly cook your food, and you can choose from four different colors so your equipment is as beautiful as your baked goods. The material is non-stick and won't warp, and the set will leave you with plenty of money in your budget to go toward other kitchen tools. It's an all-around win.
As one Amazon reviewer shared, "These pans are sturdy and well-suited for kitchen use." And another Amazon customer said, "Solid buy for the price. Nothing too fancy or different about them but had every basic piece you need." We concur.
The Kitessensu Baking Pans set is available on Amazon for $35.99 as of December 2022.
Best splurge
If you are looking to splurge, make sure you get your money's worth and go with Caraway. Many brands tout excellence but serve no return on investment. With Caraway, you absolutely get what you paid for — durable bakeware that'll last for years, look great in your kitchen, and deliver exceptional baked goods.
Caraway is a relatively new brand, but it's already proven its excellence. Its products, these baking pans in particular, are non-stick and are oven-safe up to 550 degrees Fahrenheit, non-toxic, and easy to store. This set even comes with storage so you can keep all your equipment together. Caraway's bakeware is ceramic, too, so you can rest assured your baked goods will turn out fabulously.
Taste of Home reviewed Caraway's bakeware and perfectly summed it up by saying, "There's no denying that Caraway bakeware is pricey, but there's also no denying that it's worth every single penny. This is a bakeware set that, if cared for correctly, may very well last you a lifetime. It's a worthwhile investment that will likely save you money in the long run." A paying customer on Amazon shared their thoughts, too, noting, "I have everything I need all in one organized set ... The items themselves are very sleek and top notch quality. So happy with the product!"
Get Caraway bakeware on Amazon for $355.50 as of December 2022.
Best ceramic
You may be swooning over someone's ceramic bakeware because of how it looks — it's sleek and stunning atop a stove or a floating shelf. But there are far more reasons to love ceramic bakeware than just its aesthetics. Ceramic bakeware is heat-resistant without being too heavy, and it does an excellent job of conducting heat, making goods that are evenly baked and of unmatched taste and texture. If you haven't yet discovered the magic of ceramic bakeware, we suggest the Sweejar Ceramic Bakeware Set.
Sweejar has multiple baking pans, all at different sizes. They come in over a dozen colors, each more beautiful than the last, and the pans nest to make storage a dream. If you have extra room for a 12x8-inch baking pan, you have room for the two smaller ones that accompany it.
Though these pans are all rectangular, they're still versatile enough for cooking and baking, and they're quite easy to clean. Like one owner said on Amazon, "Beautiful colors, durable, easy to clean. Love the 3 sizes of the dishes." And the best part? They come at an affordable price. What's not to love?
Snag your set of Sweejar ceramic bakeware for $48.99 on Amazon as of December 2022.
Best for cakes
Although it's fantastic to buy a set of bakeware that you love, it's not always necessary. If you're after pans just for baking cakes, look no further than the Wilton Aluminum Cake Pan Set. With two 8-inch round cake pans, you'll be baking up a storm the second these arrive at your door.
As a brand, Wilton is best known for its cake pans and accessories. Veterans and novices alike flock to its storefront for products, and once you use one, it's no secret why. The material yields evenly baked cakes. It's easy to clean and store. The pans are durable enough for daily use, and they'll last a lifetime if cared for. One happy customer commented on the Wilton site, "These are my favorite pans. They cook evenly and never make a mess. Clean up is great!"
If you're new to baking cakes, you might be considering purchasing one pan to start. But with Wilton, we suggest taking the plunge and buying two. You'll find that these pans make baking cakes easy, and you'll be using both pans to bake layered cakes in no time. Like another Amazon customer shared, "This is the best material for a cake pan. Properly greased, the cake always comes out undamaged."
Get Wilton cake pans on Amazon for $17.18 as of December 2022.
Best sheet pan
You can never have enough sheet pans, right? They're easy to store, versatile, durable, and a kitchen staple. Whether you're baking dozens of cookies for the holidays or needing a gift you know will get used by the chef in your life, turn to Nordic Ware for sheet pans. This set comes with three aluminum sheet pans, all at different sizes, that are lightweight, simple to store, and easy to maneuver.
One major reason we suggest Nordic Ware is because it solves a classic problem — warping. If you've had a sheet pan for long enough, it likely isn't as flat as it once was, and that's due to its material not being durable enough to withstand high amounts of heat for long periods of time. Nordic Ware's material and design combat warping, so your pans will retain their shape, and you won't be startled by that pesky popping sound while your cookies are in the oven.
If you don't believe us, trust a customer who's more than happy with the Nordic Ware baking sheets. "I consistently use them more than any other cookware I own. They are the perfect size for my oven racks. They've never buckled or warped. The heat distribution is always even. I have always handwashed them and they are in almost pristine condition even though I use at least one almost daily," the Amazon reviewer said.
Get your own Nordic Ware sheet pans on Amazon for $34.45 as of December 2022.
Best muffin tin
Muffin tins can be deceiving. They're usually similarly priced from brand to brand, and it's difficult to tell just by looking at them whether they're well-made. It's important to understand what makes a muffin tin work well before purchasing, and that's material that evenly distributes heat. But if you'd rather skip the research and place your trust in a brand that's known for its great bakeware, buy from Wilton.
The Wilton muffin tin is like any of its other bakeware — durable, a great conductor, and easy to use. The tin is also non-stick, which is a major plus when it comes to baking cupcakes and muffins. Who wants to spend their time retrieving 12 tiny baked goods that are stuck to their tin? That can be avoided with Wilton. One Amazon customer noted, "Muffins popped right out, and the spillage cleaned up without any problems."
This baking pan is dishwasher-safe and comes with a warranty, so you can use it to bake cupcakes for years to come. It's deep enough that you'll have well-proportioned muffins, but not so deep that it's difficult to store. It's really a superior product.
Purchase the Wilton muffin tin for $9.98 on Amazon as of December 2022.
Best non-stick
Lots of products claim to be non-stick, but it seems like very few actually are non-stick. But that's not the case with the Rachael Ray Nonstick Bakeware Set. This set has five pieces that are perfect for bars, cakes, loafs, and more, and whatever you're baking will pop right out. An added bonus? The non-stick coating makes cleanup the easiest part of the process.
Like we said, many products claim to be non-stick, but we like this set for a couple reasons. First, the pieces actually work, and second they come with grips. When we hear non-stick, we often, understandably, only consider how that affects the baked goods. But we often forget that the non-stick coating is over most, if not all, of the product, and that makes it awfully slippery, which can result in dropped desserts. Rachael Ray's set comes with built-in grips to ensure sturdy handling of the pans and to prevent any kitchen disasters.
You'll be happy with everything you make using these items, and they'll last. And once again, food won't stick. "This bake set is awesome. Nothing has stuck to it so far and I put it to the test. Highly recommend," one reviewer from Walmart said.
Purchase this set on Amazon for $44.16 as of December 2022.
Best pie pan
Finding a pie pan can be difficult. They're often quite shallow, and it seems much easier to opt for a disposable pie pan. But once you've found a good pie pan, there's nothing like it. And the best pie pans come from Pyrex. This brand has glass figured out, and its pie pans are clear evidence. You'll be pleasing everyone with your pies for years to come when you purchase these sturdy and long-lasting pans.
You don't need to reserve your Pyrex for just pies, though. One Amazon reviewer detailed their own use of the pans, saying, "I use these primarily when cooking and baking. Perfect size when melting a little butter or to hold chopped vegetables such as chopped onion or celery when cooking. Also good for holding ingredients such as baking soda, salt and/or pepper when baking. Handy to have when busy in the kitchen."
However, if you're only using them for pies, the Pyrex pans feature everything you're after in one. They evenly distribute heat, they're dishwasher- and freezer-safe, and they're easy to carry and clean. They come with a scalloped edge, so even the most inexperienced can bake a beautiful pie.
Pyrex pie pans can be purchased on Amazon for $16.49 as of December 2022.
Best with a lid
Transferring a baked good? You'll need a lid. And if you want a lid that comes with a fantastic baking dish, look to Farberware. This non-stick baking pan is 9x13 inches, and its plastic lid will keep all your delicious contents inside and protected from whatever elements you'll face on your trip. The lid is strong and easy to clean, and it's got a domed top just in case your contents rise above the pan's edges.
The lid is fantastic, but so is the baking pan itself. It makes great food, and its non-stick coating makes retrieving the food easy, which is especially important when you're traveling with baked goods.
Just as one reviewer at Walmart said, "I love this cake pan with a lid. Unlike some brands this one has handles so it is easy to lift it out of the oven when the pan is hot ... The plastic lid is ideal for storing the left over cake in the fridge or taking it to a party."
This Farberware pan is available on Amazon for $16.99 as of December 2022.
Best bundt pan
Half the battle of baking a bundt cake is picking the right pan. Aside from all the normal features you want in a baking pan — good conductor, even heat distribution, lightweight, durable, etc. — you also want a bundt pan that's non-stick and metal, preferably a lighter color. Bundt cakes are especially finicky, so choosing the right pan is vital. And the right pan comes from Nordic Ware.
This pan is everything we just mentioned and more. It delivers a quality cake, and it works so well that even at-home bakers who are new to bundt cakes can use it and produce great results. One Amazon reviewer shared their experience, saying, "I just made my first bundt cake with this pan ... The cake is evenly baked all over to perfection ... I highly recommend this pan — great for people just starting out with bundt cakes." Whether you're intending to douse your bundt cake in icing or serve it plain, it's going to turn out beautifully with the Nordic Ware pan.
Get started with bundt baking by purchasing the Nordic Ware pan on Amazon for $25.97 as of December 2022.
Best springform pan
Oh, the springform pan. It's the trickiest of all baking pans, making it absolutely necessary that you purchase one of quality. There are dozens of tips to make its use a little simpler, but the best tip of all is buying a springform pan from Hiware. Its springform pan is non-stick, so your food will easily release from the pan. It's leakproof, so ingredients don't go rogue. And it's durable, so that latch will last as long as you're still baking.
Though you do have to hand-wash this pan, it'll only preserve its functionality and extend its life. It's safe to use in a hot oven, and it comes in multiple sizes to fit any of your mousse or cheesecake needs. "Came as described. No leaks, easy clean up. I used this for a cheesecake and it was perfect. Would buy again," one Amazon reviewer said. As noted, springform pans are tricky, but they become much easier with Hiware.
Get yours on Amazon for as low as $13.99 as of December 2022.