The Holiday Origins Of Chestnuts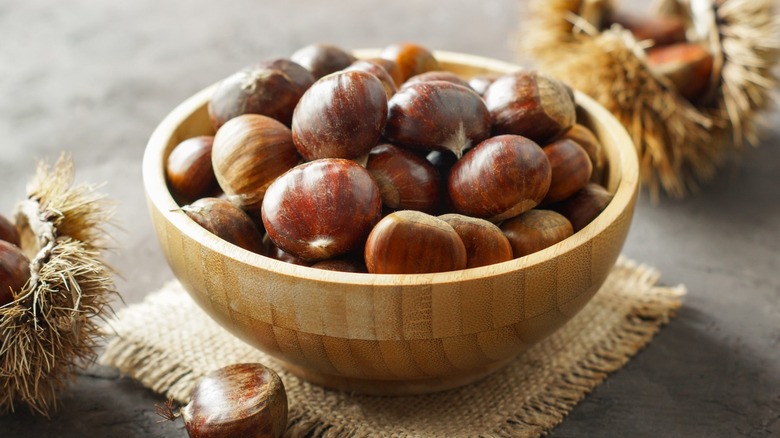 Halil ibrahim mescioglu/Shutterstock
In the 18th and 19th centuries in America, chestnuts were prominently used in holiday foods and cooking due to the ubiquity of the American chestnut tree itself, particularly on the East Coast, per USA Today. And while there once were nearly 4 billion chestnut trees in America, they fell victim to a lethal fungus known as the chestnut blight in the early 1900s, which resulted in a decline in the tree in the U.S. (via The American Chestnut Foundation). 
Besides the American variety, there are also other edible species, namely the European, Japanese, and Asian chestnut trees. The European chestnut trees, for instance, were grown during the time of Alexander the Great and the Roman Empire and were considered an important food source (via National Today). Similarly, the Japanese have been eating chestnuts produced from the Japanese chestnut variety for thousands of years, per Specialty Produce.
Chestnuts are so popular that there's even a national Roast Chestnuts Day celebrated each year on December 14, and the word has even been mentioned in songs like Nat King Cole's "The Christmas Song," which goes, "Chestnuts roasting on an open fire." While that line has definitely become imprinted in most of our minds, you might be wondering just how chestnuts became a holiday staple. 
Chestnuts are a popular holiday food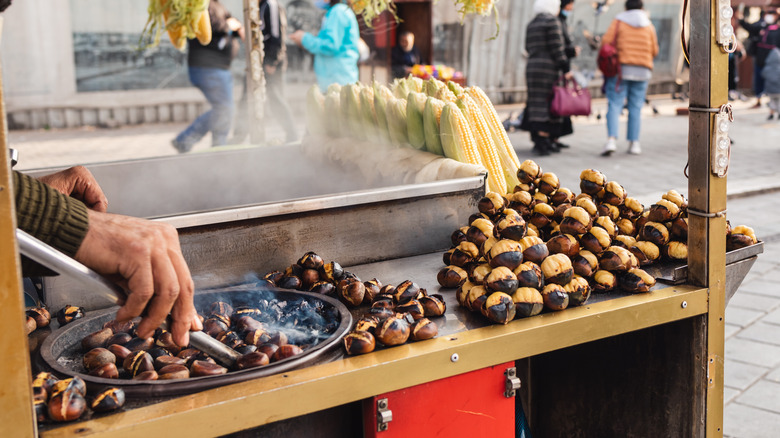 Naumoid/Getty Images
The exact holiday origins of the chestnut aren't known for certain, but there are some possible explanations as to why it's often eaten around this time. Farmer's Almanac states that their fall harvest time and the fact that chestnuts don't last long and must be used quickly is why they are typically associated with the holiday season. 
Consuming the treat remains a popular holiday tradition around the world. In New England, for instance, they are often incorporated into meals. And in major cities like New York, you can still find street vendors selling chestnuts from pushcarts (via Connecticut Post). There's also a good reason why chestnuts are often served roasted. According to the Farmer's Almanac, the process of roasting contributes to a "sweet, buttery flavor" similar to that of another holiday culinary favorite, the sweet potato.
However, chestnuts aren't only linked to holidays and specific seasons in America. Turkey, a major chestnut producer, has a long and storied tradition of harvesting chestnuts, with many street vendors selling roasted and candied chestnuts during the winter months, per Financial Times. In Portugal, people celebrate St. Martin's Day annually on November 11 by building bonfires for roasting chestnuts, according to The Portugal News. Much like the ancient Greeks and Romans, chestnuts were once considered an essential part of the Portuguese diet. Whatever way you decide to eat them, chestnuts are a great way to spend the holiday season.