Instagram Is Craving These Beautiful Aldi Chocolates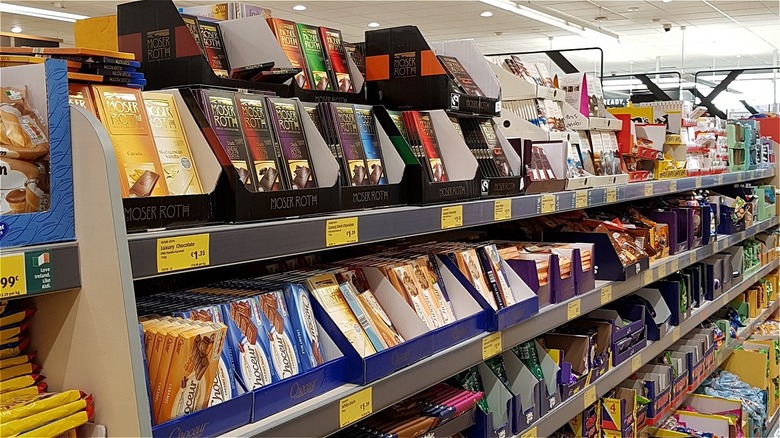 shutterupeire/Shutterstock
Taste is arguably the most important element when it comes to food. However, as many restaurant chefs, foodies, and food innovators could probably tell you, the presentation of each plate is crucial, as well. According to the International Taste Institute, there have been several studies linking how our visual perception of food affects its taste, with one of the most notable probably being the Skittles theory that went viral on TikTok last year. Furthermore, in a time when social media plays a major role in many of our decisions, including where to get our groceries and meals, creating visually-appealing grub that's worthy of a spot on the ole' Instagram feed doesn't hurt, either.
The team at Aldi seems to understand this concept well, and this holiday season, the low-budget grocer has debuted one particular product that has been stopping some shoppers in their tracks. Spotted earlier this week by Instagram user @aldi.mademedoit, the German chain's duo of Specially Selected Chocolate Collections have been turning heads not just for the unique flavor combos of the confections, but their gorgeous designs, as well.
"Wait but, [am] I the only one that thinks these chocolates are so beautiful," the Aldi-obsessed Instagrammer asked in a post about the seasonal treats on December 1. Based on the response to their upload, they certainly don't seem to be alone in their thoughts.
Aldi shoppers are loving more than just the looks of these seasonal chocolates
It might seem unfathomable to postpone chowing down on a delicious assortment of sweet treats just to take note of their appearance. However, that's exactly what many Aldi shoppers seem to be doing with the chain's new Specially Selected Chocolate Collections that recently debuted on the shelves. According to The Krazy Coupon Lady, they cost $5.49. However, the availability and prices of items sold at Aldi may vary across stores.
Available in two different varieties – Milk, White, and Dark, which features flavors like Fudge Sundae and Speculoos, and Winter Classic, which comes with sweets named Jam Roly Poly, Trillionaire Shortcake, and Maple Flavor & Pecan – the 12-count packs of chocolates are earning serious praise across social media for their designs. Shoppers in the comments section of Instagram user @aldi.mademedoit's post on Thursday about the seasonal finds called them "beautiful" and "cute," while Reddit user u/bryster said they "look[ed] fancy."
Those worried that the boxes of sweets are just one of those gimmicky products that look amazing but actually taste terrible can go ahead and put that fear behind them. Many shoppers have lauded the chocolate collections for their deliciousness, including Redditor u/CayKGo, who said she and her husband had been sampling them since mid-November. "We've been splitting one from each box every day. Eton Mess and Jaffa Cake were my favorite from each, but had zero disappointments!" they shared.