What Are Jaffa Cakes And What Do They Taste Like?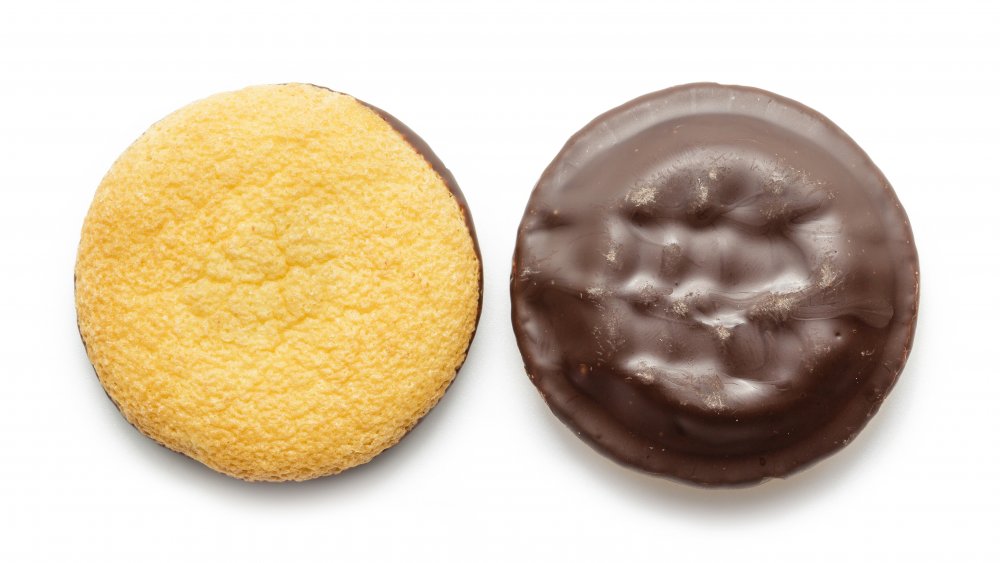 Shutterstock
If you've never had a Percy Pig or a Digestive biscuit, chances are you also haven't heard of the wonders that are Jaffa Cakes. While all three are sweet treats common in the UK, Jaffa Cakes are possibly the most unique. They are round snack cakes made up of three components, according to the packaging's description: a "light sponge" cake, a layer of "dark crackly chocolate", and "the smashing orangey bit" (via McVitie's). So, these treats say they combine the sweetness of a sponge cake with the tartness of orange-flavored jam and the richness of dark chocolate, what's not to love? However, this marketing is, in some ways, fairly misleading.
According to the BBC, these classic cakes (which have been around since 1927) are actually made with apricot jam, rather than orange. While the packaging features lettering that resembles an orange rind, the main flavor of the jam is in fact mostly apricot, with just a hint of tangerine oil. Before you rush to buy a packet online, you should know that there's another piece of news regarding these treats has some Jaffa Cake fans upset. 
Why Jaffa Cakes have some consumers up in arms
If you're still sore from when Toblerone changed the shape of their bars, reducing the weight of the chocolate in order to save money (via BBC), you might want to put down the Jaffa Cake and stop reading now. According to Metro, McVitie's reduced the number of Jaffa Cakes per package in 2017, bringing the total amount in a single pack down to 10 cakes instead of 12. While the brand officially reduced the price of a package from £1.15 to £0.99 to account for this change, in reality this still increased the price per cake from 9.58 pence to 9.8 pence. This would be bad enough, but some stores have also apparently continued to sell the reduced-size packages at the old price, which has consumers even more upset. 
In an official statement regarding the changes, a McVitie's spokesperson said the following: "We have taken the decision to adjust the pack size of our McVitie's Jaffa Cakes products... There is no change in the size, shape, or weight of individual cakes in the McVitie's Jaffa Cake range," adding that "pricing ultimately remains at the sole discretion of retailers." (via The Sun) Next time you're in the UK, you can decide for yourself if the price increase is worth it for these chocolaty, orange-impersonating snack cakes.