The 'Easiest Sauce In The World' That Bobby Flay Uses Over Arancini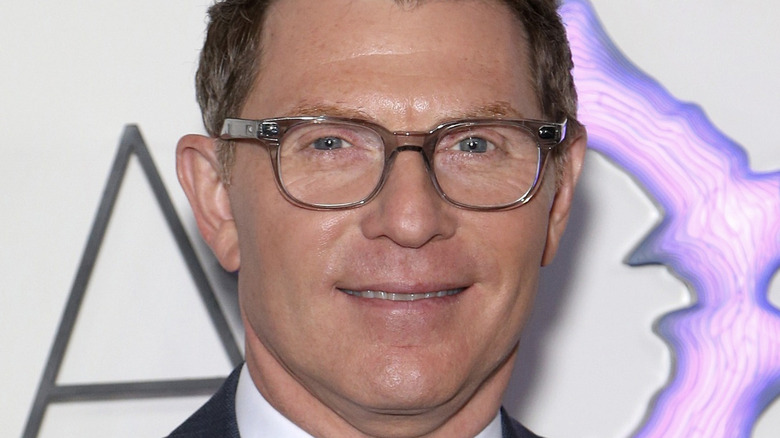 Gabe Ginsberg/Getty
If there is one thing we know about Bobby Flay, it's that the man knows a thing or two about flavor. Whether he is taking down his competitors on Beat Bobby Flay, or dazzling guests at his newest restaurant Amalfi, Flay keeps people coming back for more. In an interview with Bon Appetit, Flay revealed the key to his food tasting so delicious was excess seasoning. He said, "I probably season 60% more than the home cook. Why? Because food needs it." In order for Flay to properly season and flavor his feed, he needs a well-stocked pantry. Flay gave fans a glimpse inside his stocked pantry, which is filled with varieties of chili peppers, vinegar, and breadcrumbs.
Along with seasoning his food, Flay knows how to create simple sauces that are bursting with flavors. He began his career with a focus on Southwestern cuisine, but most recently has pivoted to celebrating the Mediterranean flavors of Italy and the Amalfi coast (per Flay's website). During a Rachael Ray Interview, Flay shared the two sauces he has on hand at all times. His Italian red tomato sauce is used for dishes like spaghetti, while his spicy chile red sauce serves as the base for his enchilada casserole. While both versions of the sauce contain a handful of ingredients, Flay just shared his incredibly simple sauce that tastes much more complex than it is.
Flay's sauce requires only two ingredients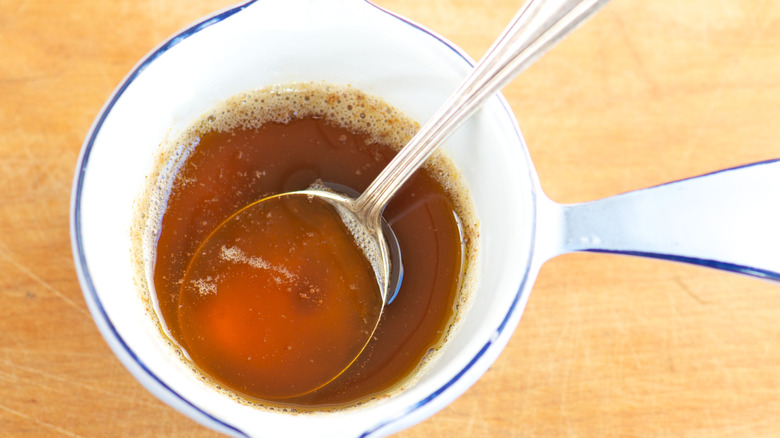 Poppyb/Getty Images
During a segment for New York Live, chef Bobby Flay taught people one of his fall menu items at Amalfi. The dish he made was butternut squash arancini with brown butter sauce. A traditional arancini recipe includes a fried risotto rice ball stuffed with parmesan and mozzarella. Flay's twist is that he uses butternut squash in the filling and serves it with a brown butter creme fraiche sauce (per Amalfi). 
For those who want to attempt to make the dish at home, the sauce is something even inexperienced cooks can accomplish. Flay calls his sauce, "the easiest sauce in the world" because all it requires is brown butter. Once the butter is browned, Flay spoons it over creme fraiche. Creme fraiche is similar to sour cream, with less tang. While Flay doesn't specify if the creme fraiche is homemade, it's easy enough to purchase the store-bought variety.
The cooked element of the sauce is the brown butter. All Recipes notes that brown butter is butter that has been cooked until all the water evaporates and the milk solids turn a golden brown color. The final product has a richer, nuttier flavor than regular butter, and it makes a deliciously simple ingredient. Brown butter is incredibly versatile, and can be used in both savory applications, like pasta or risotto, and sweeter options, like brownies.