The Best Vegan Cookbooks Of 2022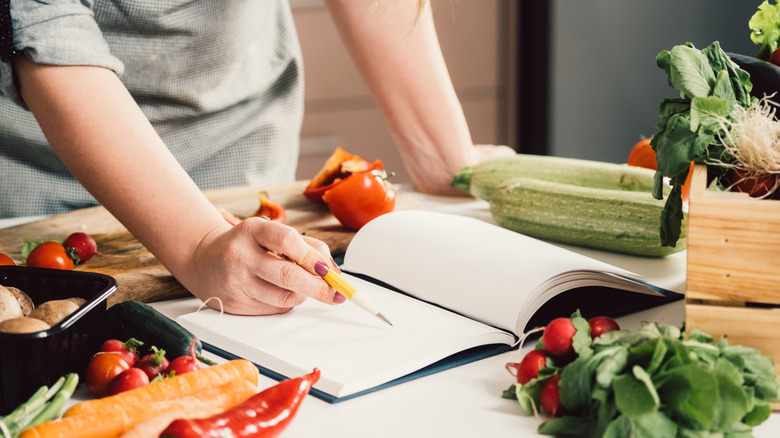 Tijana Simic/Shutterstock
We may receive a commission on purchases made from links.
You may not be able to make your way to all of the best vegan restaurants in the U.S., but there's no reason you can't bring the top recipes to your table with the help of some stellar cookbooks. Whether you're vegan yourself, preparing a meal for vegan guests, or just looking to reduce your impact on the environment from time to time, there are plenty of vegan cookbooks on the market to help you whip up dishes that aren't just healthy, but tasty and beautiful, too.
While vegan cuisine may be inherently defined by the ingredients that are not included in its preparation, there's no reason to think of veganism as a sacrifice or the recipes as second-best. In fact, with the ingenious use of spices, herbs, and other flavorings, vegan dishes can be among the most flavorful around and should be on your radar no matter your dietary restrictions. To get you on your way, we've compiled a diverse list of the best vegan cookbooks of 2022.
How we selected the vegan cookbooks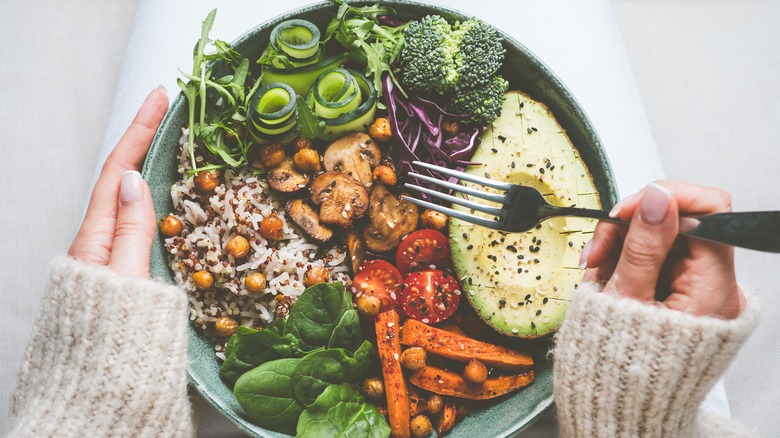 Creative Cat Studio/Shutterstock
The fab news for vegans and the vegan-curious is that new vegan cookbooks are published practically every month. And while that's awesome for awareness and innovation, that level of volume also brings along its fair share of humdrum mundanity to muck up the scene, making it harder to uncover the treasures among the heap. To help you out, we sifted through dozens of cookbooks new to the market this year, focusing almost exclusively on purely vegan cookbooks.
From our original compilation of new cookbooks, we searched for those that offered the greatest variety of recipes within their respective niches. As well, we leaned heavily toward those that made vegan home cooking and baking more approachable. To verify our opinions, we turned to experts in both the general cooking and vegan lifestyle paces, scouring their reviews and comments about our top choices. Finally, we explored reviews from everyday home chefs who've purchased and used these vegan compendiums to be sure they're as accessible and enjoyable as we found them to be.
Best overall vegan cookbook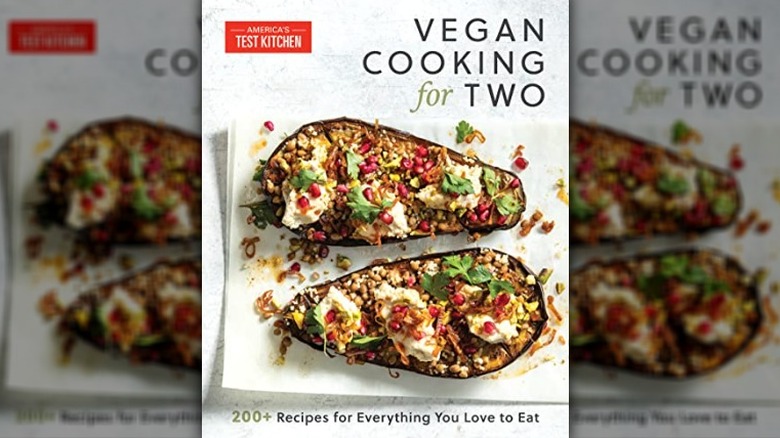 Amazon
From the trusted culinary experts at America's Test Kitchen (ATK), "Vegan Cooking for Two" may not be the sexiest title on the market, but it's jam-packed with absolutely everything you'll need whether you're a beginner or expert. With more than 200 recipes for every meal of the day and plenty of snacking in between, this book claims to have recipes for everything you love to eat — and it really does. The recipes are already formulated to feed just two, so you'll never have to worry about food waste or the potentially complicated math of dividing measurements for reasonable serving sizes. On the flip side, you can easily double or triple recipes to feed larger families or entertain.
Amazon verified purchaser C. Monk loves this book when cooking for one, as it minimizes waste and maximizes her food budget. The customer also noted you don't need to be vegan to reap this book's monetary benefits. Another satisfied consumer agrees that "Vegan Cooking for Two" is one of ATK's greatest cookbooks, and was impressed to be interested in an estimated 75% of the book's recipes. But Cocoa & Lavender blog really hits on the true value of this killer cookbook: In true ATK fashion, it encourages home chefs to make substitutions with ingredients they have on hand or can easily acquire, making vegan cooking more accessible and practical.
Purchase "Vegan Cooking for Two" on Amazon for $31.49 as of December 2022.
Best budget vegan cookbook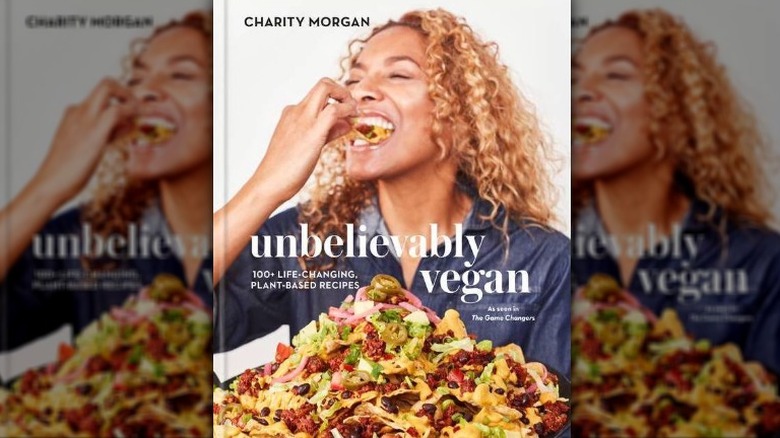 Amazon
Most of us can't afford private chefs but would sure love to have a savvy pro in our kitchens, churning out delicious bites day after day. For those of us in that very large boat, chef-to-the-stars Charity Morgan offers more than 100 vegan recipes in her very first cookbook, "Unbelievably Vegan." This lets us benefit from the wisdom of a private chef who knows how to dish up bingeable comfort food without sacrificing nutrition. Not to mention, Morgan has the experience and know-how to keep it all vegan, too.
YouTube review channel Cookbook Divas points out that Morgan's recipes have been delicious enough to convert pro athletes to vegan eating. Meanwhile, an Amazon verified purchaser confirms that even recipes that took more time to produce were so amazing they can't wait to recreate them. Best of all, one Amazon customer reports that the recipes aren't just simple to follow, but actually turn out exactly as described. We all know that is not the case with every cookbook. From meals to snacks, this well-priced book is packed with a full roster of recipes that will never leave you feeling like you're missing out.
Purchase "Unbelievably Vegan" on Amazon from $19.73 as of December 2022.
Best vegan cookbook for travelers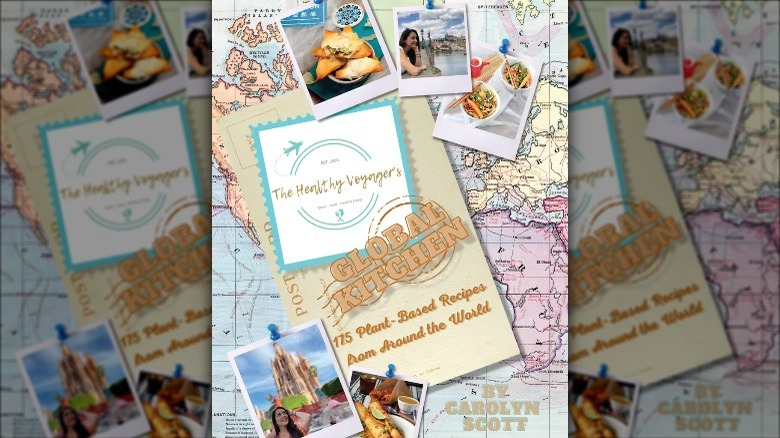 Amazon
Despite what comedians and pop culture commentators may say, vegan recipes aren't obscure oddities for a select population. Animal-free cuisine spans the globe, popping up in cultures worldwide. Sustainable travel expert Carolyn Scott shares 175 of her favorite international finds in the 10th-anniversary edition of "The Healthy Voyager's Global Kitchen." The 310-page collection includes recipes from Europe, Asia, South America, the Caribbean, and more, showcasing both naturally vegan dishes and vegan takes on classic international cuisine. Thanks to these clever adaptations, vegans don't have to miss out on these culinary delights.
In addition to offering a full tome of vegan recipes, "The Healthy Voyager's Global Kitchen" also tags recipes as gluten-free, raw, kosher, soy-free, low fat, and low glycemic to make them even more accessible to anyone with additional dietary restrictions. Certified holistic nutritionist Heather Nicholds is especially appreciative of this perk, as well as the fact that Scott provides recipes for making many ingredients from scratch, like pizza dough, curry paste, and vegan sauce alternatives. Thanks to its comprehensive nature, readers don't have to hunt down as many specialty ingredients in order to get started.
Purchase "The Healthy Voyager's Global Kitchen" on Amazon for $38.60 as of December 2022.
Best vegan cookbook for traditional Chinese food lovers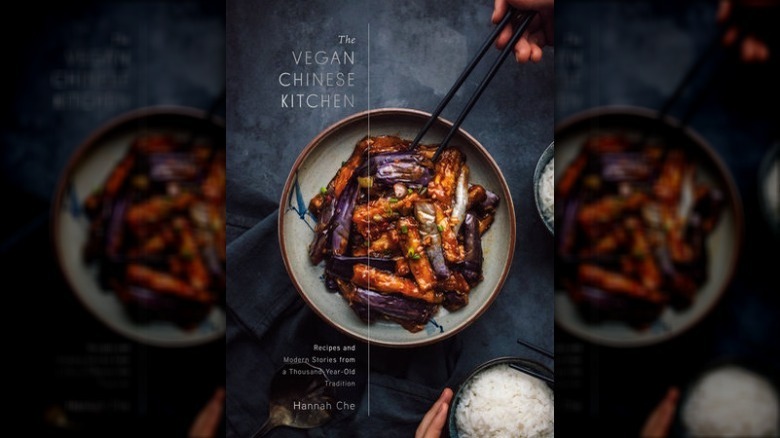 Amazon
Kung pao chicken, pork lo mein, and Peking duck may be American favorites from the pantheon of Chinese recipes, but that certainly doesn't mean the vast cuisine is off-limits to vegans. True, much of what Americans know about Chinese food includes plenty of meat and seafood (though it contains essentially no dairy as 90% of the population is lactose intolerant, according to The New York Times). Still, a Buddhist tradition of plant-based dining goes far beyond various ways to cook tofu.
In "The Vegan Chinese Kitchen," author Hannah Che presents more than 100 plant-based recipes she developed while balancing a vegan life with her family's culinary traditions, in an effort to avoid alienating herself from her heritage. Genevieve Yam of Epicurious appreciates the homestyle cooking focus of Che's cookbook, which offers comforting flavors to Chinese home chefs and a warm introduction for newcomers. Publishers Weekly calls the recipe collection "invigorating," and Susan Puckett of The Atlanta Journal-Constitution says even omnivores will be drawn to Che's delicious recipes.
Purchase "The Vegan Chinese Kitchen" on Amazon for $31.49 as of December 2022.
Best vegan cookbook for modern Chinese food lovers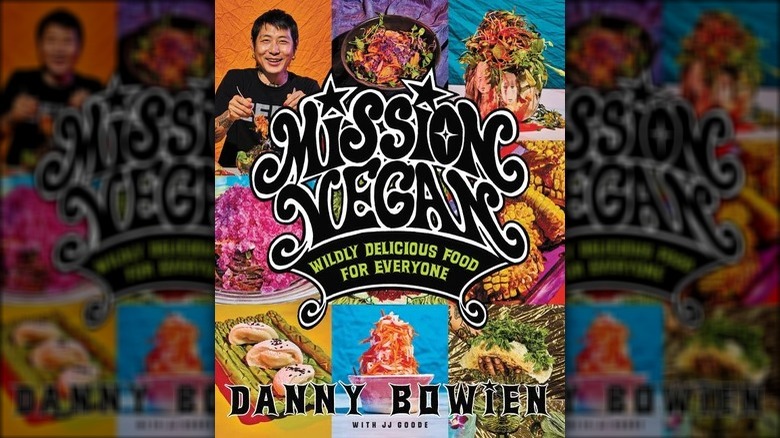 Amazon
From the chef and co-founder of San Francisco's mega-popular Mission Chinese restaurant, "Mission Vegan" is a colorful collection of Danny Bowien's modern takes on Chinese cuisine. In an interview with NPR, Bowien explains that too many cookbooks present restaurant-style recipes that can be complicated to recreate. Instead, he set out to produce a cookbook full of approachable recipes that anyone with access to an Asian market (including online) could whip up without a culinary arts degree or experience in a professional kitchen. And he doesn't mind if you use store-bought ingredients, like dried noodles, to make the process even easier. In fact, that's kind of the point.
One Amazon verified purchaser who tried many of the recipes attests to their simplicity, raving that all but one were knockouts. And that one miss came out just a little too sweet for personal preference ... something that can easily be adjusted in future experimentations. Meanwhile, another consumer agreed the recipes are so easy to use that they've cooked from the book weekly and love the "out of the box creativity." 
Purchase "Mission Vegan" on Amazon for $31.49 as of December 2022.
Best vegan cookbook for bowls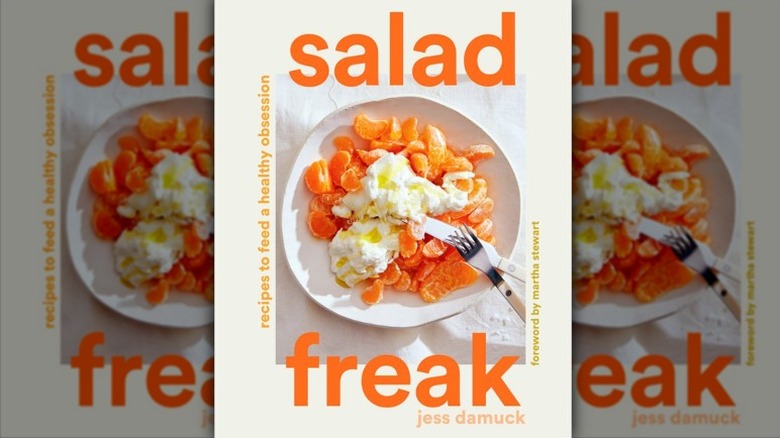 Amazon
Salads are sometimes shunned as boring health-nut food meant for rabbits, but the classic lettuce and vegetable bowl that first comes to mind is hardly the only type around. Encompassing just about any collection of traditionally cold ingredients tossed in a unifying dressing, salads are the ultimate meal in a bowl. Plus, if you're into food aesthetics, they're easily one of the most Instagrammable dishes you'll ever create at home. 
While Jess Damuck's "Salad Freak" is not a strictly vegan (or even vegetarian) cookbook, it comes loaded with dozens of recipes that are vegan-friendly, enlarging the repertoire of any vegan home chef. Each of Damuck's salads is intended to be hearty enough to serve as a full meal, but can also accompany another main course at a smaller scale, further widening your options.
Food52 dubs the featured recipes "cool salads," and we agree that they are anything but boring. Damuck once whipped up salads for Martha Stewart on the regular, developing an attention to detail and quality that shines through in all of her recipes. You'll find they are just as pleasing to look at as they are to eat. While these recipes truly do offer healthier meal options to readers, Paste Magazine loves that nutritional eating doesn't come across as a mandate in this book; it's merely an added benefit to otherwise delicious and indulgent bowls.
Purchase "Salad Freak" on Amazon for $24.99 as of December 2022.
Best vegan cookbook for bakers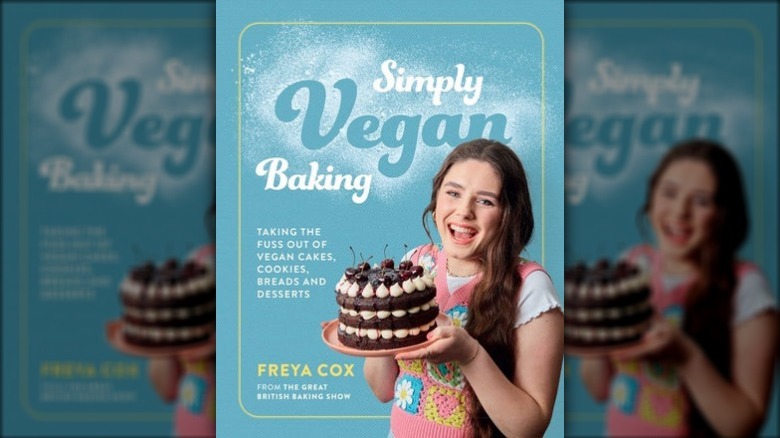 Amazon
If you think eggs, butter, and milk are integral to baking, you're not exactly wrong ... at least not traditionally. Baking is a notoriously dairy-forward endeavor, and that can lead many vegans to assume it's something of a forbidden realm for them. Thankfully, young baker Freya Cox is opening (oven) doors to vegans interested in the delectable world of baked goods. The first vegan contestant of "The Great British Baking Show," Cox collected many of her favorite recipes in "Simply Vegan Baking: Taking the Fuss Out of Vegan Cakes," and teaches us how to master vegan baking one technique at a time. 
In a YouTube interview with Book Larder, then-teenage Cox explains that her book fills readers in on all the substitutions and prep that build the foundation for vegan baking. It provides a host of tips and tricks that take the fear out of baking without dairy and make it accessible to any home baker. Amazon verified purchaser Christopher I. confirms the recipes are super easy to follow and loves that every recipe comes with a color photo for guidance and inspiration.
Purchase "Simply Vegan Baking" on Amazon for $26.26 as of December 2022.
Best vegan cookbook for busy lifestyles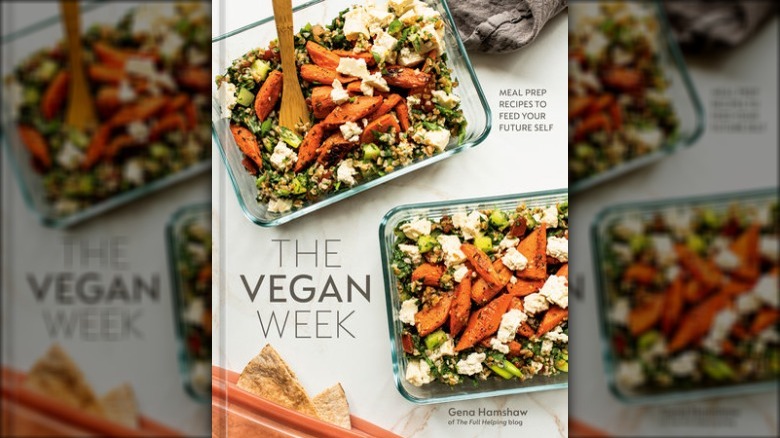 Amazon
Whether you're feeding an entire family or just filling your own belly, you've probably found yourself complaining that you just don't have time to whip up a big meal, especially on a hectic weeknight. We hear you and we don't blame you. Neither does food blogger Gena Hamshaw, who encourages you to embrace the art of meal prepping in her new book, "The Vegan Week." Think of it as a cookbook version of meal prep delivery services – expect to do the cooking yourself!
In "The Vegan Week," Hamshaw teaches vegans how to plan for the week ahead with just a few hours of hands-on work to prepare ingredients and full meals that can be consumed over the next few days. Even if you only have an hour to spare on Sunday, you can still help your future self with Hamshaw's assistance. You'll be guaranteed access to flavorful nutritious meals all week long, no matter how busy you are.
Purchase "The Vegan Week" on Amazon for $26 as of December 2022.
Best vegan cookbook for meat lovers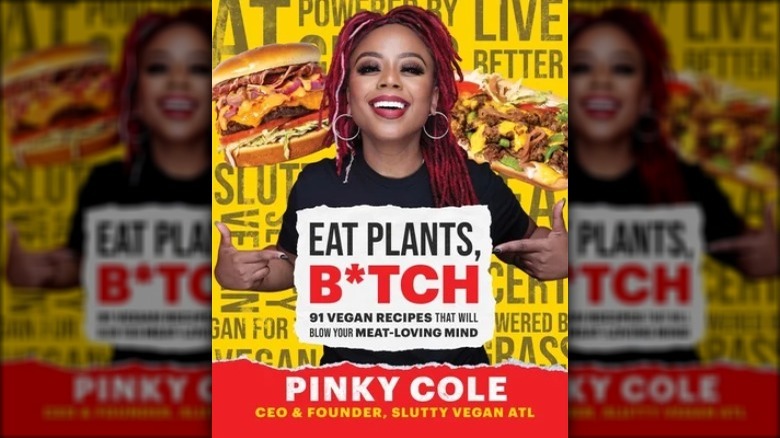 Amazon
Pinky Cole lives colorfully, and her vegan cookbook "Eat Plants, B*tch" is every bit as attention-grabbing as the rest of her endeavors. Don't expect a quiet invitation to consider veganism within these pages. As Cole shared in an interview with Daily News, she's intentionally provocative in her approaches to business and life, and her book is no different.
Still, Cole isn't here to force anyone into eating vegan. While the subtitle, "91 Vegan Recipes that will Blow Your Meat-Loving Mind" is clearly aimed at the carnivores among us, she told BET she's not trying to convert anyone. She's just offering replacements that are so mouth-watering no one could claim they're missing out after chowing down on her vegan recipes. Amazon customer Kim H. agrees that as a meat eater herself, the recipes are universally appealing and easy to make. This one's equally as fun to read through as it is to cook from, further enticing the vegan-curious among us to dive in.
Purchase "Eat Plants, B*tch" on Amazon for $20.29 as of December 2022.
Best vegan cookbook for Indian food lovers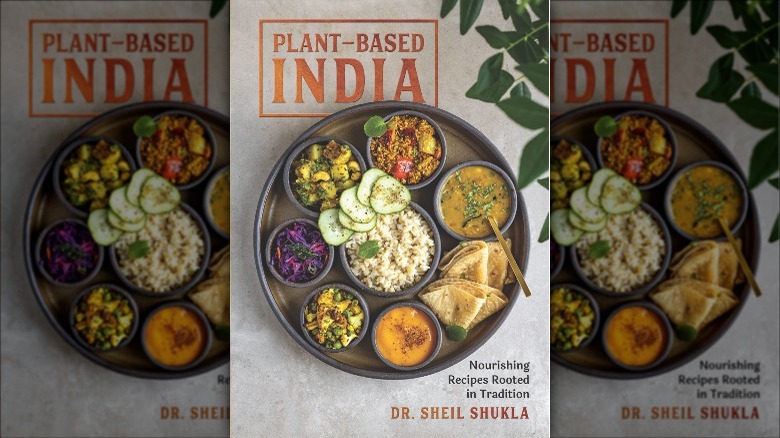 Amazon
Like Chinese cuisine, it's impossible to define Indian cuisine in just a few words, because its culinary heritage comes from many diverse regions, despite what the American take-out industry would have us believe. In "Plant-Based India," Dr. Sheil Shukla explores some of India's vegan traditions, focusing primarily on his family's region of Gujarat in central India as he told the vegan blog Forks over Knives. That being said, he also brings in some influence from the north and south to round it out.
Shukla's interest in veganism stems from his medical and nutritional education and led him to modernize and develop more than 100 vegan recipes for his debut cookbook. Beyond the accessibility of the recipes themselves, the book itself is a work of art. As Vegan Crunk says, "Plant-Based India" is so delectably photographed it could easily double as a coffee table book. Amazon verified purchaser Cathy L. agrees the colorful images were so gripping that she purchased an extra copy for herself after giving one as a gift.
Purchase "Plant-Based India" on Amazon from $27 as of December 2022.
Best vegan cookbook for Italian food lovers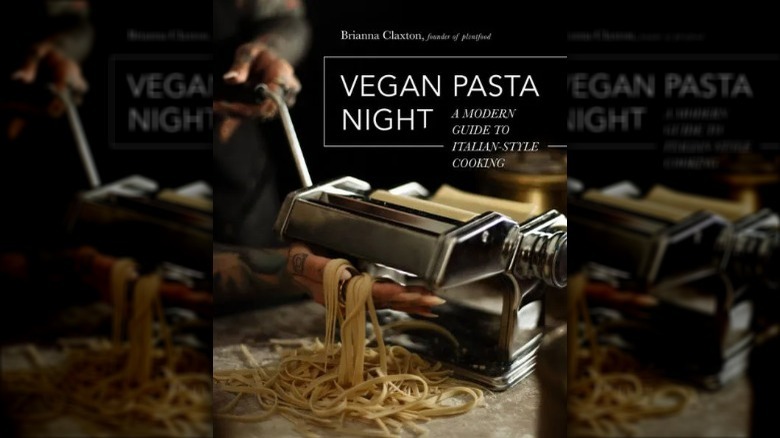 Amazon
There's a hefty dose of meat and fish in the full realm of Italian cooking, but even the simplest of meatless pasta dishes often come prepared with dairy, leaving vegans surprisingly abandoned by one of the world's most beloved cuisines. For those vegans tired of being snubbed by delicious pasta recipes, Brianna Claxton's "Vegan Pasta Night" comes to the rescue.
Don't be fooled by the title. As Amazon verified purchaser Ronda S. notes, there's plenty more than just pasta in this cookbook. Expect a full guide to modern Italian cuisine, vegan style. Verified consumer Miss Z. says you'll find all the staples here, with substitutions for traditional Italian dishes that have historically required meat and/or cheese. In addition to learning to adapt your favorite Italian recipes for a vegan lifestyle, you'll also score general Italian cooking lessons from Claxton, including how to make your own pasta from scratch.
Purchase "Vegan Pasta Night" on Amazon for $26.99 as of December 2022.
Best vegan cookbook for the macabre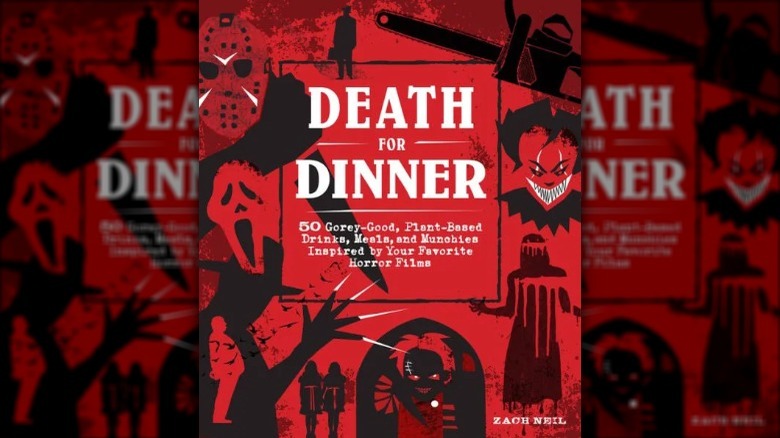 Amazon
If your idea of vegans is a gentle group of animal-loving, happy-go-lucky folk tending gardens in a commune, you should probably stop stereotyping. Sure, that may describe some vegans, especially those portrayed in media, but they are as diverse as any other group. That includes just as many who have a darker side too. With true crime and spooky concepts more popular than ever in current culture, even vegans are turning to the macabre with cookbooks like "Death for Dinner." The collection features 60 head-turning recipes for plant-based dishes and drinks inspired by popular horror films.
In a review on Barnes & Noble, one fan gushed over the many clever nods to films found throughout "Death for Dinner." Meanwhile, Amazon verified purchaser Tiffany T. confirmed that it provides ideal inspiration for Halloween entertaining. While verified customer Matt M. admits that this eerily titled cookbook may be more fun than practical, he confirms that the recipes themselves are generally worthwhile, so it's not just a gimmick. But even if they weren't great, this one is amusing enough that we'd probably still recommend it as a great gift for the spook-obsessed in your circles, vegan or otherwise.
Purchase "Death for Dinner" on Amazon for $22.49 as of December 2022.