Cracker Barrel's Maple Street Biscuit Co. May Be Losing Steam
Founded by Scott Moore and Gus Evans in 2012, Maple Street Biscuit Company has grown remarkably since its beginnings in Jacksonville, Florida. In 2019, Cracker Barrel purchased the biscuit company, which had locations in seven states, for $36 million (via a press release). Of the locations open at the time of purchase, five were franchised while 28 were company owned. Scott Moore, one of the original founders, still serves as CEO of the company. When the deal was announced, Moore was excited that Cracker Barrel could be helpful in "grow[ing] [their] brand and further achieve [their] mission of helping people, serving others, and being a part of the community." 
And grow it did. According to Jacksonville Daily Record and Instagram, Maple Street Biscuit Company can now be found in 55 locations throughout nine states.Even with the restaurant gaining more locations in 2022, Cracker Barrel's CEO Sandra Cochran was hoping to go beyond those numbers, as confirmed in a conference call per the Jacksonville Daily Record. Unfortunately, the plan didn't go as expected, which could read worrisome for the future of the brand.
Here's why Maple Street Biscuit Company could be losing steam. 
Maple Street Biscuit Company's expansion goals weren't met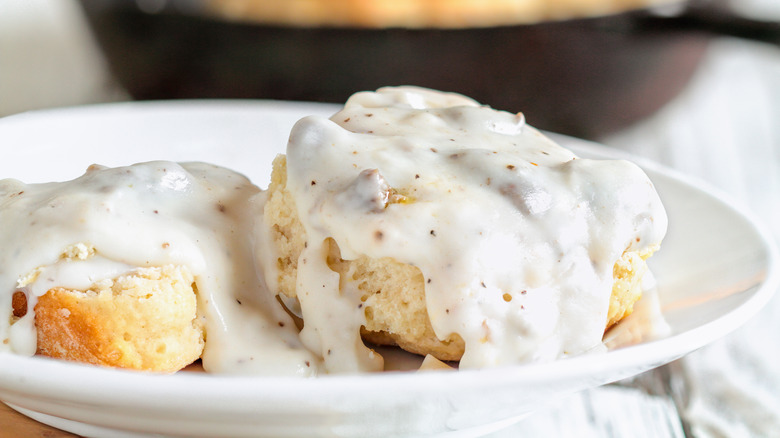 Stephanie Frey/Shutterstock
According to Jacksonville Daily Record, Maple Street Biscuit Company's expansion goals weren't met for fiscal 2022, which ended on July 29. In a late September conference call, Cracker Barrel's CEO Sandra Cochran revealed the reasoning for its shortcomings. Apparently, the business was expected to add 10 more restaurants by the end of July, yet only seven actually came to fruition. 
However, things remain hopeful. Cochran told the outlet, "We remain bullish on Maple Street and despite the unexpected construction delays and supply chain issues that kept us from opening the number of stores we had hoped to open in fiscal '22, we remain very confident in the growth potential of this brand." Maple Street's president John Maguire isn't worried either. He said 15 to 20 more stores will open by July 29, 2023.
Maguire seems to be staying true to his word. In early December, Maple Street Biscuit Company announced the opening of its 55th location in Houston, Texas, to Instagram. "We are so grateful to the community for the support so far and we cannot wait to graciously serve up some scratch-made biscuits and freshly brewed coffee," the post read. Fans were excited for the team, as well. "Whooaaaa I can remember when we were like at TWELVE! Congratulations!!" a comment read. Despite 2022's shortcomings, it seems the brand is coming back stronger for 2023.