TikTok Is In Disbelief Over The Size Of A Custom McDonald's Burger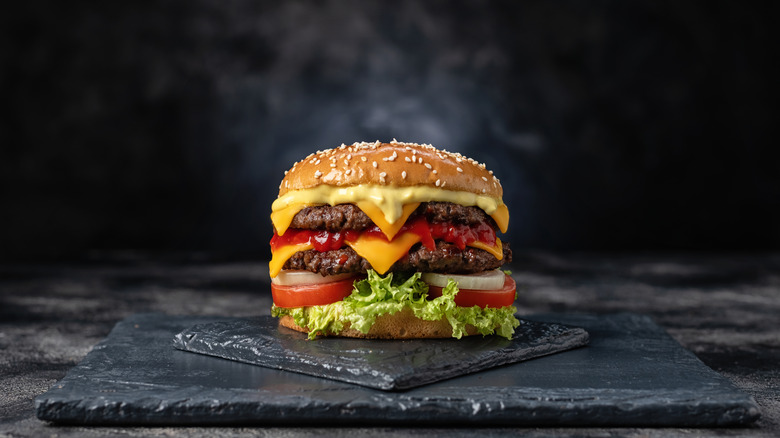 ER_09/Shutterstock
Forget the Quarter Pounder or Big Mac — McDonald's churned out a new, larger burger that is absolutely massive. The catch is, it was custom ordered by TikToker Anthony Villegas, who challenged his local McDonald's to rise to the occasion and make "the biggest burger they ever made."
Villegas, who goes by @antstorm123 on the social media platform, was asked by @eduanmostert to complete this request. Though to the average person, this video might be a lot to be asking for, the social media star is actually known for going to popular chain restaurants and placing the most absurd orders.
In the past, he's traveled to KFC to order a "whole bucket full of mac n cheese" and visited Taco Bell to ask for a Big Mac. So while ordering the "biggest burger" at a McDonald's might not be his most far-fetched task, Villegas, along with the rest of his viewers, were completely surprised when the fast food restaurant actually did fulfill his order — exceeding their expectations.
The burger consisted of multiple patties
Villegas received a burger that was completely stacked with beef patties, along with a variety of other toppings. The social media influencer placed his order through the restaurant's drive-thru, and did not provide any instructions to the person at the register.
He also stated that he would pay whatever the burger cost, by simply saying he had "unlimited money." Later, the viewer learns that Villegas was charged $10.28 for his food including tax, which a fan noted is "still cheaper than five guys!!"
When the TikToker was handed the bag containing his burger at the end of the video, he commented that it was "heavy," before driving away with it. After the burger reveal, it was clear that Villegas was surprised by the sheer mass of the burger — as was some of his audience.
@missjennifer78 wrote, "that's a good price for that." However, some viewers were a little more unimpressed, such as @badtouch79, who stated, "thats not the biggest burger they can make, epic meal time did this challenge 8 years ago and it was 6 x that size."
Regardless, Villegas' custom order is definitely bigger than anything that could be found on the chain's traditional menu.