Copycat Big Mac Recipe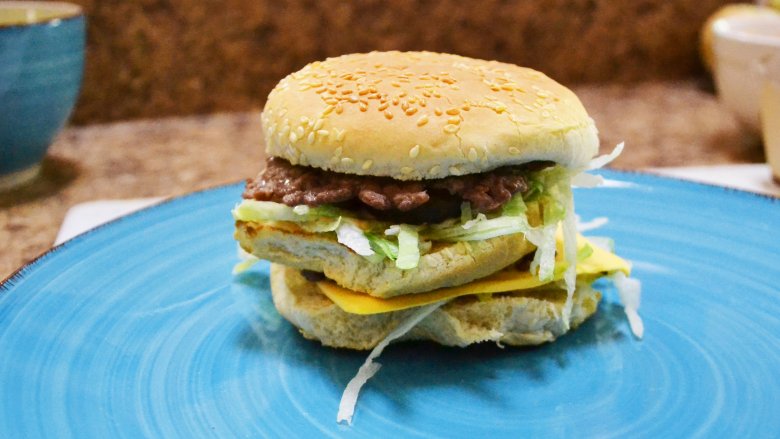 The Big Mac is the signature dish that sets the bar for what all restaurants are known for. There's even a guy that eats one every day, so you know they can't be that bad. Despite The Whopper arriving 10 years before Jim Delligatti invented the Big Mac, the McDonald's sandwich eclipsed not only Burger King's staple sandwich but just about every other quick service restaurants' signature dish.
The Big Mac came a long way from its beginnings — the famed third bun wasn't even on the original prototype, but once they put the whole thing together it really took off. How did the Big Mac become such a hit? Was it the secret of the "special sauce"? Is it just the sheer volume of McDonald's that led to its iconic status? Recreating the Big Mac is a lot easier than you think, and McDonald's even tells you everything you need to make your own.
Let's get to cooking!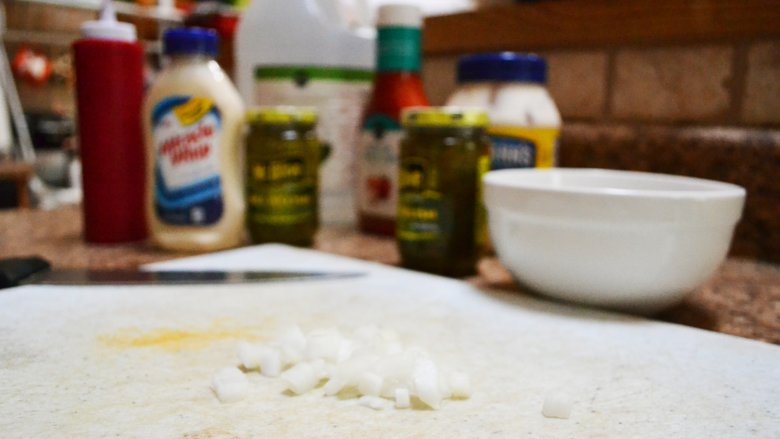 You probably already know what ingredients we need: two all-beef patties, special sauce, lettuce, cheese, pickles, onions, and a sesame seed bun. Did you just sing that? I bet you did.
But specifically, ground beef, mayonnaise, Miracle Whip, French dressing, sweet relish, dill relish, sugar, onion, white vinegar, salt, ketchup, flat "hamburger" pickles, dry onion, iceberg lettuce, and sesame seed buns — the smaller the better. The full ingredients list is at the end of this article, along with a step-by-step recipe.
The bun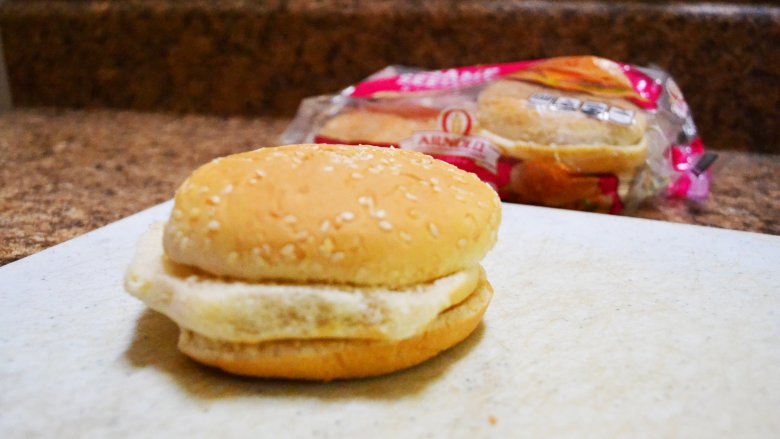 The McDonald's sesame seed bun isn't the standard bun you can pick up at your local grocery store. It's actually a little smaller than standard, and of course there's a middle "club" piece of bread. That can make creating an exact copy troublesome. Occasionally, you'll find the three-piece sesame seed buns in a grocery store or mega-mart, but if you can't, there are two ways we can replicate it.
The first is rather simple; just use the bottom part of another bun. The other option is to cut off a little less than half of the top bun and use that as the middle portion. The problem with cutting off a portion is the bun sort of sits funny that way and you don't have enough bread on top. You're better off just using the bottom from another bun to make it work. If you're one of those people that can't handle the thought of wasting a top bun and the notion of putting two top buns together to eat something is inconceivable, go ahead and cut the top part.
The patty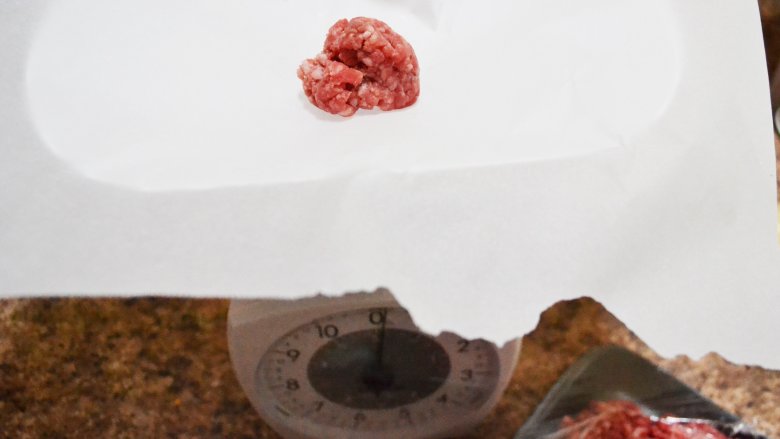 There's only one real way to figure out how much your patty should weigh; math. I weighed a single patty from a Big Mac; the cooked final result was somewhere in the .8- to .9-ounce range; yes, less than an ounce! That's a pretty tiny patty. McDonald's advertises their burgers to be 1/10 of a pound but obviously that varies from burger to burger — I weighed three patties and they all hit different numbers with subtle variations — but all under an ounce.
Raw meat will lose approximately 25 percent of its weight once cooked. That means we need to start with a patty somewhere around 1.2 ounces. Using our trusty scale, we can get pretty close to that number. McDonald's says their beef is 100 percent ground beef with no fillers, so ground beef is our base.
Make your patties into 1.2 ounces; and flat and thin. Because of the difficulty of truly finding a 3-stack sesame seed bun as small as McDonald's uses, make sure your patty is wider than your bun. If you don't do that, you'll end up with a teeny tiny piece of meat surrounded by a gigantic bun; it'll look like an old Wendy's commercial. In order to get the patties flat, I used the tried and true "squish with a pot" method from the Five Guys copycat recipe. Just grab a pot and give it a flatten and a little twist to expand the size out.
Since McDonald's cooks from frozen, we'll do the same. Make your 1.2 ounce patties ahead of time and freeze them — from four hours to up to a day (I made mine a day ahead of time to make it more "authentic").
The special sauce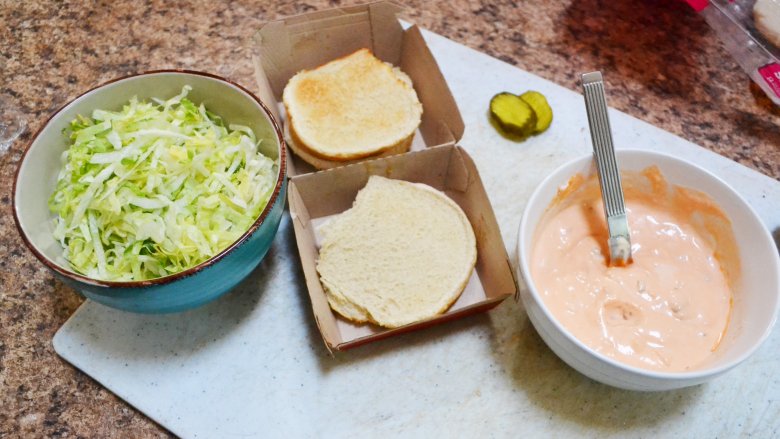 There's a plethora of copycat recipes for McDonald's signature "special sauce," but let's go right to the source and figure out what it is. The obvious ingredient is mayonnaise. The special sauce is close to a thousand island dressing, with a few little turns that give it that unique taste. One of those turns is Miracle Whip, which shares a lot of ingredients with the special sauce. The other secret ingredient is French dressing — with its caramel color and extracts, it appears to be the final thing on the ingredients list from official site.
The build is fairly simple. A quarter cup each of mayonnaise and Miracle Whip. Add a half teaspoon of sweet relish, and two tablespoons of dill relish. A teaspoon each of sugar and minced onion — the more minced the better. I used a regular white onion and not the dry, dehydrated onion that we'll use later on. And finally, the rest of the wet: two tablespoons of French dressing, one teaspoon of ketchup and white vinegar (you don't need a lot), and add a pinch of salt to taste. Give it a nice thorough mixing with a spoon, and refrigerate for at least an hour to get those flavors together.
Lettuce, cheese, pickles and onions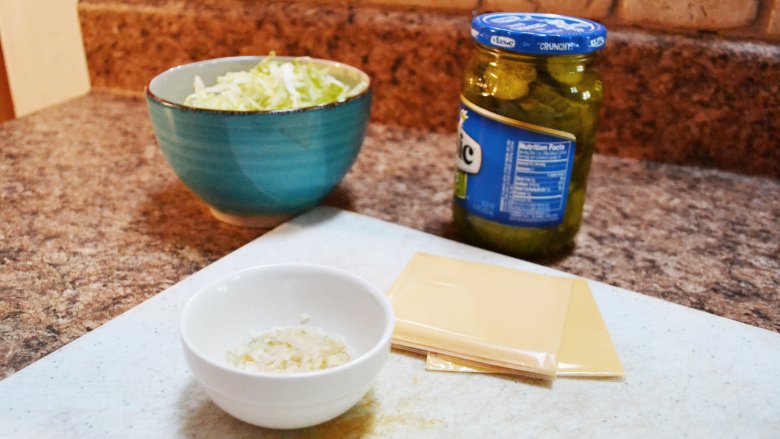 McDonald's uses iceberg lettuce, shredded, and processed cheese. That means the ones that come wrapped in plastic that you pick up at the grocery store. The pickles come from Mr. Chips — the dill pickle is flat on top and doesn't have any 'crinkle' to it. You can't pick up a jar of Mr. Chips pickles at your local store, but any flat dill pickle will get the job done.
The onions seem to be tricky, but it's really rather simple. McDonald's uses re-hydrated onions, so we'll just make our own. Take a tablespoon of dehydrated onions and two tablespoons water and heat in the microwave for 30 seconds at medium power. Don't forget to change that microwave setting or you're going to have some piping hot onions. Let that sit for about 15 minutes and by then the water should be absorbed in the onions. If for some reason the onions come out a little too moist, just squeeze a little of the liquid out with the back of a spoon.
The build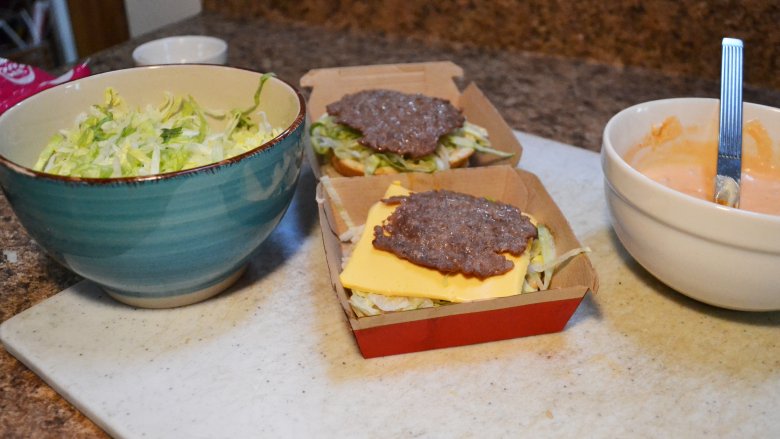 McDonald's toasts the buns in a special toaster, but your standard home version will do just fine. Toast the buns and get the still-frozen burgers on a flat pan. Set your heat to around medium; you don't need to go super hot because these things are so small they'll cook up pretty fast — McDonald's can cook a burger in about 90 seconds. After a little trial and error, higher heat tended to cause the very thin burgers to break apart, so keep an eye on the heat. Place two of the frozen burgers on the pan and give them a sear — McDonald's presses the burgers down and everything comes out well-done, and that also creates a crust . When you're about 45 seconds to a minute into the process, flip those burgers and salt them. They're practically done by now, but let them go another 30 seconds to a minute.
The bun dressing goes in a specific order. The top bun gets nothing. That's right, not a single thing. Stack the middle bun on top of the top bun, and sit the bottom bun next to it. The bottom bun and middle bun get special sauce and the rehydrated onion, in that order. Give the buns a nice helping of special sauce in the middle of the bun, throw on some onions, and cover those buns with lettuce. The bottom bun gets a slice of cheese. Two pickles go on the middle part.
The meat goes on the bottom and middle, and then McDonald's slides that middle bun on top of the bottom bun. They build the Big Mac in the box, so the only thing left to do is flip the box shut and the top bun lands on top. If you saved a Big Mac box — like I did — you can just flip that sucka shut and you have your own "in the box" Big Mac.
How close are we?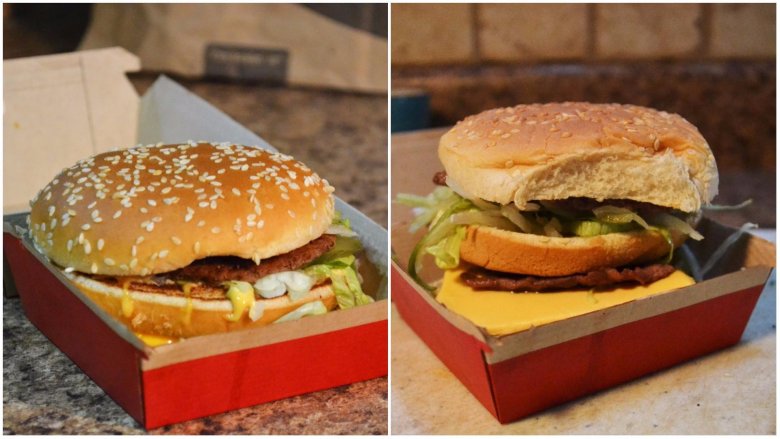 Three others and myself tried the copycat Big Mac. It's an exact copy. Exact. The flavor is dead on, and the beef even finished a little greasy just like a McDonald's burger does; thin and ground beef is the right combo for sure. The "special sauce" tastes exactly like McDonald's own, and even cheating the sandwich a little by using a bottom bun for the middle one didn't affect the texture. The kicker is the rehydrated onion; that's what really gave it a McDonald's feel. The copycat Big Mac tastes exactly like a Big Mac — no lie, you throw this in a Big Mac box and you'll fool your friends and family 11 out of 10 times.
Copycat Big Mac Recipe
You don't have to go to McDonald's to get a Big Mac. Making one at home is easier than you think. We even figured out the secret sauce!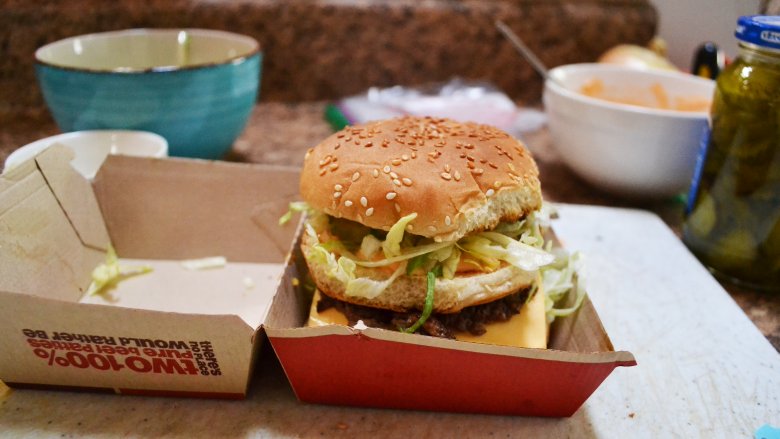 Ingredients
2.4 ounces of ground beef
1 ½ sesame seed buns
1 slice processed American cheese
1 tablespoon dehydrated onions
2 tablespoons water
½ cup shredded iceberg lettuce
¼ cup mayonnaise
¼ cup Miracle Whip
½ teaspoon sweet relish
2 tablespoons dill relish
2 tablespoons French Dressing
1 teaspoon ketchup
1 teaspoon white vinegar
1 teaspoon onion, minced
1 teaspoon sugar
Salt, to taste
Optional Ingredients
Directions
Make two, 1.2 ounce patties — very small but flatten them to make them a little bigger than the size of your bun so when they cook down they won't be too small.
Freeze (raw) four hours to overnight and do not thaw.
Combine mayonnaise, Miracle Whip, dill relish, French dressing, ketchup, white vinegar, onion, sugar, and salt, and refrigerate for at least an hour.
Combine dehydrated onions and water and microwave for 30 seconds on medium power.
Wait 15 minutes for the water to absorb.
Toast the buns.
Cook your frozen burgers for approximately 2 minutes. After the first 45 seconds, flip and salt the patties.
The top bun gets nothing. The middle and bottom get special sauce, re-hydrated onion, and lettuce — in that order.
Add one slice of cheese to bottom bun, pickles to the middle bun.
Place a burger on the bottom bun and a burger on the middle bun.
Slide the middle bun on top of the bottom bun and it's toppings. Place the top bun on top of the sandwich.
Eat and enjoy!
Nutrition
| | |
| --- | --- |
| Calories per Serving | 1,068 |
| Total Fat | 85.5 g |
| Saturated Fat | 19.1 g |
| Trans Fat | 0.8 g |
| Cholesterol | 84.3 mg |
| | |
| --- | --- |
| Total Carbohydrates | 53.6 g |
| Dietary Fiber | 2.4 g |
| Total Sugars | 20.0 g |
| Sodium | 1,395.0 mg |
| Protein | 22.7 g |