Out Of Bobby Flay's Restaurants, This One Stands Above The Rest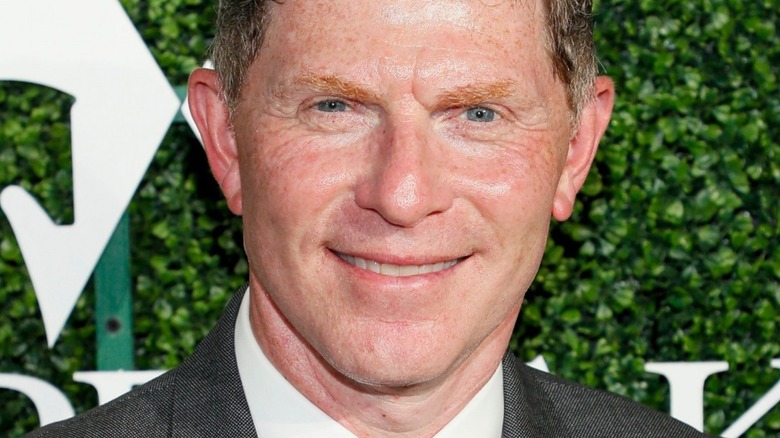 Paul Morigi/Getty
Some chefs find their passions early in life. For Bobby Flay, 17 was the age when he "discovered his culinary identity," according to Food Network. As the site explains, Flay began cooking at Joe Allen in New York's theatre district when he was just 17, and by the age of 25, Flay opened his first restaurant, Mesa Grill. According to Flay's website, Mesa's NYC location ultimately closed in 2013. Since then, as his website details, he has opened – and closed – a number of restaurants, including BOLO NYC, Mesa City, Bar Americain, Bobby Flay Steak, and Gato NYC.
Flay has become especially prolific in running burger joints. The chef opened his first Bobby's Burger Palace in 2008, according to Business Wire. Today, Bobby Flay has two locations of his original concept burger-and-milkshake-slinging joint still in operation and five locations of a refreshed burger restaurant chain, Bobby's Burgers, according to his website.
Flay's restaurants have earned some accolades, and one was even awarded a Michelin Star. According to Fine Dining Lovers, Mesa Grill in Las Vegas earned a star in 2008 but ultimately lost it in 2009. The New York Post claimed the Mediterranean-themed Gato was Flay's best to date in 2014. But amid a pandemic, even juicy chops couldn't save Gato, and the restaurant closed in 2020 (via Instagram). Though Gato ultimately closed, Flay's fans are still enjoying his Mediterranean cuisine today.
One of Flay's current restaurants is a standout
It's not often you get to interrogate a fishmonger about your dinner options before choosing your entrèe, but that is part of the experience at Bobby Flay's Mediterranean-themed eatery, Amalfi, in Caesar's casino in Las Vegas. According to Eater, Amalfi has a display of fish and shrimp that diners can peruse to choose their meal, and the restaurant employs a fishmonger to answer diners' pertinent questions about the golden snapper, branzino, and black bass they may be considering. Flay told Forbes his passion for Italy inspired Amalfi, making it "so satisfying" to create.
Flay explained to Vegas Magazine that Amalfi also offers pasta and antipasti dishes. The chef recommended the "charred octopus with burnt orange and pancetta ... followed by squid ink fettuccine with lobster, shrimp, and fra diavolo sauce ... finished off with the Lemon, Lemon, Lemon cake," but revealed one of his favorites is the scialatielli with a scampi sauce and basil. On Open Table, however, the restaurant's most-reviewed dish is Pasta "Rags," an all'arrabbiata pasta dish that one reviewer referred to as being "absolutely divine."
As of this writing, Amalfi currently has a 4.7 rating on Open Table, with one reviewer gushing, "Seldom do I find the opportunity to rate a restaurant this highly," and another one observing, "The food was some of the best I've ever had." But be forewarned about the cost. As one Yelp reviewer cautioned, "The bill will set you back a bit, but it's Vegas baby!!!"