An Aldi Clearance Price Change Has Customers In Shambles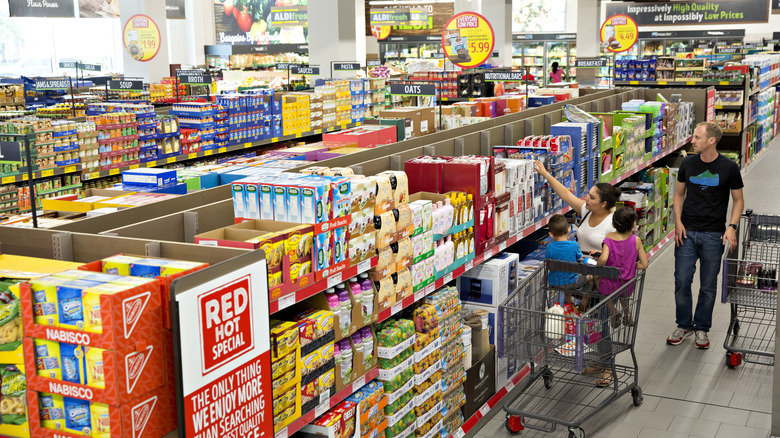 Bloomberg/Getty Images
Aldi has long been praised for its very low prices. Even now as inflation rages on, the German grocer continues to be a top spot to shop for people looking to save a few bucks when re-stocking their pantry and fridge. And while you might not think it can get any cheaper than $0.59 Greek yogurt, $2.45 coffee creamer, or sirloin steaks that ring in around $3.00 less than at other national chains – all of which Go Banking Rates says have been found at Aldi – it turns out, it can.
Just like most stores, Aldi has a rotating assortment of weekly sales – known as "Aldi Savers" within the fandom – that EatingWell reports are labeled with signs featuring red down arrows. Additionally, Aldi also regularly puts products on clearance, which the chain indicates with a bright yellow sign with bold, red text. According to the blogger Almost All Aldi, the timing of these price cuts can differ from store to store, as can the actual markdown amounts, though one thing that's for sure is that you can expect some kind of discount when you spot one of those yellow and red tags on the shelf ... right? According to a recent post on the Aldi subreddit page, apparently not.
Some Aldi shoppers are feeling sticker shock over a clearance tag
Shoppers can be blown away by Aldi's low prices, but a recent change in one product's price has some shoppers reeling for the opposite reason. On December 4, Reddit user u/Tcarroll70 shared a photo of several packages of the grocer's mini quiches sitting on the shelf with one of the chain's familiar red and yellow tags indicating that the product was on clearance. However, rather than a price cut, the cost actually increased from $3.79 to $3.99. "Is this how it's supposed to work?" the Redditor asked.
Though the exact opposite of what you'd expect from a clearance tag, many Aldi shoppers got a hoot out of the product's $0.20 price increase. "This is awesome," one Redditor commented. "When inflation is faster than getting put on clearance," another teased. Several others in the thread, as well as elsewhere in the subreddit, indicated that the quiches were given the same markdown treatment at their own local Aldi stores.
Shopper u/NotsoThinMint_718 tried to offer a possible explanation for the change. They noted that the product's regular price of $4.19 was specially marked down to $3.79 for Thanksgiving, and now that the holiday and its coinciding sale are over, the price has gone up to $3.99. "Can't blame the staff for phoning it in during the stressful holiday season though," they added. We imagine several others can agree.