The Unexpected Drink Beyoncé Once Paired With Her In-N-Out Order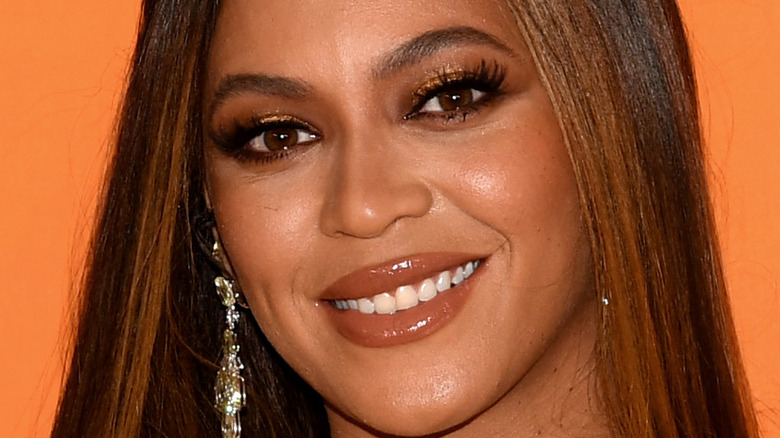 Gareth Cattermole/Getty Images
Beyoncé is a once-in-a-lifetime artist, performer, and entrepreneur. A Grammy-award-winning pop-music icon, R&B trailblazer, and queen of the Bey hive, Beyoncé is one of the world's most recognized musical icons. A hero to women from Los Angeles to Lisbon and beyond, the pop star is a feminist powerhouse and one of the most influential figures in contemporary pop culture. She cut her musical teeth in the '90s as a member of Destiny's Child before venturing into a solo career that would go on to define her as one of the greatest pop stars of the 2000s, 2010s, and 2020s.
Thanks to her chart-topping albums like "I Am...Sasha Fierce," "Lemonade," and her most recent "Renaissance," the singer lives a lavish life with an impressive net worth of 500 million dollars (per Cosmopolitan). Despite her fame and fortune, the icon enjoys fast food from time to time. But even when she's enjoying In-N-Out, Queen B pairs her double-double with a beverage as luxurious as she is.
Beyoncé paired her In-N-Out combo with champagne
Nothing satisfies a fast-food craving quite like a burger combo with a fountain soda. But when Beyoncé orders her In-N-Out combo, her carbonated choice of beverage is a tall flute of champagne. In 2013, the singer posted an Instagram selfie surrounded by laptops, likely for all the work she does, alongside an In-N-Out meal paired with a flute of rosy champagne. Burgers and a buzz, anyone?
Although we don't know what brand of champagne the songstress was sipping, we can assume it's some of the very best. Only one year after the Instagram post went viral, the musical artist's husband and East Coast rapper Jay-Z bought out champagne brand Armand de Brignac, also known as Ace of Spades, and sold over 500,000 bottles in 2019 alone (per Rolling Stone). Seems like the power couple has a thing for the finer things in life, including champagne.
Oh to be Beyoncé sipping expensive, pink champagne with an In-N-Out burger — better luck in the next life!