Here's What Happened To Forks And Flavors After Restaurant: Impossible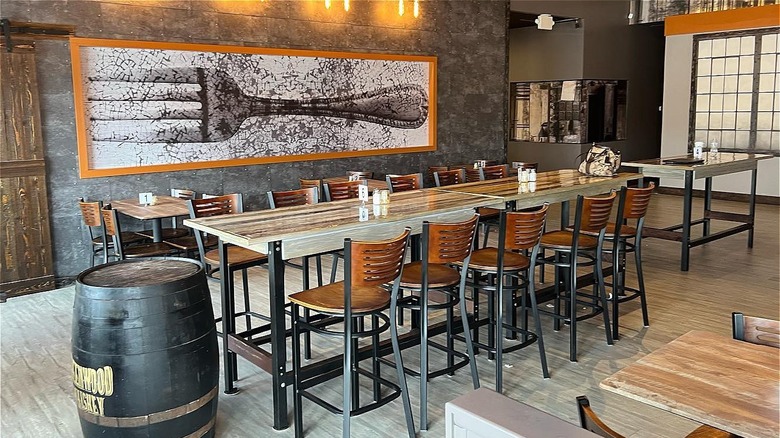 Facebook/Forks and Flavors
"Restaurant: Impossible" episode "My Way or the Highway" originally aired in May. It featured Kennesaw, Georgia restaurant Forks and Flavors. Owned by married couple David Wilmott and Darnell Morgan, the restaurant was suffering. The owners were struggling to pay staff, had never taken a paycheck for themselves, and were $150k in debt. 
What Chef Robert Irvine heard from them was that they were blaming each other for the restaurant's issues. Darnell's ex-military seemed to have rubbed off on the way he treated both David and the staff. He told the celebrity chef that he was always right and that everyone should just listen and do what he said. Hence the title of this episode, "My Way or the Highway," per Discovery+.
Irvine spoke with each partner in turn and got them to work out what their strengths and weaknesses were and what they could do to communicate better. While it seemed to be a difficult task, the celebrity chef convinced Darnell that his "bully" behavior and the way he spoke to customers were hurting the business. He helped Chef David realize his creative potential in the kitchen, and by the time the episode aired in May, Forks and Flavors was showing a profit increase of 30%.
How is Forks and Flavors doing now?
Forks and Flavors is probably one of the better "Restaurant: Impossible" success stories. The transformation of the space, the menu, and — most importantly — owner David Wilmott and Darnell Morgan — was able to turn a hostile, in-debt business into an eatery with a happy vibe and a profit. 
Prior to Chef Robert Irvine's makeover, reviews for the restaurant commonly mentioned how rude Darnell was and that the live music was way too loud. Others mentioned the tastelessness of some of the dishes. The reviews have now improved for the better. However, there are still some complaints about the volume of the music, and not everyone is a fan of the food, especially the Sunday Buffet. Others also complained about the parking lot and customers' "inappropriate" twerking during the music sessions, per Yelp.
Facebook users had more positive things to say about the restaurant. One reviewer said, "Y'all this place on a thirsty Thursday is so fun! They have a DJ, great food, great drinks, the prices were not bad, the staff was fun and kind. Had me and my guests, and half the restaurant up dancing! I highly recommend." It looks like "Restaurant: Impossible" completed its aim and turned a failing business into a happy, successful one. According to the restaurant website, they are now planning on expanding to Chattanooga, Tennessee, and Houston, Texas.